This is an abridged version of our Daily Report.
Gold bugs' ruined weekend
Heading into the weekend, gold futures suffered their largest loss in over a year, to a multi-month low. When it happened it May, the selling marked an exhaustion and gold worked higher. Most times it did something similar, rallying over the next month but not beyond.
Big boys are driving the gains
A handful of very large stocks have been driving gains in the S&P 500 and Nasdaq 100 over the past year. The capitalization-weighted S&P and NDX are outperforming their equal-weighted twins.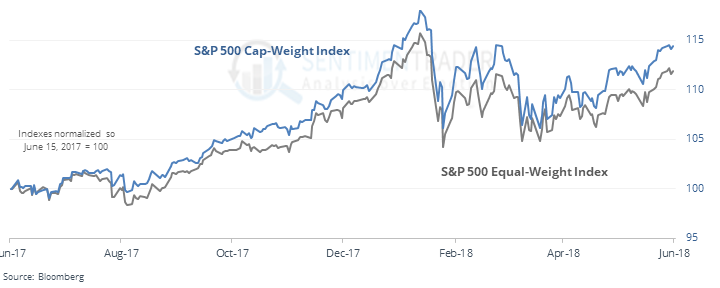 Prior times the cap-weighted indexes did so well for so long, the trend reversed, but not right away.
The latest Commitments of Traders report was released, covering positions through Tuesday
The 3-Year Min/Max Screen shows that "smart money" hedgers are the most heavily short copper in years…ever, actually. If you Choose A Secondary Indicator and view hedgers' positions as a % of open interest, they're holding about 25% of contracts net short.
F
or access to the full report, indicators, charts, screens, and Backtest Engine, log in or sign up for a free 30-day trial today.
---