Climbing claims
A 4-week average of jobless claims hit a 52-week high this week, triggering an increase in the probability of recession.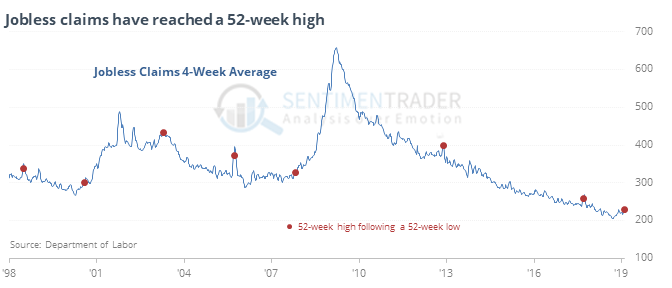 Other times that claims cycled from a 52-week low to a 52-week high since 1967, there was a headwind for stocks and tailwind for bonds, especially over the next couple of months.
A tale of two markets
Low volatility stocks within the S&P 500 have completely erased their December decline and are trading at a 52-week high. High beta stocks, however, suffered a decline about three times as large and are still trading 10% below their high. That has been a short-term headwind for stocks in general.
For these "safer" stocks, outperforming High Beta so much tended to be a good sign. From the next month forward, the return on Low Volatility was above random, significantly so after three months.
More extreme
The McClellan Oscillator for the Shanghai Composite has now jumped above 90. According to the Backtest Engine, since 2003 there have been 10 other days when its breadth momentum hit this high of a level, leading to losses over the next 1 and 8 weeks.
More momentum
We've looked at the thrust in breadth many times over the past month and a half, including earlier this week. It remains the most positive development of anything we look at. For the record, the NYSE McClellan Summation Index just crossed 1,000 for the first time in at least 50 days. Per the Backtest Engine, that led to a positive return for the S&P 500 over the next year 27 out of 28 times.
This post was an abridged version of our previous day's Daily Report. For full access, sign up for a 30-day free trial now.
---