A Breadth Thrust That Acts More Like a Blow-Off
---
---
Stocks traded on the NYSE decided to make a fool out of those worried about weak breadth. Last week, the Nasdaq joined the party.
After weeks of disturbingly poor internal participation, and a flurry of technical warning signs, stocks on the Nasdaq thrust higher last week. Over the past 10 days, an average of more than 60% of securities on the Nasdaq advanced.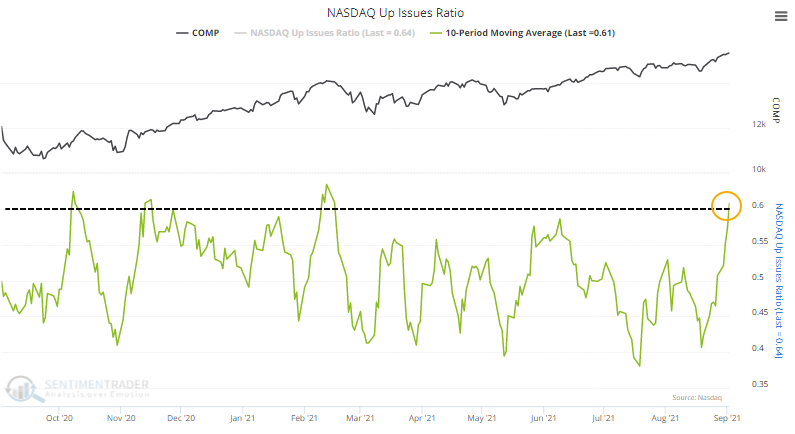 Even more impressively, more than 65% of volume flowed into advancing issues on average each day. Granted, volume at the end of August tends to be low, but it was still focused on the winners.
As we so often see after thrusts like this, the most notable aspect was the ridiculously skewed risk/reward ratio during the past 50 years. Over the next three months, only one signal showed a loss at its worst point of more than -4.1%.
Here's the rub, though...
Oddly, the thrust triggered when the Composite was trading at a new high. Most of them came after protracted declines. Out of all the signals, only three others triggered with the Composite at (or even near) a multi-year high...and each of them was also a blow-off peak.

---
What else we're looking at
Full details on Nasdaq and S&P performance following breadth thrust on the Nasdaq
What happens after a breadth thrust in Japan's Nikkei 225 index
Using sector breadth as a market-wide heads-up warning sign
Stat box



The SPY fund saw an outflow of more than $4.3 billion on Wednesday, the 3rd-largest of 2021. The most important ETF in the world, focused on the S&P 500 index, has been seeing unusually large swings in assets given relatively tame price moves.
---
Etcetera
East vs. West. Our Optimism Index Geo-Map shows that traders are showing pessimism (green) mostly in western countries while showing optimism in eastern countries.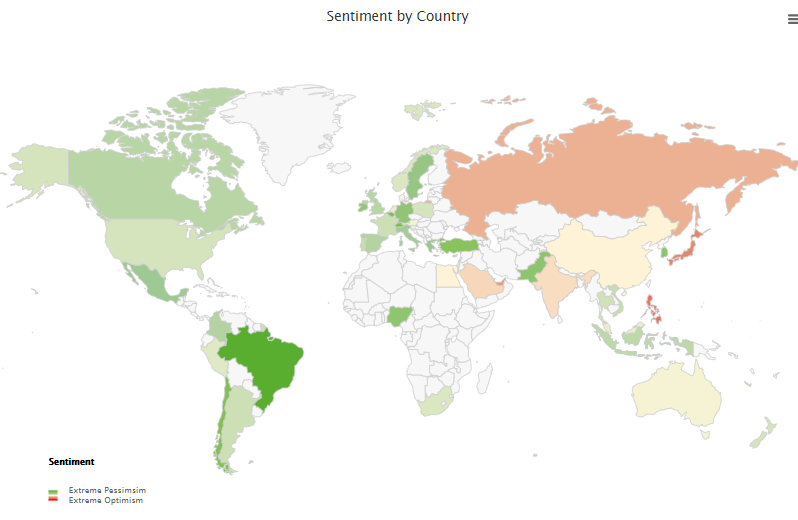 Can tech buck the trend? The QQQ Nasdaq 100 fund has peaked around this time in a typical year since its inception.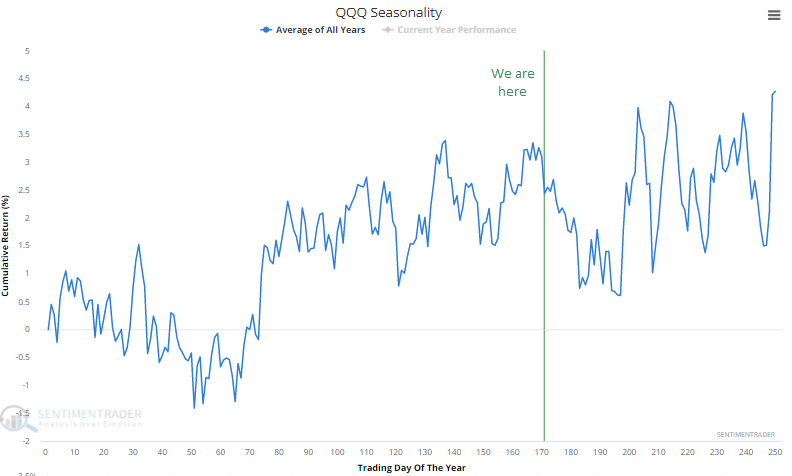 Risk easing. The Risk-On/Risk-Off Indicator recently showed more than 95% of indicators in "risk-on" mode, among the highest percentages this year, but investors' behavior is now starting to ease back from that extreme.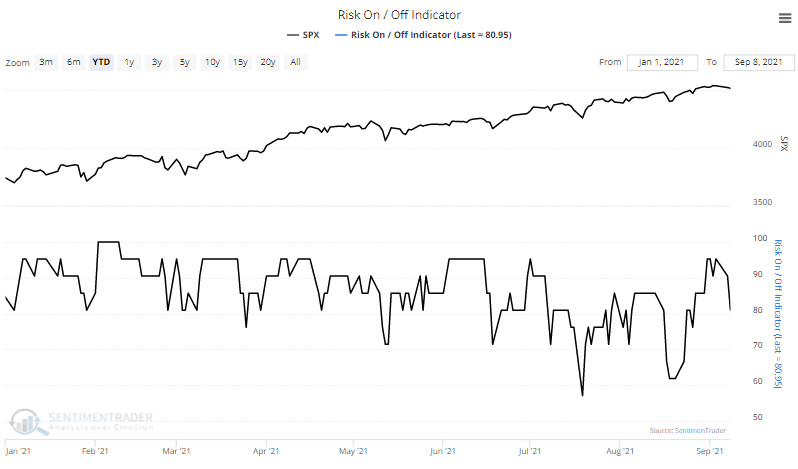 The post titled A Breadth Thrust That Acts More Like a Blow-Off was originally published as on SentimenTrader.com on 2021-09-09.
At SentimenTrader.com, our service is not focused on market timing per se, but rather risk management. That may be a distinction without a difference, but it's how we approach the markets. We study signs that suggest it is time to raise or lower market exposure as a function of risk relative to probable reward. It is all about risk-adjusted expectations given existing evidence. Learn more about our service , research, models and indicators.
Follow us on Twitter for up to the minute analysis of market action.
Follow @sentimentrader