A Sector Buy Signal with a 90% Win Rate
---
---
Financial stocks have had a big thrust in recent weeks.
The estimable Liz Ann Sonders noted that the percentage of Financial stocks trading above their 50-day moving averages has gone from a low level to a very high one.
Within 30 days, the sector cycled from having fewer than 20% of its members above their medium-term averages to having more than 95% of them above.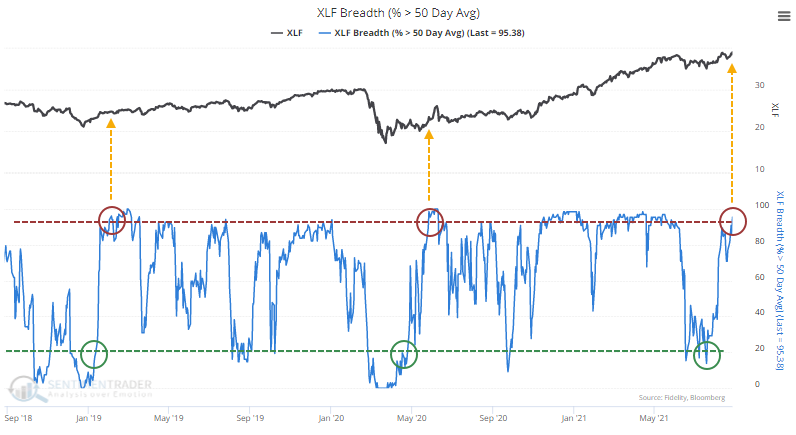 In the past five years, the only times this has triggered were February 2019 and May 2020, both leading to double-digit gains.
Whenever medium-term participation in Financials cycles from a low to a very high level in a relatively short number of days, the sector has tended to keep going. There have been 42 such signals over the past 70 years, with only 3 of them leading to any meaningful losses over the next year.

---
What else we're looking at
Full details on returns in Financials after breadth thrusts
What happens when there is a thrust after Financials have already been doing well
Why September and October can be such a scary time
A momentum signal triggered on the Nasdaq 100
---
Stat box



For the 12th time in its history, the S&P 500 has advanced for 7 consecutive months while closing at a record high. It rose over the following year 9 out of 11 times with a median return of +6.5%.
---
Etcetera
India rising. Over the past 3 sessions, the Optimism Index on the INDA fund focused on Indian stocks averaged more than 85%. That's one of the highest-ever readings when the fund was in a strong uptrend according to our Backtest Engine.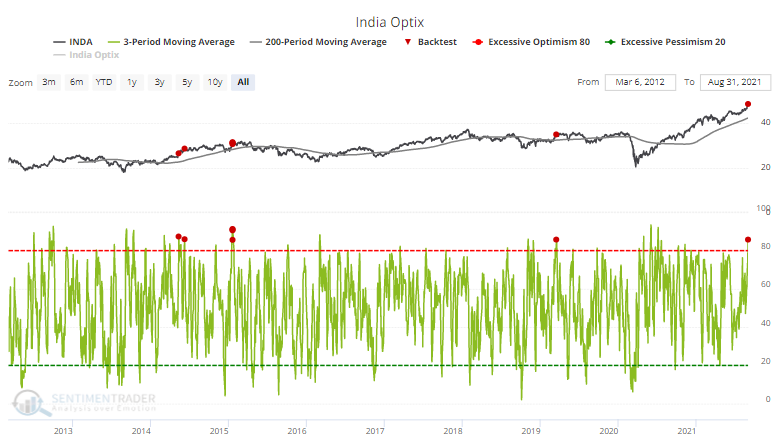 I SPY big inflows. The most important ETF in the world, SPY, took in an average of more than $2.3 billion in assets over the past 3 days. That's the 5th-highest amount in the last year.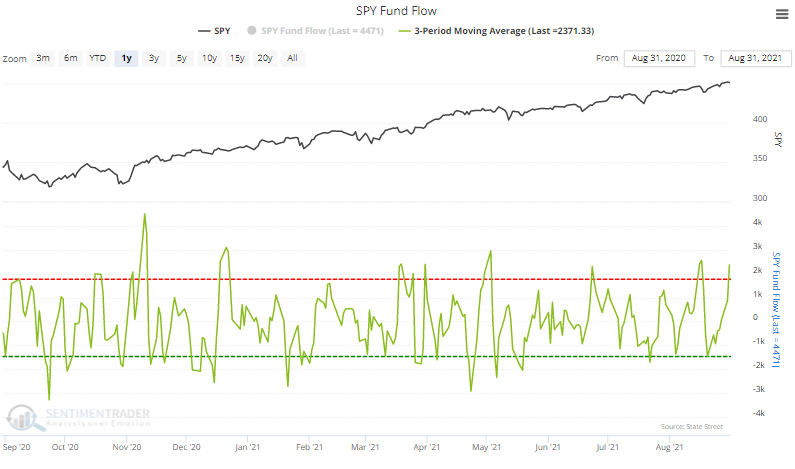 Still some value (?). Our Dividend Screen shows that there are 13 stocks in the S&P 1500 index that are paying a yield of more than 7%.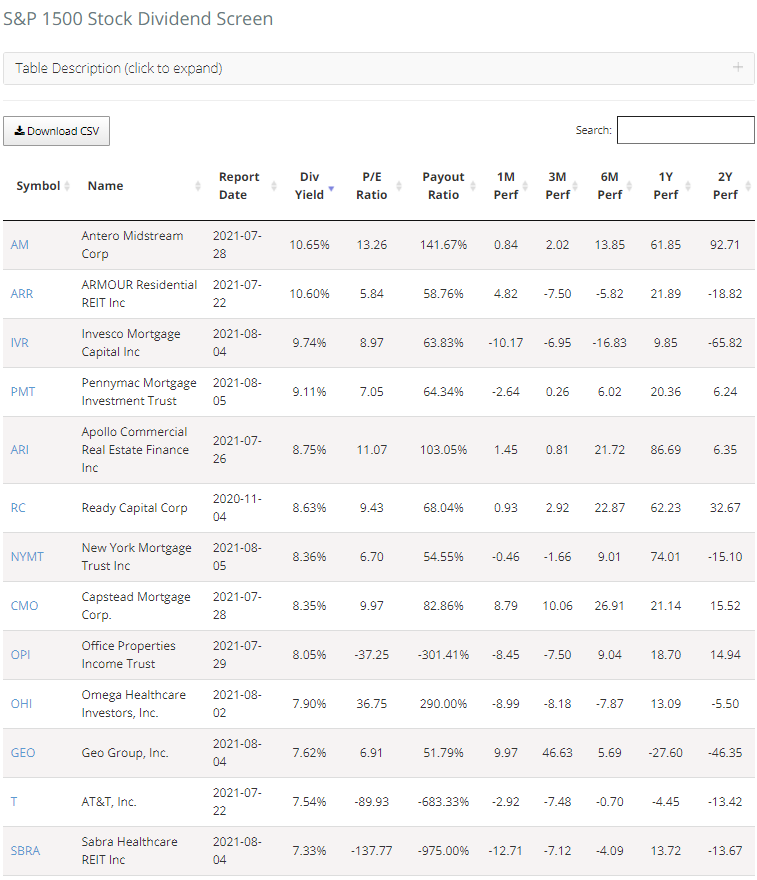 Related Posts:
---
Tagged As:
The post titled A Sector Buy Signal with a 90% Win Rate was originally published as on SentimenTrader.com on 2021-09-01.
At SentimenTrader.com, our service is not focused on market timing per se, but rather risk management. That may be a distinction without a difference, but it's how we approach the markets. We study signs that suggest it is time to raise or lower market exposure as a function of risk relative to probable reward. It is all about risk-adjusted expectations given existing evidence. Learn more about our service , research, models and indicators.
Follow us on Twitter for up to the minute analysis of market action.
Follow @sentimentrader