A Shocking Update on Sentiment
---
---
Politics is playing havoc with how people are feeling about everyday life, and it's even overriding how they usually feel about topics that aren't necessarily as influenced by our representatives.
The preliminary Consumer Sentiment survey for August by the University of Michigan showed a stunning drop. Not only is the survey relatively low, it was the biggest miss in 20 years relative to economists' expectations. Granted, this could change substantially by the time the official reading is released in a couple of weeks.
This is an abnormally low reading given how the S&P 500 has fared over the past year. There is a positive correlation between the 12-month rate of change in the S&P and the Consumer Sentiment readings, and this month really stands out as an outlier.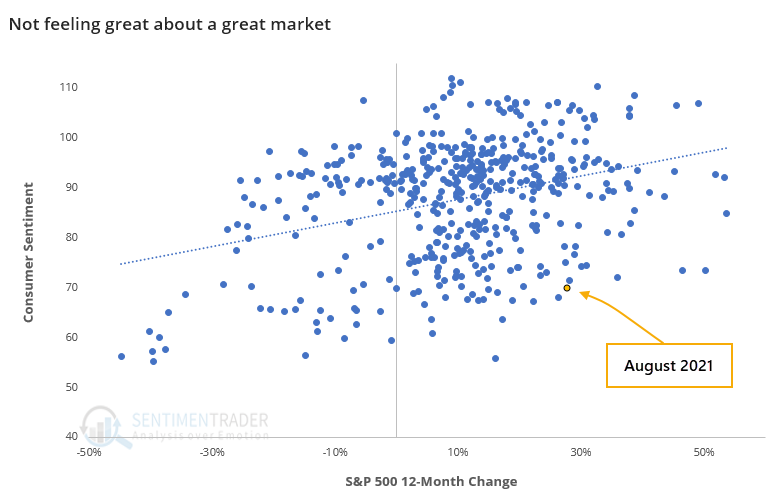 Assuming the S&P doesn't completely fall apart in the coming weeks, this month's reading would be the 2nd-lowest all-time for any month when stocks closed at a 12-month closing high. Only December 1991 would have a lower reading.
A low Consumer Sentiment reading during a month when the S&P closed at a new high tended to be a good sign.

---
What else we're looking at
How the S&P 500 performs after a big miss in Consumer Sentiment
What a low Sentiment reading, and a big monthly drop, means when stocks are doing well
Breadth among small-cap stocks hasn't had a run like this in over a year
A detailed look at an options trade using SPY
What happens after copper does a massive reversal around its 200-day moving average
---
Stat box



Energy ETFs like XOM and XLE have declined for 6 consecutive days, tying their longest losing streaks since the pandemic crash. The few other 6-day streaks all preceded at least short-term bottoms, so watch for a change in character.
---
Etcetera
Copper top. Dean shows that copper has dropped below its 200-day moving average, after the metal doubled. Its performance over the next 1-2 months was consistently poor.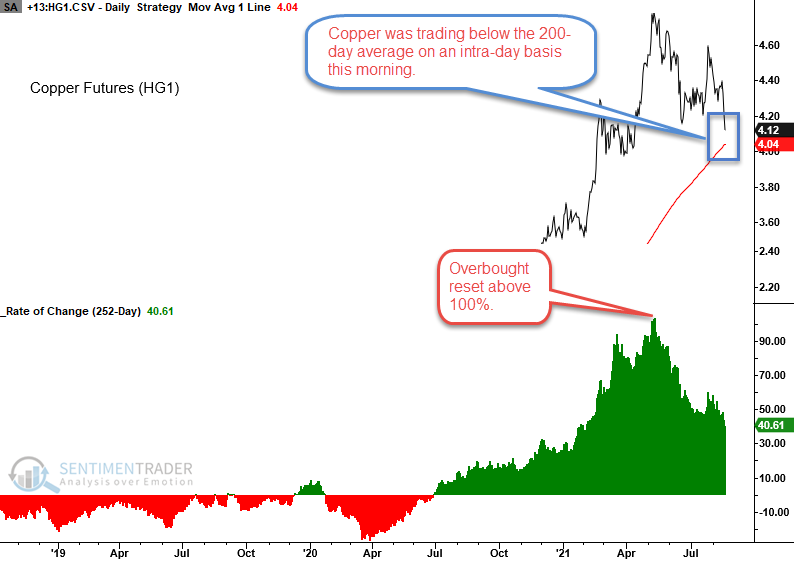 Fear in force. The Fear & Greed model plunged to its lowest level in a year on Thursday. Investors have been increasingly less enthused about stocks as they've rallied in recent months...but be careful about simply interpreting this as a knee-jerk contrarian would. This also happened in 2015.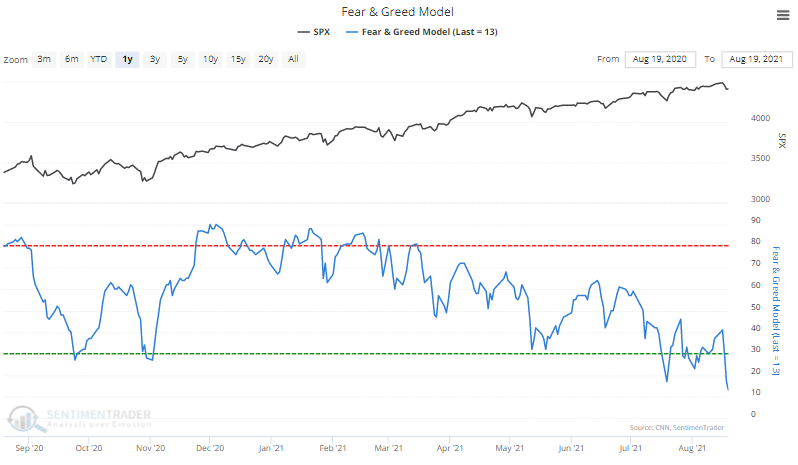 Correction camp. With the latest selloff, nearly 40% of S&P 500 stocks are more than 10% below their peaks. Healthy markets typically see this figure hold consistently below 40%; when above, it signals dangerous internal conditions in the index.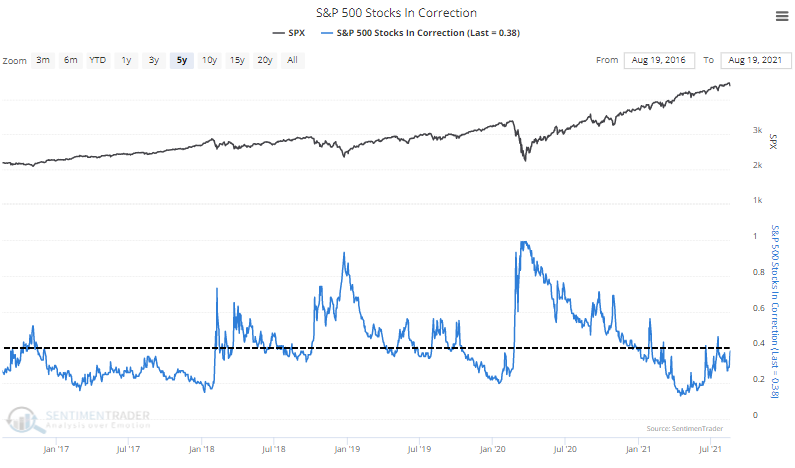 The post titled A Shocking Update on Sentiment was originally published as on SentimenTrader.com on 2021-08-20.
At SentimenTrader.com, our service is not focused on market timing per se, but rather risk management. That may be a distinction without a difference, but it's how we approach the markets. We study signs that suggest it is time to raise or lower market exposure as a function of risk relative to probable reward. It is all about risk-adjusted expectations given existing evidence. Learn more about our service , research, models and indicators.
Follow us on Twitter for up to the minute analysis of market action.
Follow @sentimentrader