A Shocking Volatility Twist With Recovering Financials
---
---
Volatility twist
Over the past month, volatility in big tech stocks has been lower than volatility in stocks specifically chosen because of their staid nature, according to Bloomberg data. Historical volatility on the Nasdaq 100 fell below that of the S&P 500 Low Volatility Index, a rare twist over the past 28 years.

Surprisingly, these periods led to much (much!) better performance in the Nasdaq 100 than the Low Volatility Index. Two months later, the NDX rallied 92% of the time, versus only 38% of the time for Low Volatility.
Financial about-face
In late December, nearly 60% of financials fell to a 52-week low, a historic extreme. In January, they enjoyed a historic rebound and signs of impressive momentum. Now, more than 80% of them have recovered enough to trade above their 200-day averages.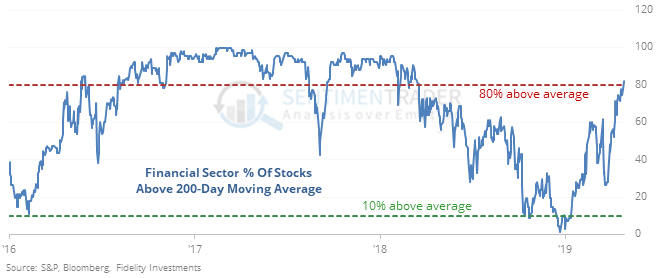 Other times the sector saw so many stocks sink so low then recover so quickly, it tended to keep rallying.
April showers bulls with good vibes
The S&P 500 ended April at a new multi-year high for the first time since 2013. It has happened 8 other years since 1928, leading to further gains through the first week of May all 8 times averaging 1.1%. The next couple of weeks were rougher, with 5 losses, and it was mixed after that.
This is also the first time since 2013 when each of the first four months were up at least 1%. All four added to gains through June, two showed losses through August, but through December all showed gains again.
No mo' mo-mo?
The S&P hit new highs for 3 straight days, with a negative McClellan Oscillator each day. That triggered in October '17, with no problem, but prior to that was an issue over the next 30 days.
This post was an abridged version of our previous day's Daily Report. For full access, sign up for a 30-day free trial now.

Related Posts:
---
Tagged As:
The post titled A Shocking Volatility Twist With Recovering Financials was originally published as on SentimenTrader.com on 2019-05-01.
At SentimenTrader.com, our service is not focused on market timing per se, but rather risk management. That may be a distinction without a difference, but it's how we approach the markets. We study signs that suggest it is time to raise or lower market exposure as a function of risk relative to probable reward. It is all about risk-adjusted expectations given existing evidence. Learn more about our service , research, models and indicators.
Follow us on Twitter for up to the minute analysis of market action.
Follow @sentimentrader