A Year When (Almost) Every Stock Rallied
---
---
There has been no shortage of remarkable stats about stocks in 2021. By late January, the uptrend was throwing traditional indicators out the window, and through June, stocks were showing some of the best trends in history.
Most investors fixate on indexes like the S&P 500, and for a good reason. It's the most-benchmarked index in the world. Under the surface, it's been a tough row to hoe for stock-pickers, this year more than most.
Even so, Bloomberg notes that most stocks in the S&P 500 show a positive return year-to-date.
"So far this year, 412 members of the S&P 500 are in the green, the third most for any year since at least 2001, according to data compiled by Bloomberg. Only five times since 2001 have more than 400 stocks been positive through September -- and every time the market added to those gains to cap off the year."
Indeed, this year marked one of the few in four decades when at least 80% of stocks sported a positive YTD return through the third quarter. Over that span, only six years accomplished this, four of which have been since the global financial crisis in 2008.
It's also been a year with some of the best gains. The median stock in the index returned 16% through Q3. That ties for 7th place among all years since 1980.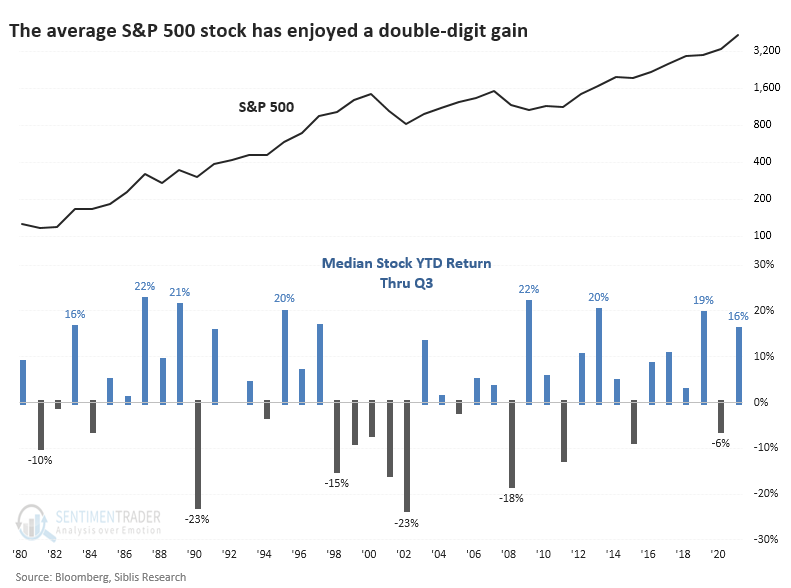 The five other times when more than 80% of stocks showed a positive return through the end of September, the S&P 500 index itself continued to rise through year-end each time.

---
What else we're looking at
Full returns following years with 80% or more of stocks showing a YTD gain
Also what happened during years when 70% or more of stocks gained
Some big picture observations about energy stocks
A system combining valuations and inflation, and what it's saying now about stocks
---
Stat box



The SPY fund, focused on the S&P 500, has endured 6 consecutive days with a 1% move, tied for the longest streak in 6 months.
---
Etcetera
Big test for bitcoin buyers. The Optimism Index on bitcoin has averaged 82% over the past three days, one of the highest readings in years. Other times it got this high, the crypto tended to pull back in the short-term.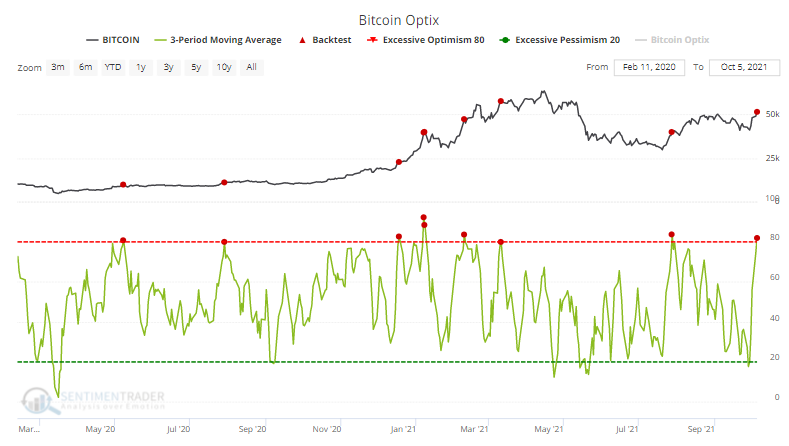 Bond bath. Buyers of the TLT bond fund have been getting hit, and traders are leaving. The fund has suffered an average outflow of more than $400 million per day for the past week, the 2nd-largest 5-day outflow in the fund's history.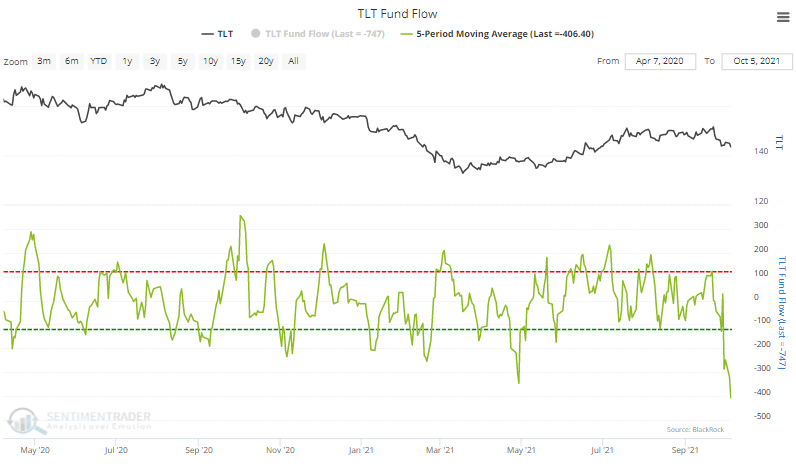 Boo! October has a reputation for high volatility and dramatic declines (and rallies). Among the most active ETFs we follow, though, there are quite a few that show an average return of +1% or more during the month.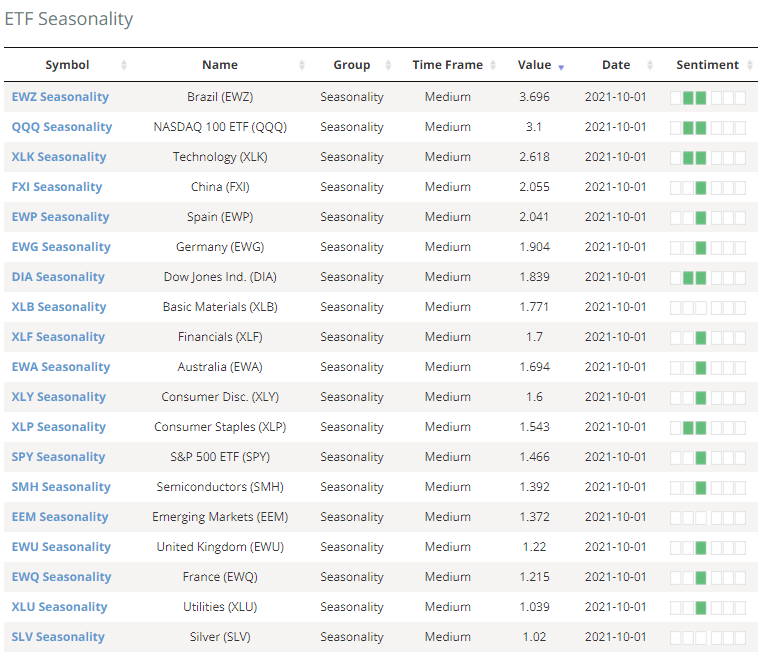 Related Posts:
---
Tagged As:
The post titled A Year When (Almost) Every Stock Rallied was originally published as on SentimenTrader.com on 2021-10-06.
At SentimenTrader.com, our service is not focused on market timing per se, but rather risk management. That may be a distinction without a difference, but it's how we approach the markets. We study signs that suggest it is time to raise or lower market exposure as a function of risk relative to probable reward. It is all about risk-adjusted expectations given existing evidence. Learn more about our service , research, models and indicators.
Follow us on Twitter for up to the minute analysis of market action.
Follow @sentimentrader