'Big Four' Indexes Register Warnings As Sentiment Recedes
---
---
Big four warnings
With an increasing number of stocks "splitting" this week, all of the "big four" stock indexes have triggered technical warning signs. The last time the S&P 500, Dow Industrials, Nasdaq Composite, and Russell 2000 all did so was last May right before a pullback.

Even though these kinds of warnings failed last November, they have a very good record over the past 50+ years. They started to trigger right before the worst of the virus-related selling pressure, but these kinds of signals typically have a longer time frame than just a day or two.
There were a couple of times (2004, 2017) when stocks managed to escape mostly unscathed, but it argues for high risk, at least in the shorter-term. All four of the indexes tended to suffer, especially over the next couple of weeks, so none of them provided a good shelter.
Receding optimism
Similarly, the Intermediate Term Optimism Index has now turned down from one of its highest levels in history: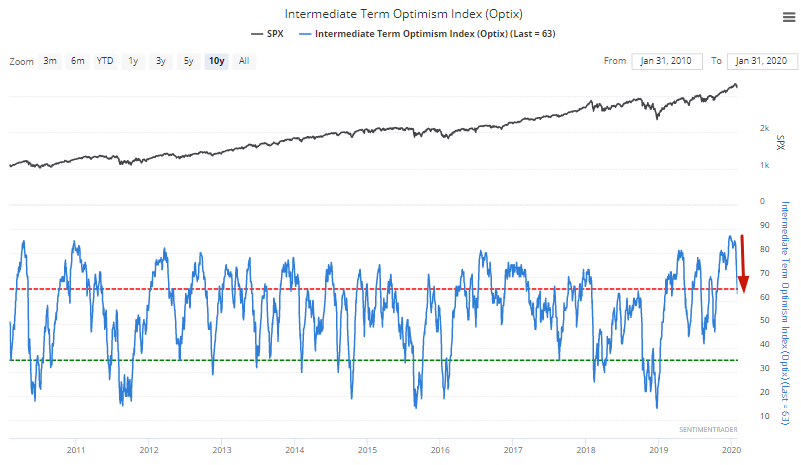 When this happened in the past, the S&P often suffered over the next 2 weeks, but we can see how positive the longer-term returns were below. Granted, it was during a mostly one-side market, but still.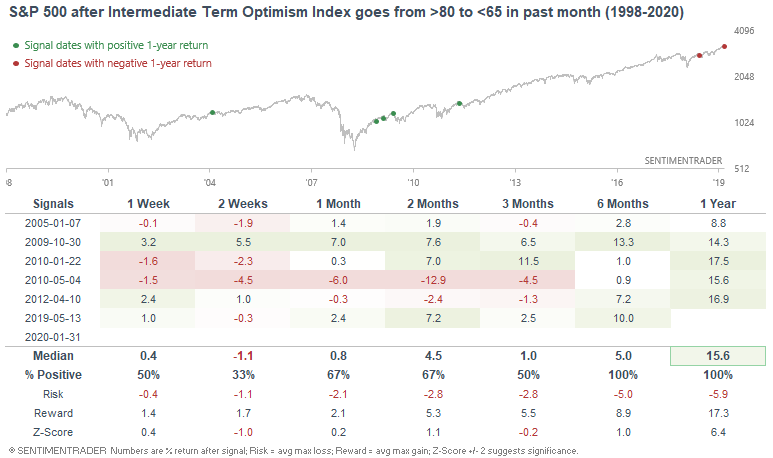 This is an abridged version of our recent reports and notes. For immediate access with no obligation, sign up for a 30-day free trial now.
We also looked at:
What happens when volatility spikes for the first time in months
The Nasdaq McClellan Summation Index is rolling over, but it might not mean what you think
Our other sentiment models are starting to normalize
The VIX Term Structure has inverted
Our Optimism Index on bonds is extreme
What happens when a bunch of stocks exceed their volatility bands
Energy stock sentiment is starting to hit extremes
An update to core fundamental indicators

Related Posts:
---
Tagged As:
The post titled 'Big Four' Indexes Register Warnings As Sentiment Recedes was originally published as on SentimenTrader.com on 2020-02-03.
At SentimenTrader.com, our service is not focused on market timing per se, but rather risk management. That may be a distinction without a difference, but it's how we approach the markets. We study signs that suggest it is time to raise or lower market exposure as a function of risk relative to probable reward. It is all about risk-adjusted expectations given existing evidence. Learn more about our service , research, models and indicators.
Follow us on Twitter for up to the minute analysis of market action.
Follow @sentimentrader