Bull Stampede
---
---
The Rydex family of mutual funds is showing that investors are almost the most bullish on record.
Bull stampede at Rydex
In the Rydex family of mutual funds, traders have positioned themselves in perhaps the most aggressive way ever.
It's not hip to be a mutual fund manager anymore – all the cool kids are rushing into ETFs. Even so, the Rydex family of mutual funds still holds more than $4 billion in assets, and it remains popular with fund timers. And those timers are storming into stocks.
Ratios of assets in bullish versus bearish funds, including those using leverage, are at or near all-time highs, while the percentage of cash held in the money market fund just hit an all-time low, dating back 25 years.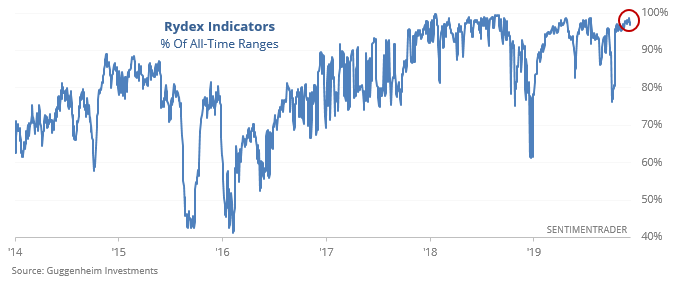 Because of the influence of a handful of traders on the data, we pay much less attention to these flows than we did 10 or 15 years ago. Still, they can be useful once in a while when they reach true extremes, and that's where they're at now.
Optimism
Our Intermediate Term Optimism Index is now at its highest level in years. At this point, most of our sentiment indicators are demonstrating excessive optimism.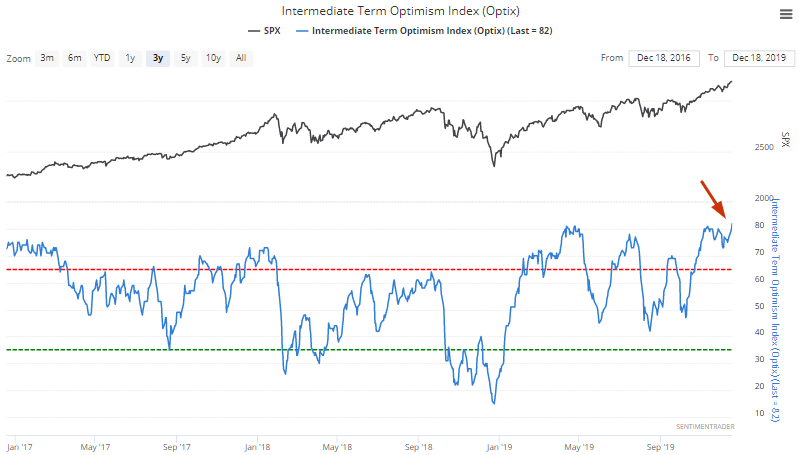 When the Intermediate Term Optimism Index crossed above 82, the S&P's median returns over the next 2 months were below average, even though most of the 1 year forward returns were bullish.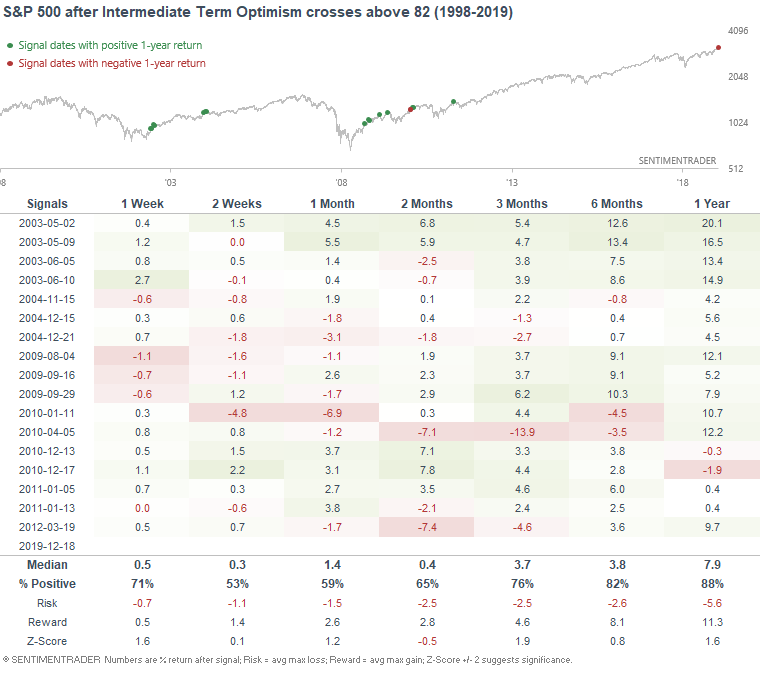 Many of the most positive returns came after the initial bursts of optimism following the ends of the last two protracted bear markets. Those are questionable precedents for our current environment. When extremely high optimism occurred along with multi-year highs in the S&P, it was more of a short- to medium-term negative.
This is an abridged version of our recent reports and notes. For immediate access with no obligation, sign up for a 30-day free trial now.
We also looked at:
"Pro" versus "Joe" sentiment in the housing market
NYSE new highs versus new lows just hit the highest mark in 200 days
Smart Money / Dumb Money Confidence has been low for a very long time
Emerging market stocks are jumping out of their Bollinger Bands
What happens when the Relative Strength Index (RSI) on EEM is high
Bond optimism is relatively low

The post titled Bull Stampede was originally published as on SentimenTrader.com on 2019-12-19.
At SentimenTrader.com, our service is not focused on market timing per se, but rather risk management. That may be a distinction without a difference, but it's how we approach the markets. We study signs that suggest it is time to raise or lower market exposure as a function of risk relative to probable reward. It is all about risk-adjusted expectations given existing evidence. Learn more about our service , research, models and indicators.
Follow us on Twitter for up to the minute analysis of market action.
Follow @sentimentrader