Close 1-Year Analogs, As Confidence Peaks
---
---
A year like '90
Hand-picked price overlays can show some scary comparisons to the past year, like 1937. But the one-year period with the highest correlation since 1928 was 1990, which led to tremendous gains.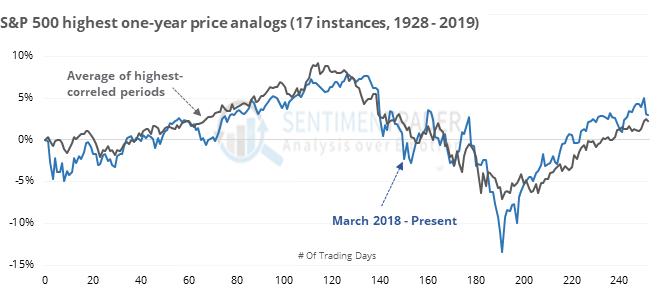 Of the 17 one-year periods with the highest correlation to the past year, the next few months were sketchy, with positive returns less than 45% of the time and more risk than reward.
A little less confident
Consumers are becoming less confident about their present conditions. According to the Conference Board, this measure has gone from a multi-year high to the lowest level in nearly a year.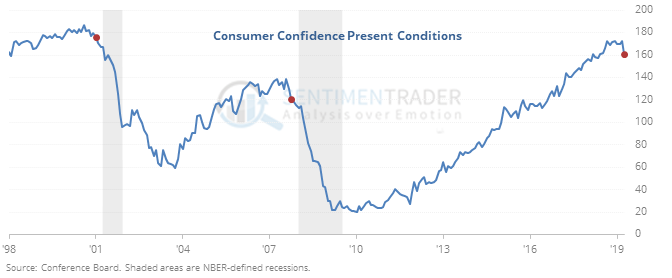 This has indicated the peak of most past cycles since 1970, often leading to recession and poor stock returns.
Lots of extremes
More than 45% of our core indicators are now showing excessive optimism, the most since late January 2018. Over the past 20 years, when there were this many extremes, the S&P's two-month average return was negative. Most dates showed a negative return somewhere between 1-3 months, with the major exceptions being late 2003 and 2004, and early 2017.
This post was an abridged version of our previous day's Daily Report. For full access, sign up for a 30-day free trial now.

Related Posts:
---
Tagged As:
The post titled Close 1-Year Analogs, As Confidence Peaks was originally published as on SentimenTrader.com on 2019-03-27.
At SentimenTrader.com, our service is not focused on market timing per se, but rather risk management. That may be a distinction without a difference, but it's how we approach the markets. We study signs that suggest it is time to raise or lower market exposure as a function of risk relative to probable reward. It is all about risk-adjusted expectations given existing evidence. Learn more about our service , research, models and indicators.
Follow us on Twitter for up to the minute analysis of market action.
Follow @sentimentrader