Confidence Has Flipped From Dumb To Smart
---
---
Confidence flip
For the first time in four months, Smart Money Confidence has moved above Dumb Money Confidence.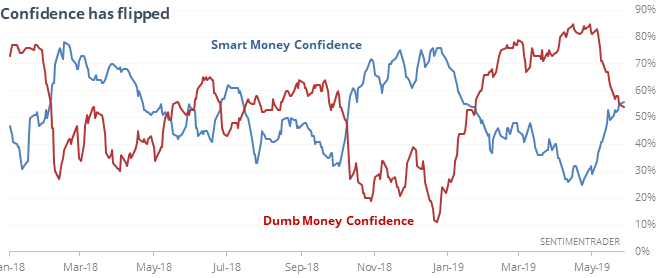 Usually by the time the spread between them has flipped after several months, stocks were seeing the last bits of selling pressure.
With one major exception, these were mostly good signals for stocks. It triggered right as stocks were peaking in 2000, leading to more than a 30% loss over the next year. That's a worry.

But that's the only signal that led to anything more than a 5.2% loss at the worst point over the next three months, while there were 9 signals that led to a gain larger than that at the best point.
Breakaway gap
After sliding to a multi-month low, S&P 500 futures gapped down on Wednesday and never recovered, leaving an open gap. These can morph into "breakaways" where prices never look back.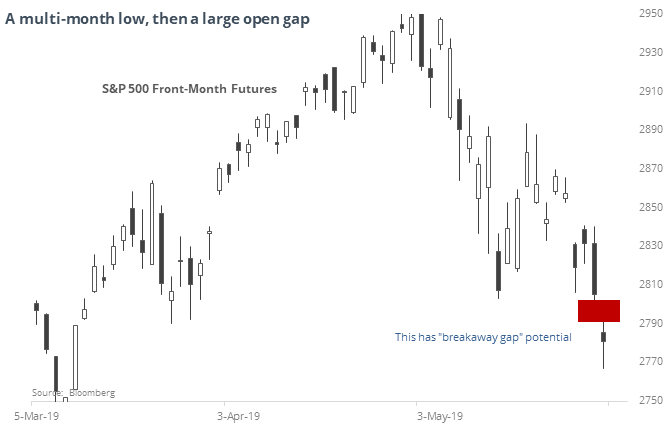 But under similar conditions, that was very rare. While it has taken a long time to close the gaps, future returns were very good.
Confident and complacent
The latest monthly Consumer Confidence figures show that consumers have high confidence in their current conditions, and few expect stocks to decline.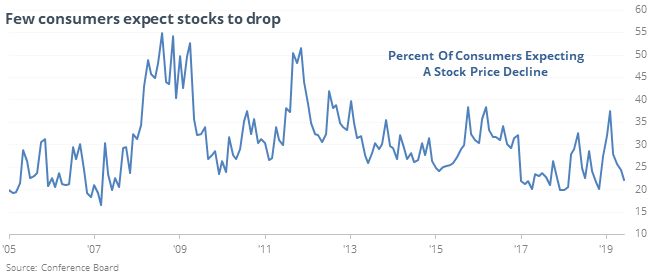 Stocks have done well under these conditions and tended to suffer only when these measures started to roll over.
Hesitant
Over the past month, options traders have bought to open fewer than 75 calls for every 100 puts on the ISE exchange. In the past 17 years, this kind of hesitancy has happened only twice, in August 2015 and May 2016 according to the Backtest Engine.
Oversold in an uptrend
The McClellan Oscillator for staples is below -100 while the fund is still above its 50-day average. The Backtest Engine shows that the fund rose 96% of the time a month later.
This post was an abridged version of our previous day's Daily Report. For full access, sign up for a 30-day free trial now.

Related Posts:
---
Tagged As:
The post titled Confidence Has Flipped From Dumb To Smart was originally published as on SentimenTrader.com on 2019-05-30.
At SentimenTrader.com, our service is not focused on market timing per se, but rather risk management. That may be a distinction without a difference, but it's how we approach the markets. We study signs that suggest it is time to raise or lower market exposure as a function of risk relative to probable reward. It is all about risk-adjusted expectations given existing evidence. Learn more about our service , research, models and indicators.
Follow us on Twitter for up to the minute analysis of market action.
Follow @sentimentrader