Crypto is getting a little crowded
---
---
Each month, Bank of America posts a survey to its clients, covering around $560 billion under management.
We've looked at the survey many times in the past, with the conclusion that it tends to have a slight, and inconsistent, contrary bias. This may be very smartest of money, but extremes in group-think among any population can be an issue.
One of their popular visuals is which market these managers feel is the most crowded trade. This month, it was being long bitcoin.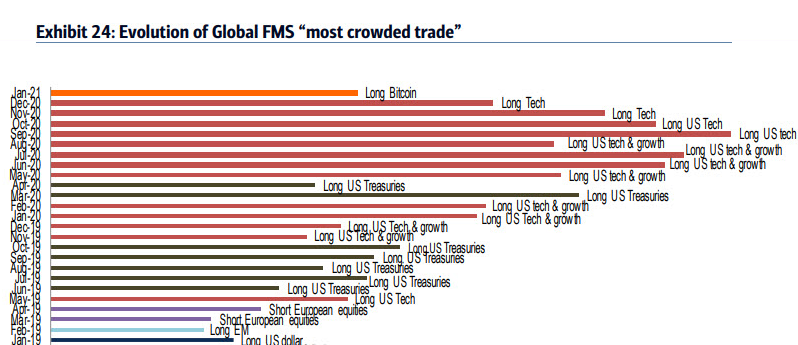 That market was chosen as the most crowded twice before, in September and December 2017.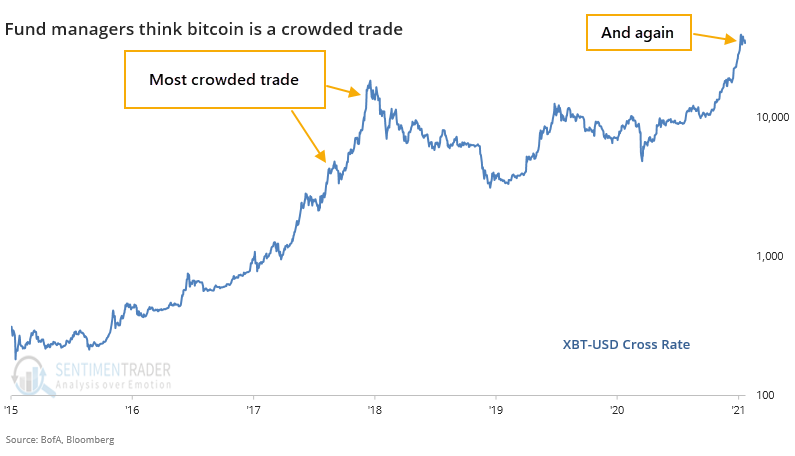 In September, we looked at how effective it would have been to take the opposite side of the most crowded trade every month, going back about 8 years. That previous pick of bitcoin stands out as the all-time best fade among all the picks.
What else we're looking at
What happens when fund managers are heavily overweight emerging markets vs the U.S.
A record in risk appetite is a warning sign
What happens when bitcoin shows an end to shorter-term momentum
Forward returns when the Nasdaq surges with lower-than-average participation
A 3-part series on the potential opportunity in mid-cap stocks

Stat Box



On Wednesday, the Nasdaq Composite rose nearly 2% to a new high and yet fewer than

55%

of securities on the Nasdaq exchange advanced on the day. That ranks as the 2nd-lowest percentage of advancing issues in almost 20 years.
Sentiment from other perspectives
Corporate insiders have directed their companies to increase the purchases of their own companies' shares, while the officers themselves sell heavily. Source: Bloomberg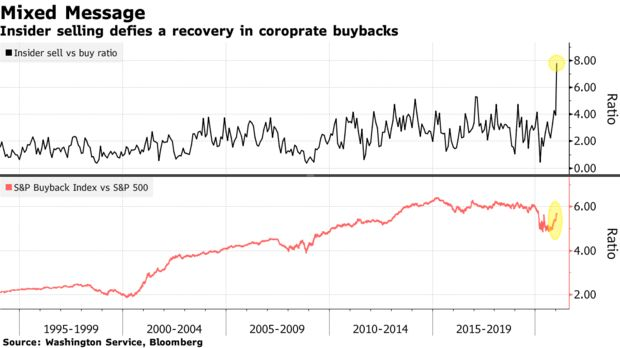 Insiders might be selling, but newsletters keep telling their subscribers to buy. More than 60% of letters have a bullish bias for the 9th consecutive week, one of the longest streaks since 1969. Source: Hedgopia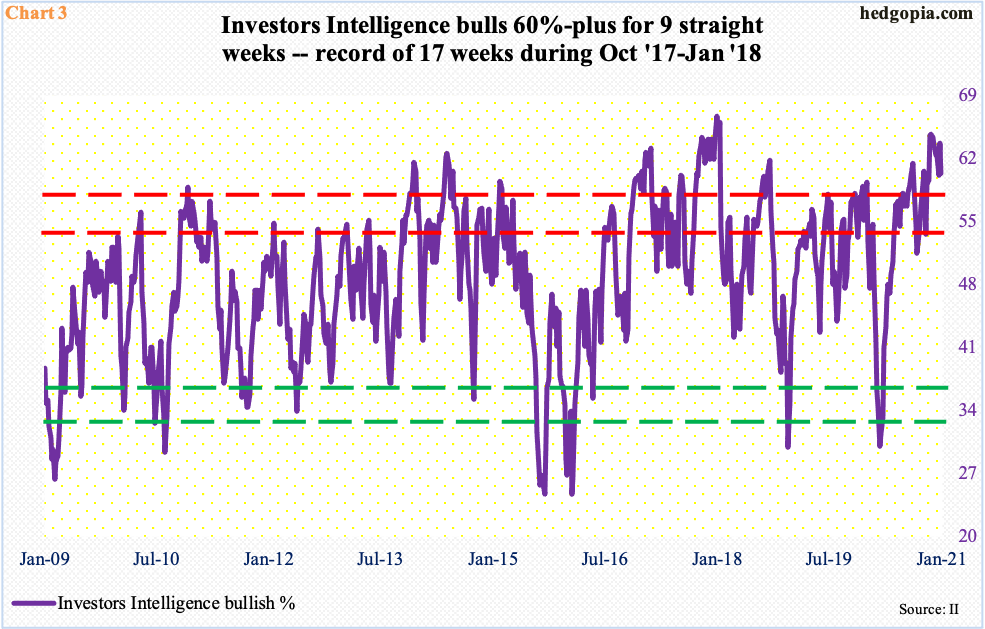 Bitcoin actually can move both directions, eh? We pointed out a couple of weeks ago that skew in bitcoin options was showing that traders were betting heavily on the rally to keep going. Now there is a little fear showing up, and put options are being bid. Source: Coindesk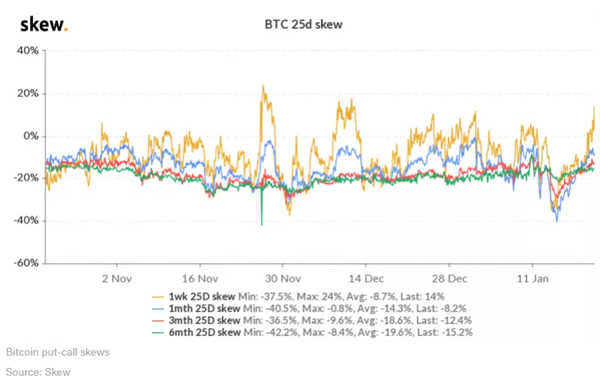 Related Posts:
---
Tagged As:
The post titled Crypto is getting a little crowded was originally published as on SentimenTrader.com on 2021-01-21.
At SentimenTrader.com, our service is not focused on market timing per se, but rather risk management. That may be a distinction without a difference, but it's how we approach the markets. We study signs that suggest it is time to raise or lower market exposure as a function of risk relative to probable reward. It is all about risk-adjusted expectations given existing evidence. Learn more about our service , research, models and indicators.
Follow us on Twitter for up to the minute analysis of market action.
Follow @sentimentrader