Don't Sell Just Because the Defense Is on the Field
---
---
Since the start of the quarter, an odd thing has happened. A couple of the most defensive sectors in the market have far outpaced the momentum run in the S&P 500.
As noted in the Wall Street Journal:
"Some of the hottest stocks in the U.S. are pointing to an economic cool-down. Utilities and healthcare are among the best-performing groups in the S&P 500 so far this quarter, with gains of 7.8% and 6.6%, respectively, compared with a 4.9% rise in the broad stock index."
This can be an issue for some investors because:
"The gains are noteworthy because investors typically pile into those types of stocks when they are expecting the outlook to darken. Visits to the doctor and electricity use are less apt to decline in a pinch than spending on vacations or new furniture.

But rallies in these so-called defensive sectors can presage broader market retreats, investors say, potentially spelling out a fresh test for a market whose post-pandemic rise has surprised many stock-market bulls."
We can see the relatively impressive rise in those two sectors versus the S&P in the chart below.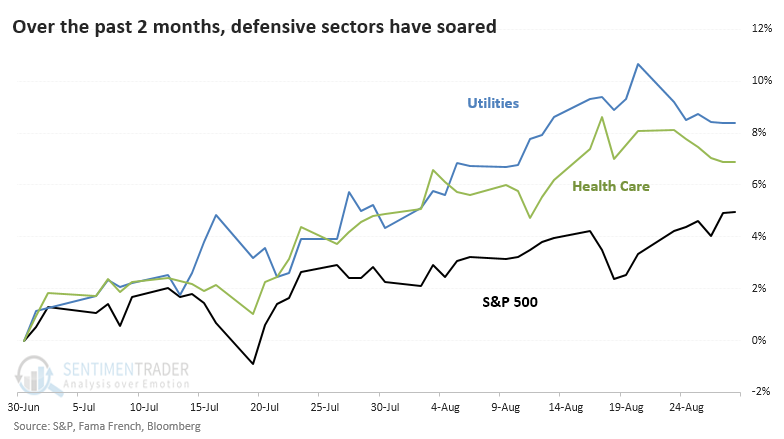 So, should we worry? Is this really a sign that investors are doubting the recovery and stocks are about to tumble?
Meh.
We looked at every time since 1928 when the S&P 500 closed at an all-time high, with more than a 4% gain over the past two months. But during those two-month stretches, both Utilities and Health Care outpaced the gains in the S&P by at least +2%. Over the following year, the S&P rose 9 out of 12 times, averaging a return of +12.0%.

---
What else we're looking at
Full details on defensive-led new highs in the S&P
How these signals compared to the opposite condition, and how sectors and factors performed
Copper declined right on cue
A thrust concept using composite breadth metrics
---
Stat box



For the 1st time in its history, the ETHE Ethereum Trust is working on its 7th consecutive week of rising prices.
---
Etcetera
Hedging pullback. Put option volume in the U.S. has dwindled relative to call volume in recent days as traders see the futility of hedging against the risk of what has been a record-setting uptrend in stocks.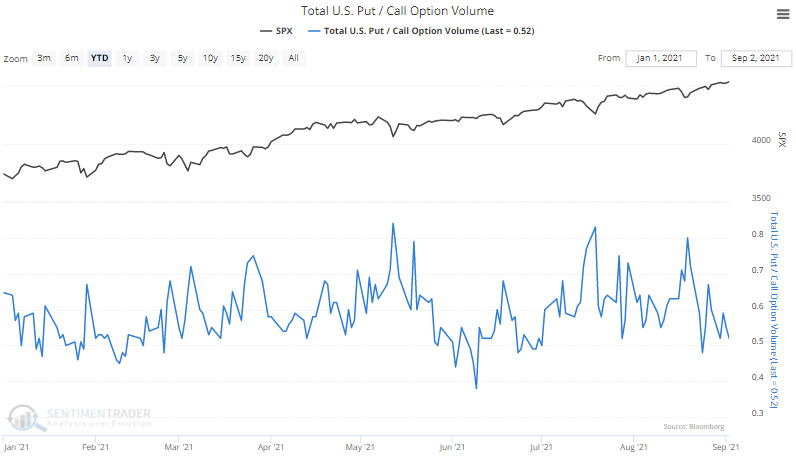 A healthy uptrend. More than a third of Health Care stocks have soared to 52-week highs in recent days, nearly the most in 3 years.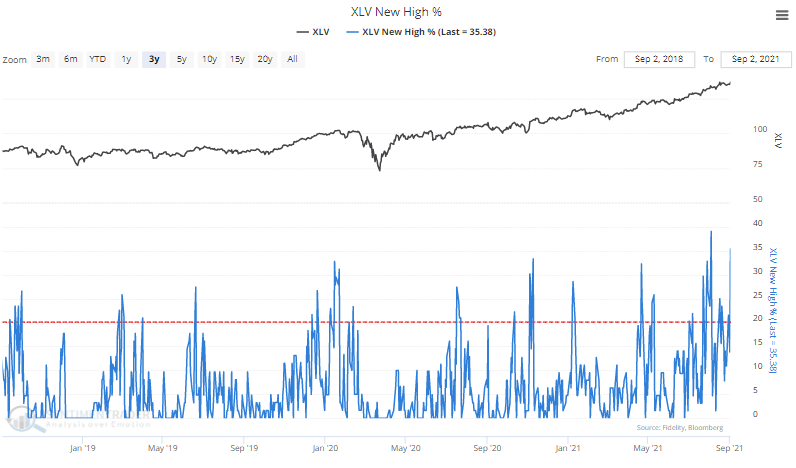 Nifty rally. The Nifty 50 index of Indian stocks has shown incredible momentum of late, and the McClellan Oscillator - a measure of internal breadth momentum - is at its 2nd-highest level in a year.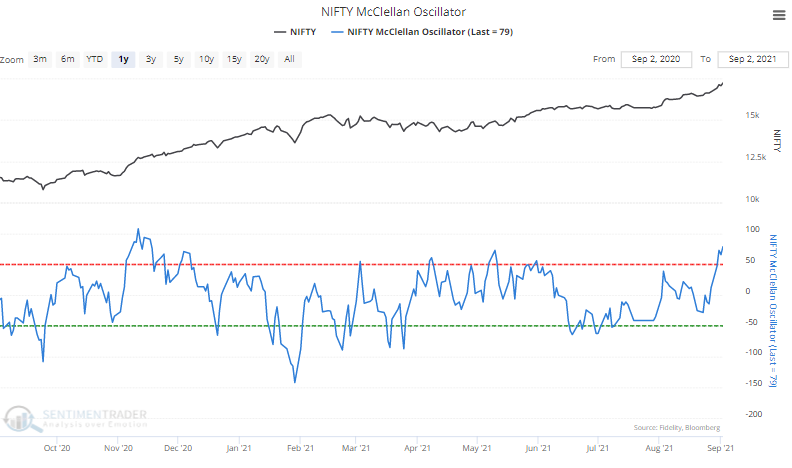 Related Posts:
---
Tagged As:
The post titled Don't Sell Just Because the Defense Is on the Field was originally published as on SentimenTrader.com on 2021-09-03.
At SentimenTrader.com, our service is not focused on market timing per se, but rather risk management. That may be a distinction without a difference, but it's how we approach the markets. We study signs that suggest it is time to raise or lower market exposure as a function of risk relative to probable reward. It is all about risk-adjusted expectations given existing evidence. Learn more about our service , research, models and indicators.
Follow us on Twitter for up to the minute analysis of market action.
Follow @sentimentrader