Dow Turns Negative YTD Amid Rare All-In Risk-Off Days
---
---
YTD SOS
The Dow Industrials started off 2020 in gangbuster fashion, with every day closing higher than 2019's closing level. That was all given back in recent days, and on Monday it fell into negative territory year-to-date.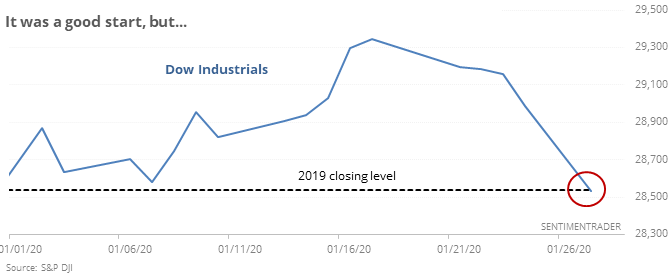 Other years that started off with gains then gave them back 2-4 weeks into a New Year struggled a bit over the next couple of weeks but then usually recovered over the medium-term.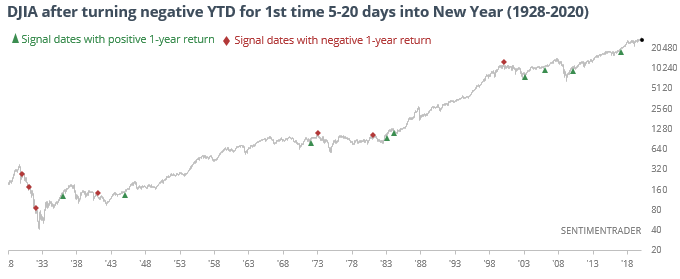 Risk-off
The stock market's drop on Monday and last Friday saw clear risk-off behavior. The U.S. stock market, emerging markets, copper, oil, and the 10 year Treasury yield all fell, while gold jumped on Friday and Monday. Such clear back-to-back risk-off behavior is not common, and has only occurred 11 other times from 1988-present.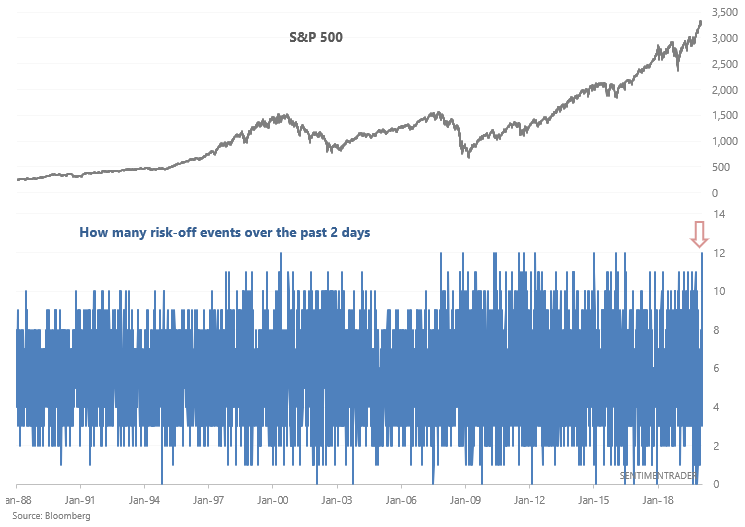 This kind of behavior was not consistently bullish (or bearish) for stocks, including emerging markets. Other markets were also mostly mixed, though it was slightly bullish for gold. And especially so for bonds (if yields decline, bond prices rise).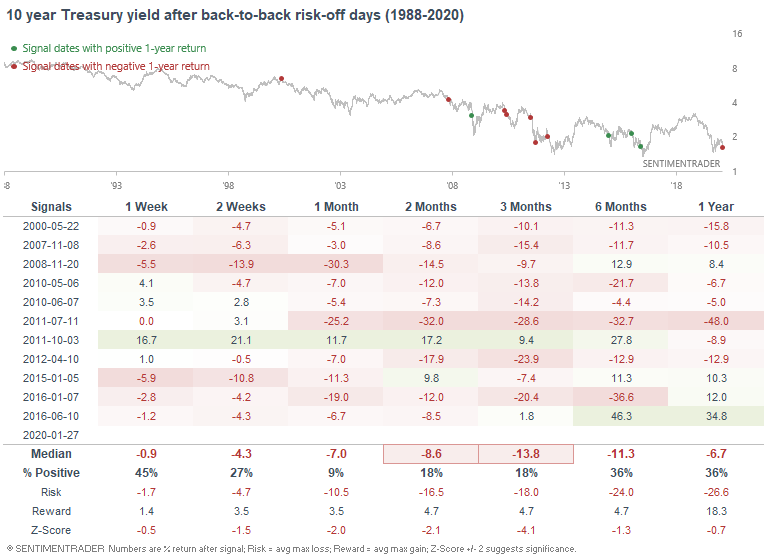 This is an abridged version of our recent reports and notes. For immediate access with no obligation, sign up for a 30-day free trial now.
We also looked at:
The S&P 500 ended a historic streak without a 1% daily move, with a downside thrust
It also ended a historic streak without back-to-back losses
Technical warning signs like the Hindenburg Omen are triggering again
What happens after the Relative Strength Index (RSI) on the VIX spikes
Looking at the highest 11-month analog correlations in the S&P
Our Optimism Index on utilities is stretched
There is a jump in Chinese stocks below their volatility bands

Related Posts:
---
Tagged As:
The post titled Dow Turns Negative YTD Amid Rare All-In Risk-Off Days was originally published as on SentimenTrader.com on 2020-01-29.
At SentimenTrader.com, our service is not focused on market timing per se, but rather risk management. That may be a distinction without a difference, but it's how we approach the markets. We study signs that suggest it is time to raise or lower market exposure as a function of risk relative to probable reward. It is all about risk-adjusted expectations given existing evidence. Learn more about our service , research, models and indicators.
Follow us on Twitter for up to the minute analysis of market action.
Follow @sentimentrader