Dumb Money Does A 180
---
---
Full recovery
Over the past 50 days, Dumb Money Confidence has averaged 70%, the highest since early 2018. This marks a complete cycle from the extreme pessimism in December.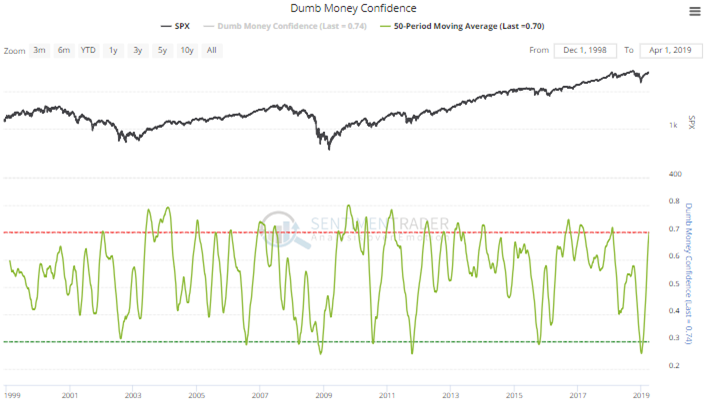 When the 50-day average first breaches the 70% level, it has typically coincided with a temporary reprieve in unrelenting rallies, but when it cycles from such a low level to a high level, stocks have continued to gain going forward.
Hello? Is this thing on?
Volume was exceptionally low on Tuesday, including in the most important ETF in the world. The S&P fund, SPY, closed at its highest level in more than 100 days, yet turnover was the lowest since last August, more than 50% lower than its average over the past 200 sessions. This is commonly taken as a bad sign, suggesting buyers weren't interested enough in the high prices. This is a questionable theory, as most are that deal with volume.
Of the 42 signals, 62% of them closed lower either one or two weeks later. After that, there was no evidence of weakness.
Euro hero
The Optimism Index for the euro has dropped below 30, an extreme level over the past several years. It has been below 30 on 18 trading days over the past three years, the U.S. dollar has tended to decline afterward, with only 4 days showing gains according to the Backtest Engine.
Getting there
Over the past week, sentiment on gold and gold miners has really soured. The 5-day average of the Optimism Index for the GDXJ fund (junior gold miners) is down to 31. According to the Backtest Engine, during the past three years of a bear market environment, when it was this low, GDXJ rallied over the next two weeks 81% of the time.
This post was an abridged version of our previous day's Daily Report. For full access, sign up for a 30-day free trial now.

Related Posts:
---
Tagged As:
The post titled Dumb Money Does A 180 was originally published as on SentimenTrader.com on 2019-04-03.
At SentimenTrader.com, our service is not focused on market timing per se, but rather risk management. That may be a distinction without a difference, but it's how we approach the markets. We study signs that suggest it is time to raise or lower market exposure as a function of risk relative to probable reward. It is all about risk-adjusted expectations given existing evidence. Learn more about our service , research, models and indicators.
Follow us on Twitter for up to the minute analysis of market action.
Follow @sentimentrader