Emerging markets are oversold, and seeing positive surprises
---
---
Economic surprises in emerging economies are picking up. Like most everyone else, when times are bad, economists tend to think they're going to get even worse; when times are good, they extrapolate that to mean even better times ahead.
They're positive pretty much everywhere else, too. The difference is that surprises in emerging economies continue to get more and more positive, while surprises in places like the U.S. have been easing after a surge earlier in the summer.
Emerging markets have underperformed the U.S. for a decade, but even so, when their surprises were trending well ahead of those in the U.S., the Emerging Markets / S&P 500 ratio tended to do quite well.
Longer-term internal momentum in these stocks has been horrid. The McClellan Summation Index is below zero and declining, not a great combination. But at least it has gone far enough to be considered extremely oversold. Our Backtest Engine shows that when it goes this far then starts to reverse, emerging markets mostly saw gains ahead.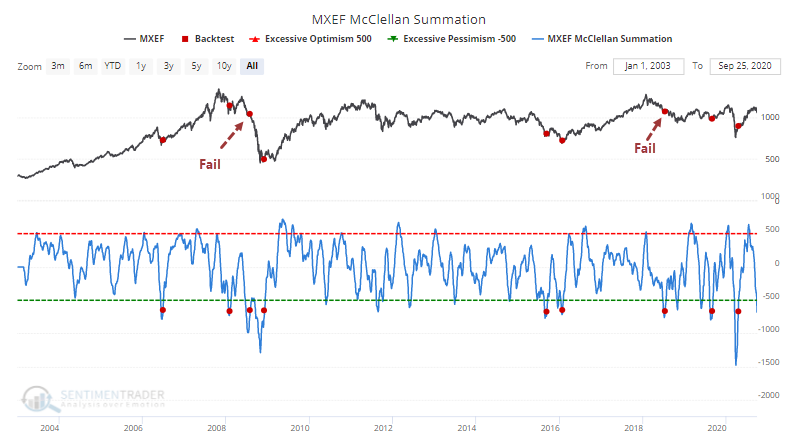 The biggest exceptions were in 2008 and 2018. A big warning sign triggered when the Summation Index started to recover from its extreme, yet prices didn't respond well.
This is an abridged version of our recent reports and notes. For immediate access with no obligation, sign up for a 30-day free trial now.
We also looked at:
What happens in emerging markets vs. the U.S. when economic surprises are trending higher
Returns when the McClellan Summation Index curls up from oversold
Shares outstanding in EEM have plunged
What happens to stocks, the dollar, and gold after Consumer Confidence rebounds

Related Posts:
---
Tagged As:
The post titled Emerging markets are oversold, and seeing positive surprises was originally published as on SentimenTrader.com on 2020-09-30.
At SentimenTrader.com, our service is not focused on market timing per se, but rather risk management. That may be a distinction without a difference, but it's how we approach the markets. We study signs that suggest it is time to raise or lower market exposure as a function of risk relative to probable reward. It is all about risk-adjusted expectations given existing evidence. Learn more about our service , research, models and indicators.
Follow us on Twitter for up to the minute analysis of market action.
Follow @sentimentrader