Emerging Markets Have Only Done This 3 Other Times
---
---
The most widely benchmarked index in the world has enjoyed a historically consistent and persistent rally in 2021. For many of its stocks, and especially for stocks outside the U.S., it's been a much different story.
Even while the S&P 500 has set record after record, stumbles in some Chinese stocks have helped to drag down emerging market indexes. The MSCI Emerging Markets Index has now turned negative for the year.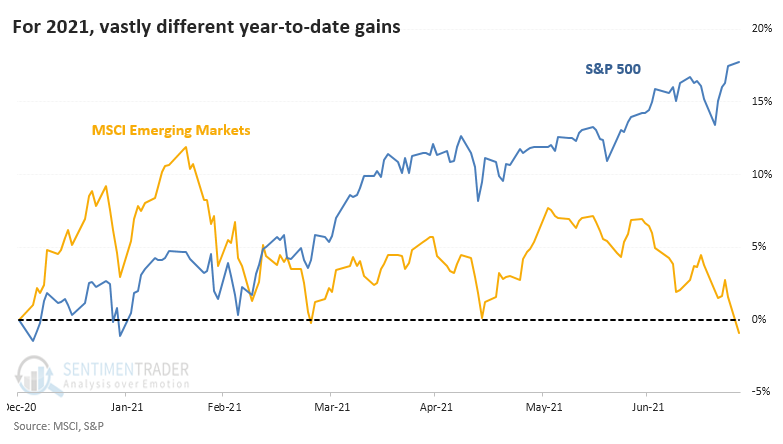 Through the end of July (or close to it, anyway), this is the 4th-widest difference in returns between the S&P and emerging markets.
There is a tendency to think that we should see some mean reversion through the end of the year. Bulls outside of the U.S. would want to think that impressive returns in the S&P would prompt investors to re-allocate to lagging markets. It wasn't to be.
Since 1988, there have been 3 other times when the S&P 500 was up by double digits through late July while emerging markets were in negative territory for the year. Each time, emerging markets fell further in the month(s) ahead.

---
What else we're looking at
Full returns in Emerging Markets, the S&P 500, and their ratio after wide performance spreads through July
Looking at lesser spreads to get a larger sample size
What happens when the S&P 500 makes a historically quick recovery from a pullback
Investigating the merits of a Bull Put Spread on gold
Why we need to keep a close eye on coffee
---
Stat box



Last week, the S&P 500 recovered from a 2.5% pullback from a 52-week high in only 4 trading days. Since 1928, that ranks among the top 11 fastest recoveries ever.
---
Etcetera
Rebounding risk appetite. The Copper/Gold Relative Ratio Rank went vertical this week, jumping 76 points. This shows increasingly risk-seeking behavior among investors.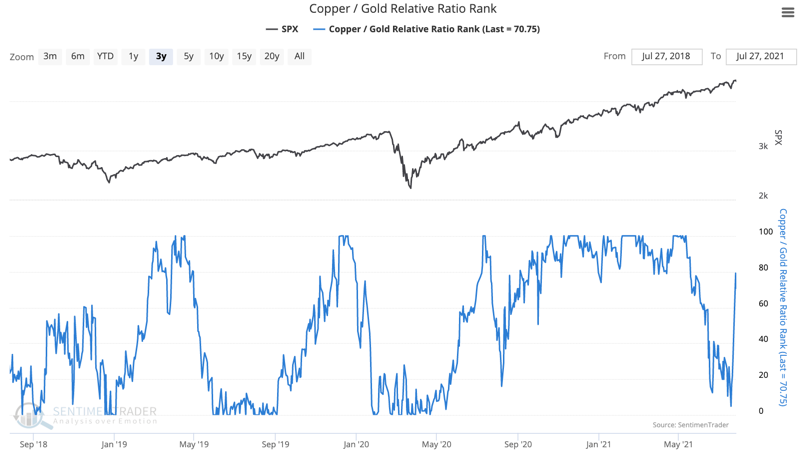 Low expectations. The Hong Kong Optimism Index reached its lowest point since March 2020, falling below 9%. Our Backtest Engine shows that the average return in EWH in the month following similar signals in an uptrend was +2.1%.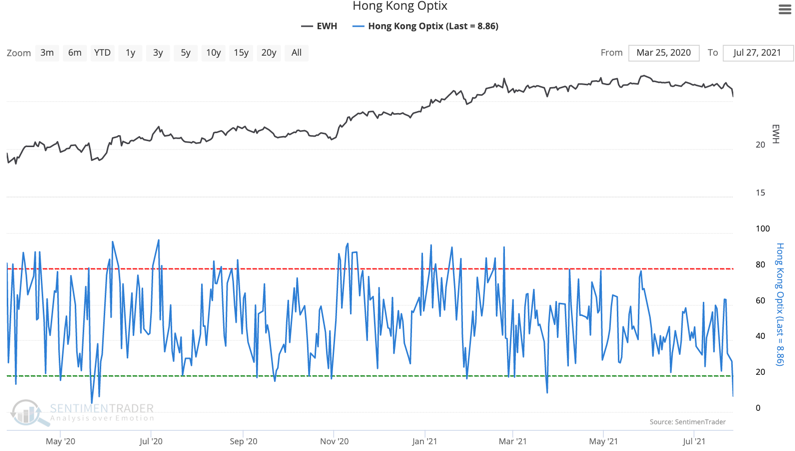 Bitcoin blast. Over the past 3 sessions, the Optimism Index for bitcoin has averaged more than 83%, ranking among the highest readings of the past 3 years.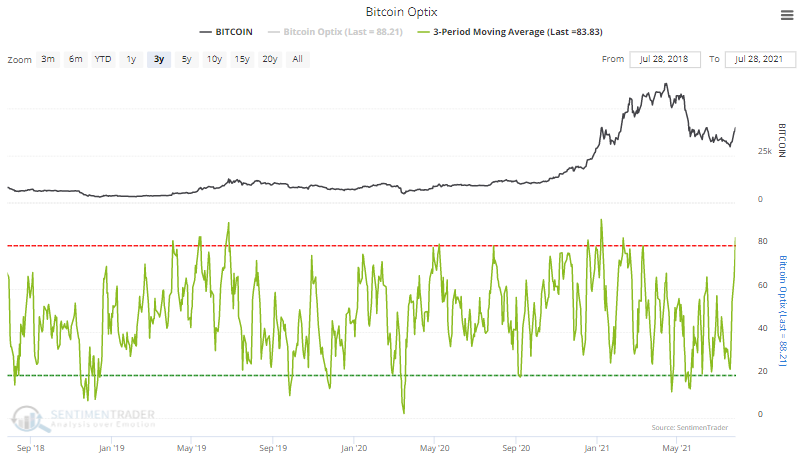 Related Posts:
---
Tagged As:
The post titled Emerging Markets Have Only Done This 3 Other Times was originally published as on SentimenTrader.com on 2021-07-29.
At SentimenTrader.com, our service is not focused on market timing per se, but rather risk management. That may be a distinction without a difference, but it's how we approach the markets. We study signs that suggest it is time to raise or lower market exposure as a function of risk relative to probable reward. It is all about risk-adjusted expectations given existing evidence. Learn more about our service , research, models and indicators.
Follow us on Twitter for up to the minute analysis of market action.
Follow @sentimentrader