Energy Stocks Have Suffered Like This Only a Few Times in 70 Years
---
---
Energy stocks enjoyed a historic thrust off their low, following a complete give-up among investors.
For the past few weeks, they've been stuck in neutral. While many are still holding above their long-term trends, none of them have managed to close above their medium-term 50-day moving averages for three straight weeks.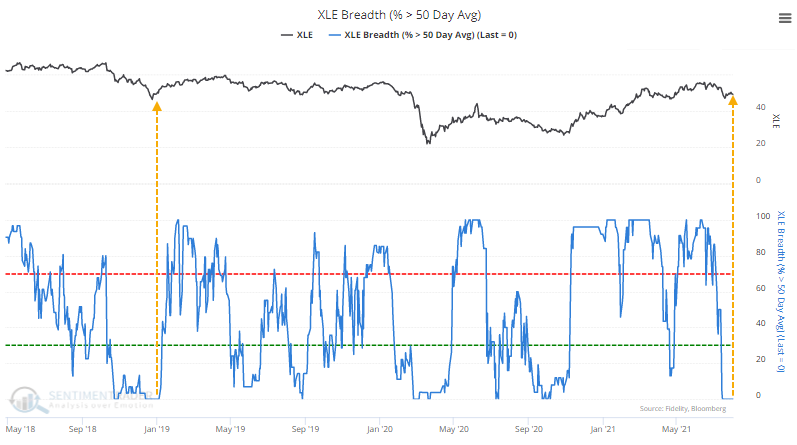 This is the longest stretch since the end of 2018. Over 70 years, this is now tied for the 4th-longest streak without a single stock in a medium-term uptrend.
Energy stocks suffered a similar bout of medium-term failure at the end of 2018, but before that, there were only three other comparable stretches since 1952.
The other four saw the sector rally over the next couple of weeks, but then it faltered a couple of times. The 2001 occurrence was the only one that ended up leading to a protracted downtrend, though the 2019 signal did eventually lead to the pandemic crash.

---
What else we're looking at
Full returns in Energy stocks following prolonged stretches with no members above their 50-day averages
What happened after shorter stretches within uptrends
It's time to pay attention to the ratio of the Price/Earnings Ratio to the VIX
Looking at a buy signal using Average True Range
---
Stat box



Thursday's new high in the S&P 500 was its 43rd of the year, the most in a calendar year since 2017. Since 1928, this is the 3rd-quickest year to record so many all-time highs, behind only 1964 and 1995.
---
Etcetera
On their own. When investors panic, they buy and sell everything together. When they're complacent, they trade securities on their own merits. The current low correlation among S&P 500 stocks suggests investors are feeling pretty comfortable.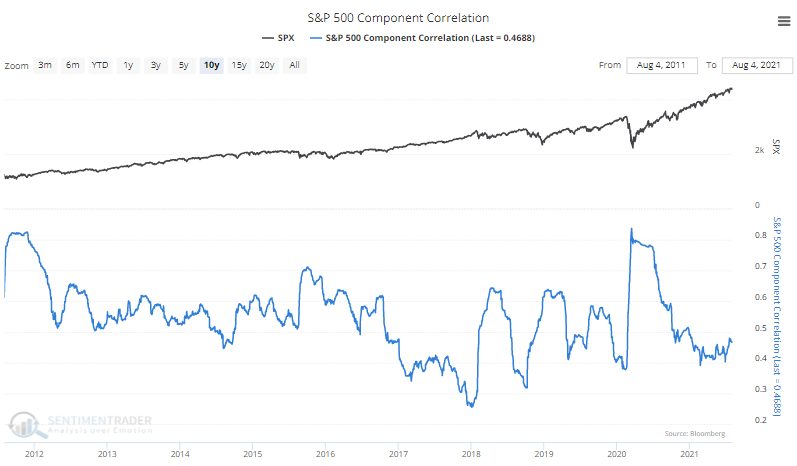 Healthy complacency? Among sectors, the lowest relative correlation among member stocks is in Health Care. After moving together during the pandemic, those stocks are moving on their own to one of the largest degrees of the past decade.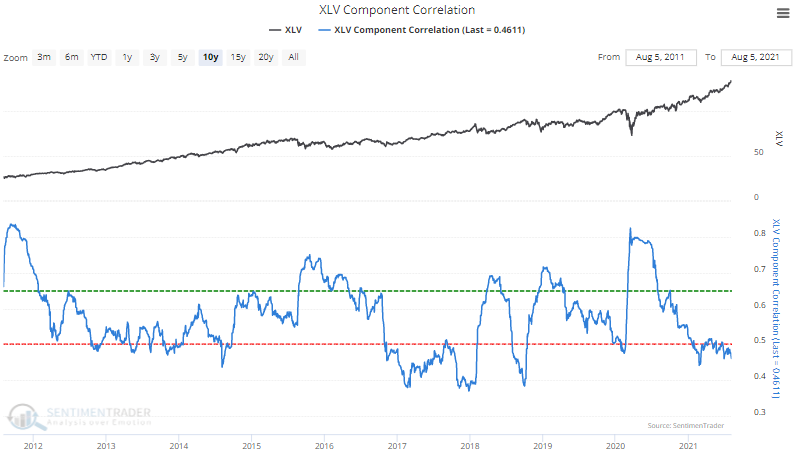 Financial fear. At the other end of the spectrum, correlations suggest there is still some concern among Financial stocks. There is a 0.75 correlation between stocks in that sector, on the upper end of the range for the past decade.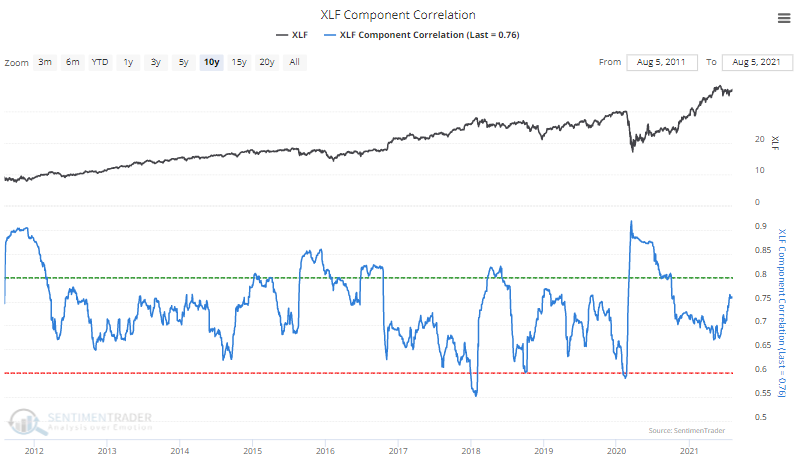 Related Posts:
---
Tagged As:
The post titled Energy Stocks Have Suffered Like This Only a Few Times in 70 Years was originally published as on SentimenTrader.com on 2021-08-06.
At SentimenTrader.com, our service is not focused on market timing per se, but rather risk management. That may be a distinction without a difference, but it's how we approach the markets. We study signs that suggest it is time to raise or lower market exposure as a function of risk relative to probable reward. It is all about risk-adjusted expectations given existing evidence. Learn more about our service , research, models and indicators.
Follow us on Twitter for up to the minute analysis of market action.
Follow @sentimentrader