Every Time in 25 Years Cotton Did This, Prices Plunged
---
---
Although many people use cotton (primarily in the form of clothing), only a handful of people ever "trade" cotton. Still, the topic of soaring commodity prices has become a thing in the past 12 months (to wit, lumber, crude oil, coffee, natural gas, lithium, uranium, corn, and soybeans, etc.). So, at the very least, more people are likely aware of soaring cotton prices than would have even noticed in the past.
And there are valuable trading lessons to be learned from this type of price activity, regardless of the market or stock actually doing the soaring.
In the cotton market, Jay noted that optimism toward the contract has soared along with prices. That's how sentiment works.
In the following test of Cotton Optix, Jay looked for those times when the 10-day moving average for Cotton Optimism Index crossed above 80, as it did last week. In a nutshell, we are looking for a sustained period of extreme optimism regarding cotton.
Results for cotton prices in the ensuing 12 months have been poor, averaging -25% according to our Backtest Engine.
It is OK to believe that cotton may weaken in the months ahead; it is NOT OK to blindly sell short cotton without implementing proper risk control.

---
What else we're looking at
Full returns in cotton after other periods of excessive optimism
What a reversal in the copper/gold ratio means for stocks
---
Stat box



As of last Tuesday, "smart money" commercial hedgers in major equity indexes like the S&P 500 held nearly $60 billion worth of contracts net short. That's among the largest short positions in history.
---
Etcetera
Not much luster. It's been hard to get investors excited about gold. Even when it rallies, optimism barely increases, and when gold drops, optimism craters. It's now close to the lowest levels of the past year.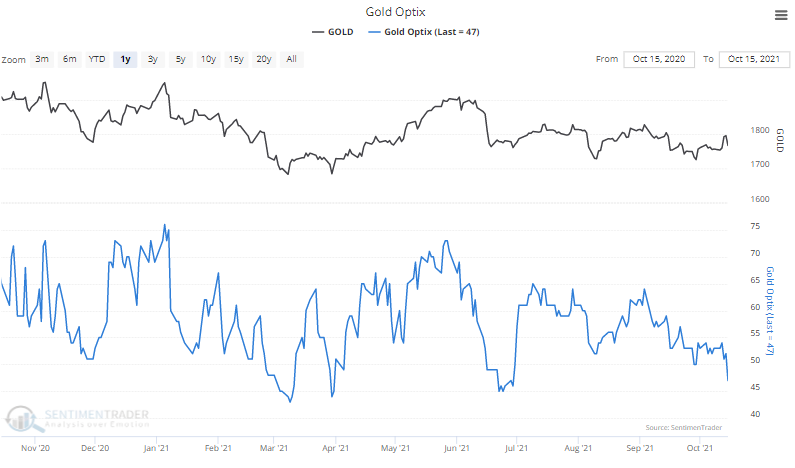 Chock BLOKed. Investors are chock full of optimism on blockchain stocks due in part to enthusiasm about looming ETF introductions. Over the past 3 days, the Optimism Index on BLOK is nearing 80% for only the 3rd time since April.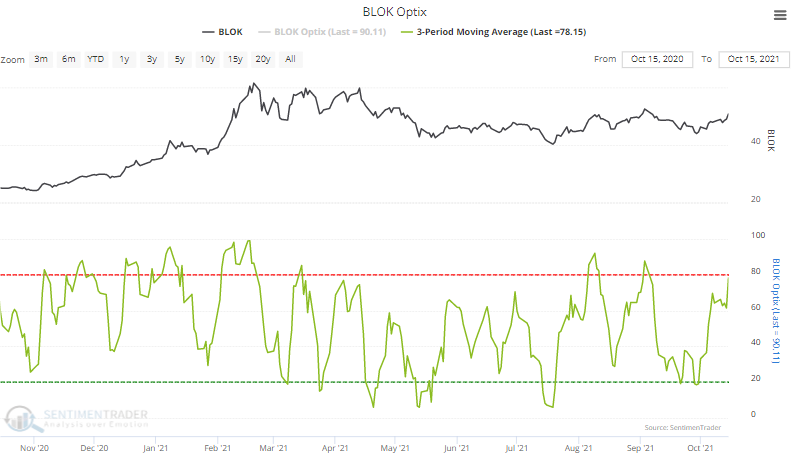 Phase transition. Early last week, there were more markets in Phase 1 (extreme pessimism) than Phase 3 (extreme optimism). Entering the new week, that has flipped.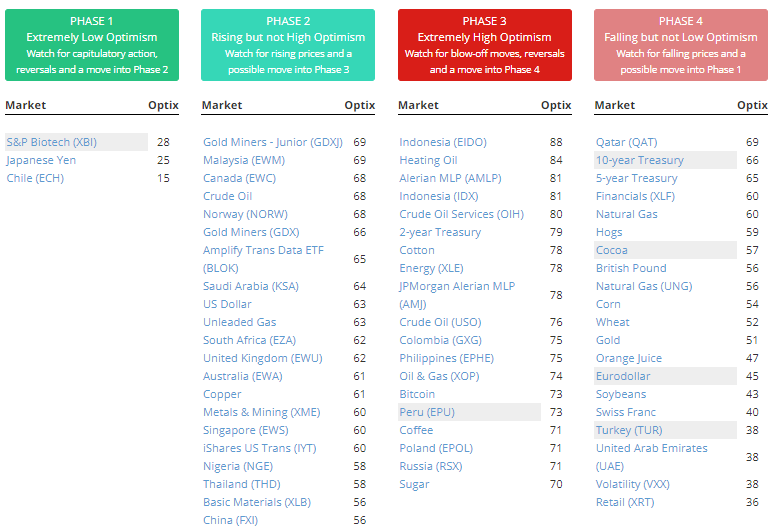 Related Posts:
---
Tagged As:
The post titled Every Time in 25 Years Cotton Did This, Prices Plunged was originally published as on SentimenTrader.com on 2021-10-18.
At SentimenTrader.com, our service is not focused on market timing per se, but rather risk management. That may be a distinction without a difference, but it's how we approach the markets. We study signs that suggest it is time to raise or lower market exposure as a function of risk relative to probable reward. It is all about risk-adjusted expectations given existing evidence. Learn more about our service , research, models and indicators.
Follow us on Twitter for up to the minute analysis of market action.
Follow @sentimentrader