Failed Bounce And Put Purchases
---
---
This is an abridged version of our Daily Report.
Failed bounce
Before some modest after buying interest, the most important index in the world triggered a failed bounce.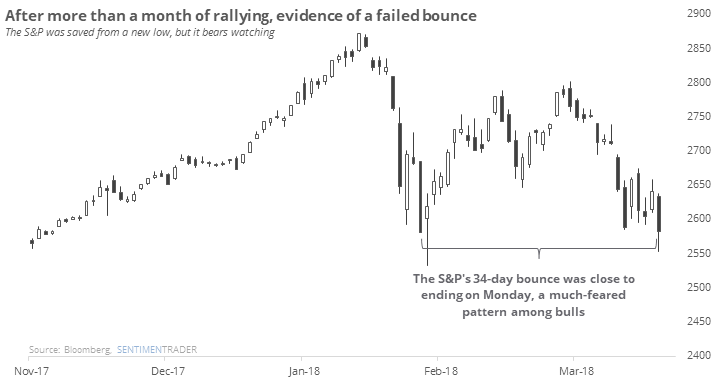 That's one of the most feared patterns for bulls because it shows a complete lack of buying interest. The S&P did suffer below-average returns after other failed bounces, but it wasn't a complete disaster.
A big violation
The S&P 500 finally broke its streak of days above its 200-day average and did so with extreme prejudice. Monday's violation of the long-term average was one of the heavier selling days that ended prior streaks.
No tech goes untouched
Every stock in the Nasdaq 100 index lost value on Monday. In the past 22 years, only 10 other days have seen such one-sided selling pressure.
Put purchases prove popular
Last week, options traders spent their most volume on buying put options since October 2015, leading to a rise in the Equity Hedging Index.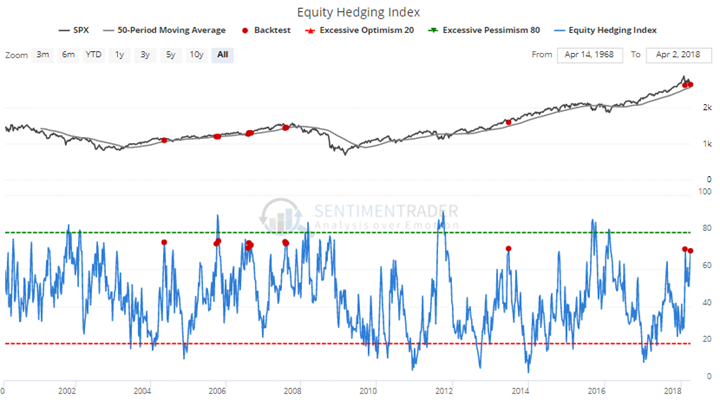 Even during the last two bear markets, such heavy put buying led to decent returns over the next 1-2 months.
Few uptrends
For the past week, an average of only 6% of stocks in the Dow Industrials have traded above their 50-day moving averages.


For access to the full report, indicators, charts, screens, and Backtest Engine, log in or sign up for a free 30-day trial today.
Related Posts:
---
Tagged As:
The post titled Failed Bounce And Put Purchases was originally published as on SentimenTrader.com on 2018-04-03.
At SentimenTrader.com, our service is not focused on market timing per se, but rather risk management. That may be a distinction without a difference, but it's how we approach the markets. We study signs that suggest it is time to raise or lower market exposure as a function of risk relative to probable reward. It is all about risk-adjusted expectations given existing evidence. Learn more about our service , research, models and indicators.
Follow us on Twitter for up to the minute analysis of market action.
Follow @sentimentrader