Fear Over Inflation Hasn't Been This High Since 1999
---
---
Investors love to latch onto narratives. They're simple, make theoretical sense...and are often completely wrong.
Lately, the narrative has been that stocks have stalled because of fears over inflation. We saw on Wednesday that those fears are valid - when an investor is losing money on earnings after inflation, stocks have often tanked.
This happens to be one of those narratives that has some solid empirical evidence. Over the past month, about when stocks started to go into a holding pattern, the correlation in daily changes between the VIX "fear gauge" and the yield on 10-year Treasury notes skyrocketed to the highest level since 1999.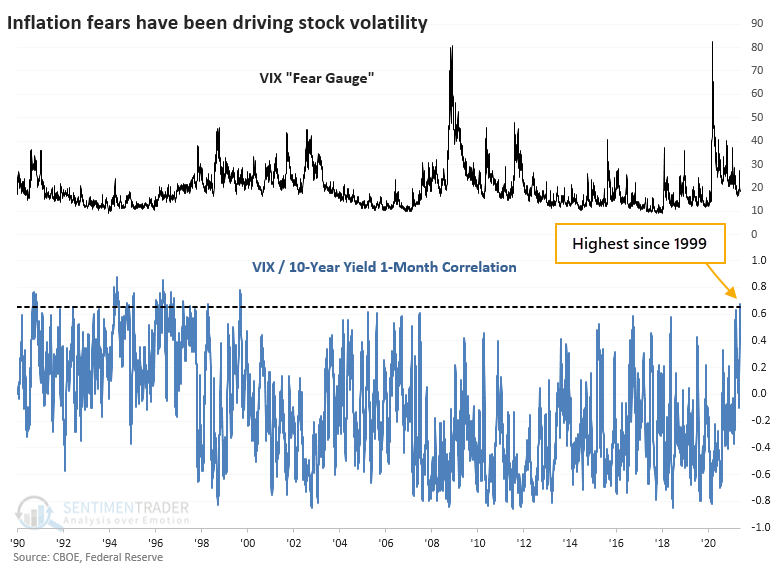 Yields drove investors' expectations for volatility throughout much of the 1990s. During that time, when the correlation got to as high a level as it's at now, the S&P showed weak short-term returns but good medium- to long-term ones.

Stat Box



Positive internal momentum has driven the McClellan Summation Index for the French CAC 40 index above

+1,000.

According to our Backtest Engine, this has happened 26 times in the past 20 years. Short-term future returns were weak, but 3 months later, the CAC was higher 69% of the time.
What else we're looking at
Full returns in the S&P 500 after high correlations between the VIX and yields
We also go back to the 1960s to search for similar behavior using a synthetic VIX indicator
These signals have been more consistent for gold than for stocks or bonds
Food prices are skyrocketing - what that means for stocks, sectors, and factors going forward
One commodity market, in particular, is setting up into June

Related Posts:
---
Tagged As:
The post titled Fear Over Inflation Hasn't Been This High Since 1999 was originally published as on SentimenTrader.com on 2021-05-28.
At SentimenTrader.com, our service is not focused on market timing per se, but rather risk management. That may be a distinction without a difference, but it's how we approach the markets. We study signs that suggest it is time to raise or lower market exposure as a function of risk relative to probable reward. It is all about risk-adjusted expectations given existing evidence. Learn more about our service , research, models and indicators.
Follow us on Twitter for up to the minute analysis of market action.
Follow @sentimentrader