From Risk-On To Risk-Off In Near-Record Time
---
---
Risk-on to risk-off in a month
In April, investors were showing extreme risk-on behavior, according to their eagerness to buy some markets over others. Barely a month later, that has cycled to extreme risk-off behavior.

The first risk-off reading following risk-on behavior has usually led to a return of riskier preferences. The S&P 500's returns tended to be a modest positive, especially over the next 3-6 months, though the returns were not exceptional.
In other markets, there wasn't much of a bias. Once we hit risk-off status, the dollar had a minor tendency to rebound, as did both bonds and gold. None of them were exceptional.
Call premiums collapse
Last week, options traders spent more on protective put option premiums than they did on calls. That's only the second time since December, and it was even more extreme for the smallest of options traders.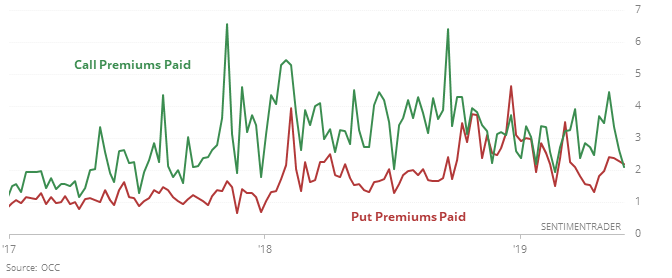 This is one of the heaviest spending on puts for a week when the S&P 500 was within 10% of a peak. Many of these weeks since 2000 triggered in 2016, so returns were impressive on all time frames.
Tech corrects
The Nasdaq Composite pulled back 10% (rounded) from its peak. This is the 3rd time it has quickly corrected from a multi-year high since the financial crisis, which both led to limited downside. Typically there was a small chance that these corrections would morph into more serious bear markets within the next few months.
Not chasing beta
Rydex mutual fund traders have been so hesitant to chase high-beta mutual funds that the 20-day Beta Chase is nearly at a record low. According to the Backtest Engine, after the 34 days when the 20-day average was below 0.9, the S&P rose over the next month 31 times.
This post was an abridged version of our previous day's Daily Report. For full access, sign up for a 30-day free trial now.

Related Posts:
---
Tagged As:
The post titled From Risk-On To Risk-Off In Near-Record Time was originally published as on SentimenTrader.com on 2019-06-04.
At SentimenTrader.com, our service is not focused on market timing per se, but rather risk management. That may be a distinction without a difference, but it's how we approach the markets. We study signs that suggest it is time to raise or lower market exposure as a function of risk relative to probable reward. It is all about risk-adjusted expectations given existing evidence. Learn more about our service , research, models and indicators.
Follow us on Twitter for up to the minute analysis of market action.
Follow @sentimentrader