Gold Beats Stocks' Double-Digit Jump
---
---
This is an abridged version of our recent reports and notes. For immediate access with no obligation, sign up for a 30-day free trial now.
Rising and falling together
The major sectors within the S&P 500 have mostly been moving in concert, so correlations have risen quickly over the past month. Correlations are also rising among safe-haven assets.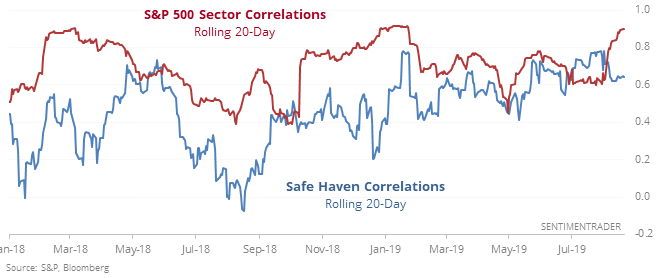 When both sets of correlations have been this high in the past, it has generally coincided with times of high anxiety in markets, preceding gains in the S&P 500 every time but once over the next 6-12 months, with the exception being a signal right before the worst of the financial crisis. For the other assets, it was less of a signal.
Gold beats stocks' double-digit jump
The S&P 500 is up double digits in 2019, but still can't beat the gain in gold.

While that could be considered a sign of risk-aversion among investors, and it may be, it wasn't necessarily a negative signal. Stocks (and gold) mostly rose after similar behavior. Same goes for when gold's rolling 1-year return beat the S&P's double-digit gain.
Trying to turn
The momentum of rising and falling securities on the NYSE has turned positive after weeks in negative territory, and longer-term momentum remains solidly positive. That combination has led to good long-term returns, with only a couple of modest losses over the medium- to long-term.
Lagging Small-Caps
The ratio of the S&P 500 to Russell 2000 has been in an uptrend for nearly a year, meaning that small-caps have consistently lagged. While that's usually taken as a troubling sign, historically it hasn't proven out that way.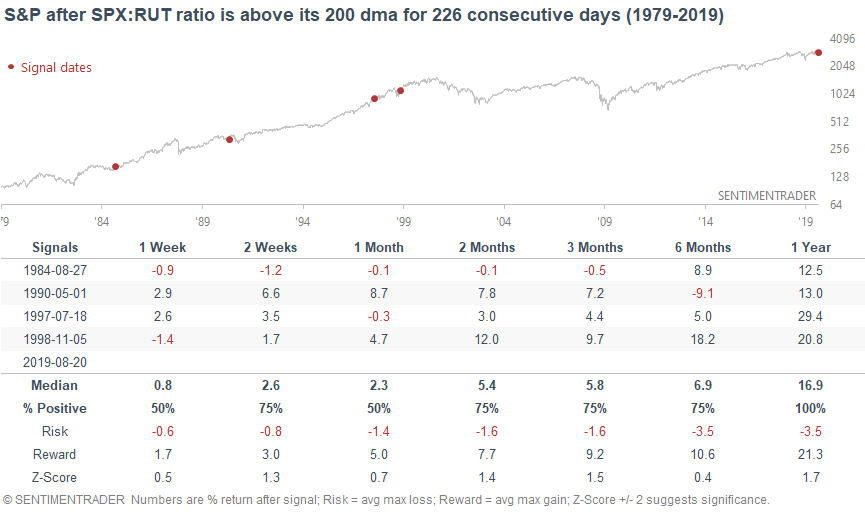 A big part of the reason is diverging paths of forward earnings for the S&P 500 versus it's small-cap brethren. While the 12-month forward earnings trend is negative for smaller-caps, it remains positive for the larger-cap S&P 500, and that has been a good signal.
Below, we can see an equity curve if we buy and hold the S&P versus switching to cash when earnings are negative, or switch to bonds. Currently this is still on a buy signal.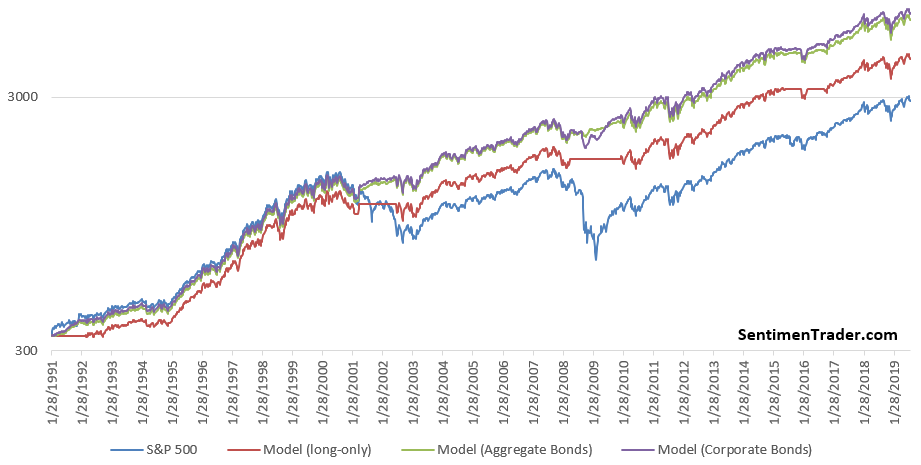 Big shift
More than 90% of stocks in Hong Kong's Hang Seng index have managed to climb above their short-term 10-day moving averages, following a time when fewer than 5% of them did so and still less than half are trading above their long-term 200-day averages (showing short-term bursts of buying interests in long-term downtrends). This has triggered 5 times in the past 17 years, all leading to double-digit gains over the next 6 months.

Related Posts:
---
Tagged As:
The post titled Gold Beats Stocks' Double-Digit Jump was originally published as on SentimenTrader.com on 2019-08-21.
At SentimenTrader.com, our service is not focused on market timing per se, but rather risk management. That may be a distinction without a difference, but it's how we approach the markets. We study signs that suggest it is time to raise or lower market exposure as a function of risk relative to probable reward. It is all about risk-adjusted expectations given existing evidence. Learn more about our service , research, models and indicators.
Follow us on Twitter for up to the minute analysis of market action.
Follow @sentimentrader