Gold Bugs Haven't Liked This Trend
---
---
When gold tries to change its long-term trend, it usually struggle. Its sensitivity to economic surprises and interest rates also hasn't helped the outlook over the past few months.
After a June plunge, though, gold has been treading water until recently. After a good week, gold is now trading in the upper end of its 2-month range. Gold mining stocks, however, are struggling.
Looking at each of them relative to their ranges of the past 2 months, we can see how stark this divergence is.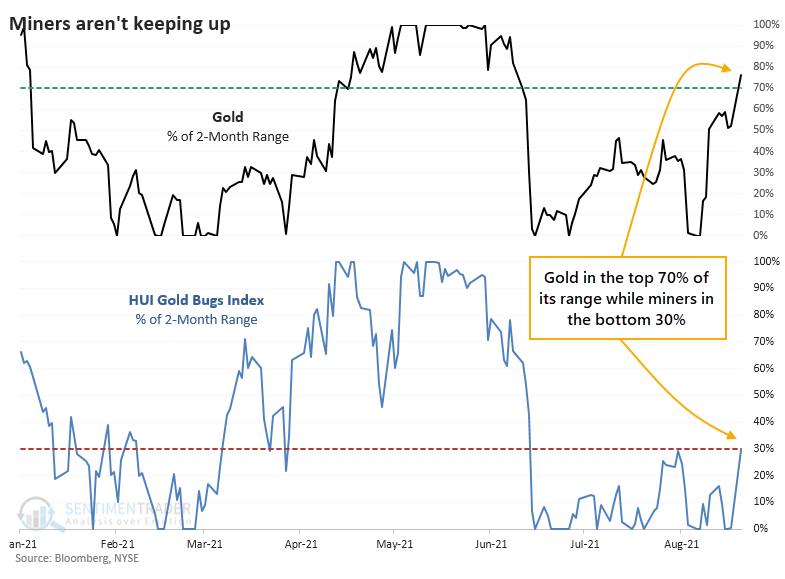 When mining stocks were in a downtrend at the time, this was not a good sign. After similar divergences between gold and mining stocks, both gold and miners struggled in the weeks and months ahead.
Weakness over the past few weeks, in particular, has meant that some of the breadth metrics among mining stocks that we calculate are starting to reach oversold levels. For example, last week, more than a third of mining stocks fell to a 52-week low, the most in 3 years. That's a high number for a medium-term washout but is well under the 50% or higher figure we see during long-term panics.

---
What else we're looking at
Full returns in gold and mining stocks following divergences in their 2-month ranges
A look at the spike in 52-week lows among gold mining stocks
The seasonal outlook for gold and mining stocks
Using the relative rank of micro-cap stocks as an indicator for the broader market
Using utilities as a risk-on indicator
---
Stat box



Traders pulled more than $185 million out of the SMH semiconductor fund on back-to-back days. This is the first time since 2018 that the fund has suffered such large outflows on consecutive days.
---
Etcetera
No yen for the yen. Out of all markets we cover, the 100-day Optimism Index for the Japanese yen is the lowest. It's just now trying to curl higher from its 3rd-lowest reading of the past 20 years.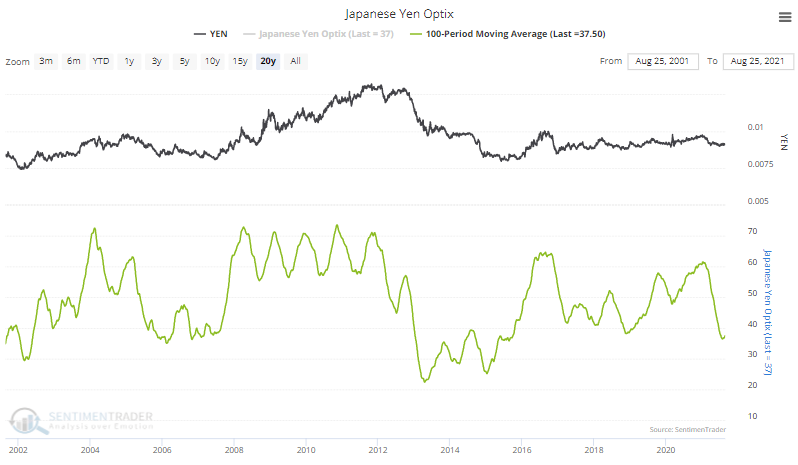 Or Chinese stocks. Sticking with the same theme, the 2nd-lowest amount of optimism over the past 100 days is in the FXI fund focused on Chinese stocks. It's trying to rise from the 2nd-lowest reading in 5 years.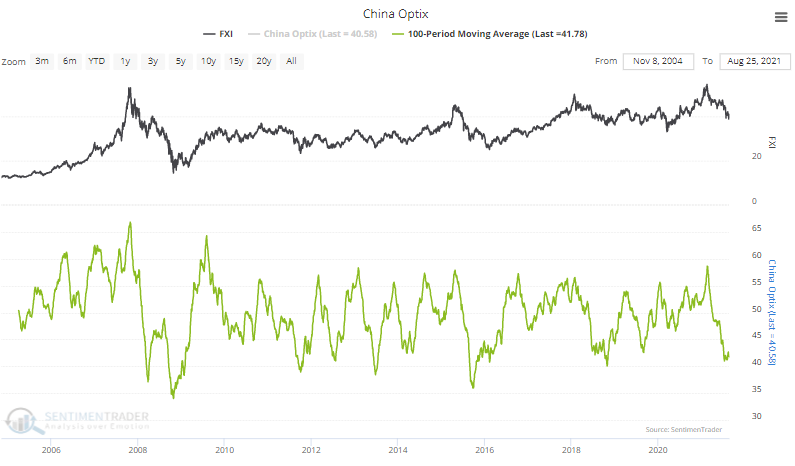 Sugar high. On the other end of the spectrum, a market with the highest average Optimism Index over the past 100 days is sugar. It's currently at the highest level since 2006.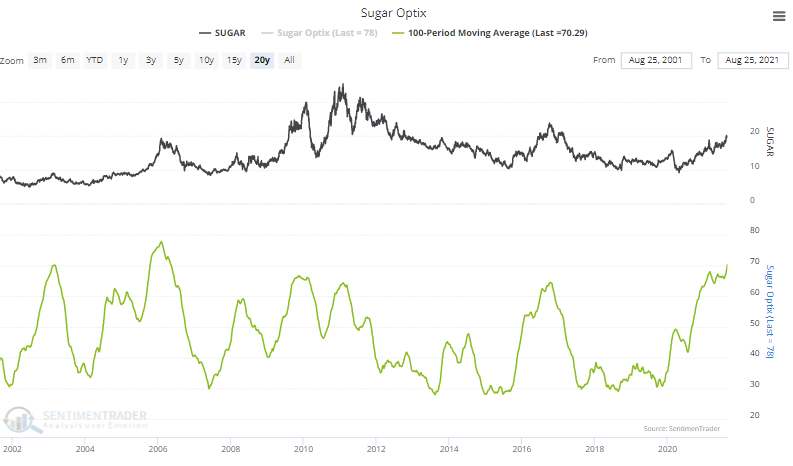 The post titled Gold Bugs Haven't Liked This Trend was originally published as on SentimenTrader.com on 2021-08-27.
At SentimenTrader.com, our service is not focused on market timing per se, but rather risk management. That may be a distinction without a difference, but it's how we approach the markets. We study signs that suggest it is time to raise or lower market exposure as a function of risk relative to probable reward. It is all about risk-adjusted expectations given existing evidence. Learn more about our service , research, models and indicators.
Follow us on Twitter for up to the minute analysis of market action.
Follow @sentimentrader