Gold Mining Stocks Are Surging...and Have a Lot To Prove
---
---
After being left for dead, companies who mine the barbarous relic have made a comeback. Gold mining stocks are showing a thrust in medium-term trends, but longer-term trends remain poor. That has preceded mostly negative returns for the HUI Gold Bugs Index.
Less than a month ago, fewer than 5% of gold mining stocks traded above their 50-day moving averages. With a surge in gold prices in recent weeks, miners got bid, and several days recorded more than 85% of the stocks trading above their averages.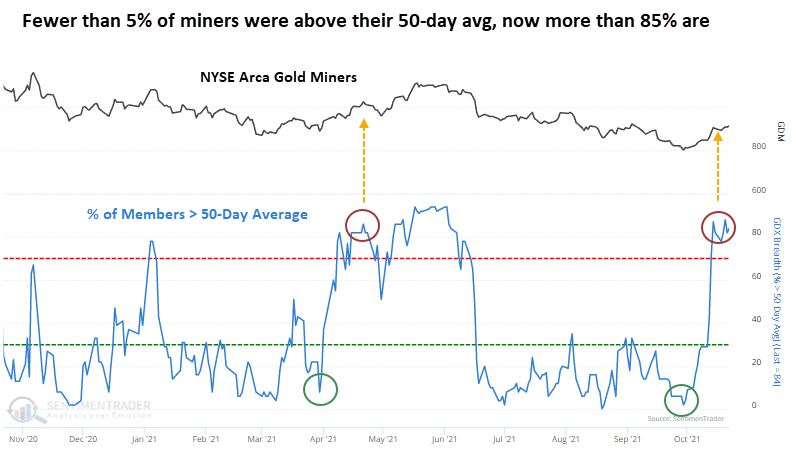 When these stocks have cycled like this, from few to most of them trading above their 50-day averages within 30 days, the sector showed mediocre returns. It rallied most of the time over the next 1-2 months but then often saw those gains peter out. Over the next 6 months, the average return was a woeful -4.4%.
We also looked at medium-term breadth thrusts when few stocks traded above their 200-day moving averages. And times when most of the stocks were emerging out of bear markets. Forward returns were not encouraging.

---
What else we're looking at
Full results after breadth thrusts in gold miners
What happens when miners end a long streak with more than 75% of stocks mired in bear markets
The S&P 500 is about to enter a "power period"
What momentum in the S&P equal-weight index means for future returns
---
Stat box



The S&P 500 Equal-Weight Index, which gives equal weight to each of the 505 stocks in the index, just ended a streak of 10 consecutive positive days for only the 2nd time in a decade (October 5, 2017, was the other).
---
Etcetera
Transportation stocks are really moving. Over the past week, the Optimism Index for the IYT fund has averaged more than 83%, among the highest in 5 years. There is often a burst of optimism like this after emerging from a prolonged downtrend.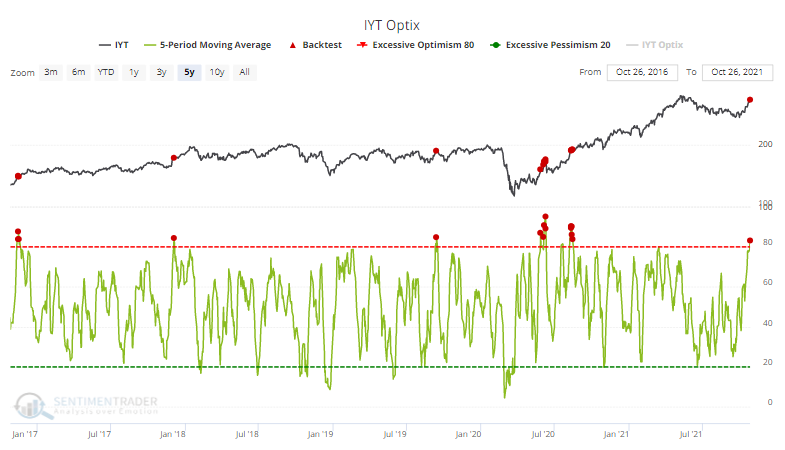 Brazil waxed. Sentiment on Brazilian stocks is morbid and getting even worse. Over the past 100 sessions, the Optimism Index on EWZ has dropped near 40%, among the lowest levels in a decade.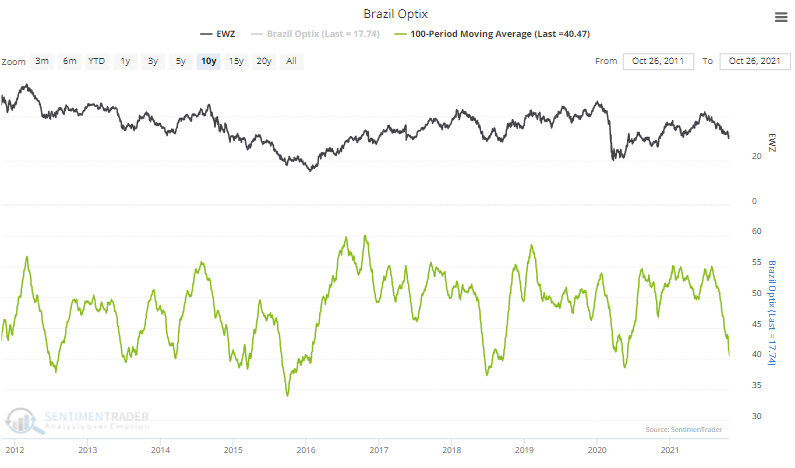 Around the globe. Our Optimism Index Geo-Map shows that Brazil is one of the few countries where investors show low optimism (green color).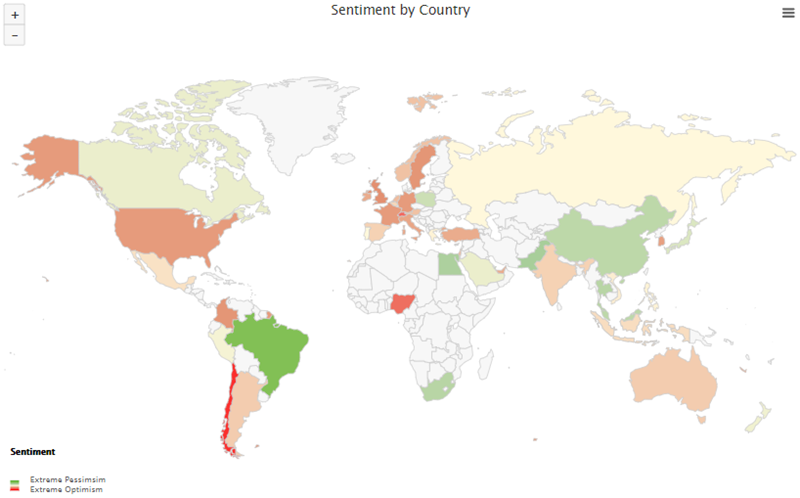 Related Posts:
---
Tagged As:
The post titled Gold Mining Stocks Are Surging...and Have a Lot To Prove was originally published as on SentimenTrader.com on 2021-10-27.
At SentimenTrader.com, our service is not focused on market timing per se, but rather risk management. That may be a distinction without a difference, but it's how we approach the markets. We study signs that suggest it is time to raise or lower market exposure as a function of risk relative to probable reward. It is all about risk-adjusted expectations given existing evidence. Learn more about our service , research, models and indicators.
Follow us on Twitter for up to the minute analysis of market action.
Follow @sentimentrader