Health care stocks haven't done this since January
---
---
Health care stocks were some of the biggest beneficiaries of Wednesday's post-election relief rally. As a sector, they outperformed even highflying tech shares.
As a result, more than 30% of them broke out to fresh 52-week highs, among the biggest thrusts in years.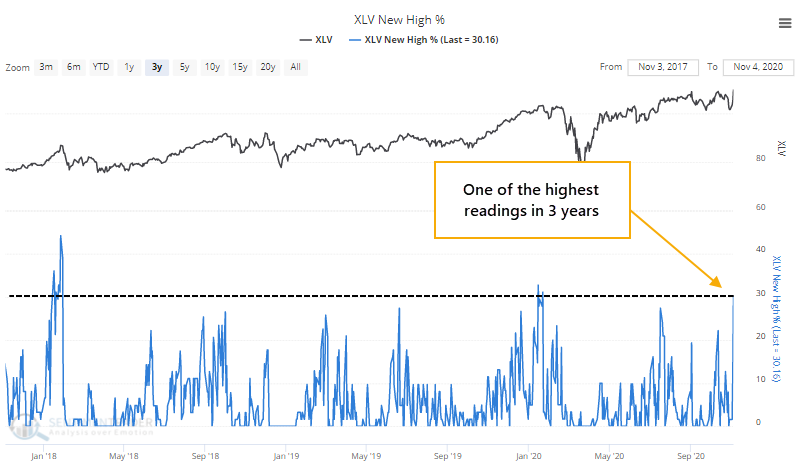 With some sectors, a surge in new highs tends to be a good sign of positive momentum, with consistently positive forward returns. Those tend to be higher-beta sectors. In more defensive sectors, we typically see weaker returns in the shorter-term after big thrusts. That was modestly the case for health care.
One of the relatively odd aspects of the surge in new highs is that there wasn't a concurrent surge in the percentage of them that also moved above their 200-day moving averages. Even after Wednesday's jump, fewer than 80% of them were in long-term uptrends. When that happens, the sector fared worse in the shorter-term.
---
What else is happening
These are topics we explored in our most recent research. For immediate access with no obligation, sign up for a 30-day free trial now.
What happens when there is a surge in new highs among health care stocks
And what happens when the surge is met by muted participation
Seasonality and insider buying interest in health care stocks
Value stocks have underperformed growth by nearly the widest spread in 30 years
---
Stat Box

The Dow Industrials rallied more than 1% for 4 consecutive sessions through Thursday. Going back to 1896, a total of 124 years, the index managed only 19 other streaks like this. Its most consistent performance was over the next 2 months, when it gained 15 times and lost ground 4 times.
---
Sentiment from other perspectives
We don't necessarily agree with everything posted here - some of our work might directly contradict it - but it's often worth knowing what others are watching.
1. Not much sign of FOMO among bitcoin traders - Coinbase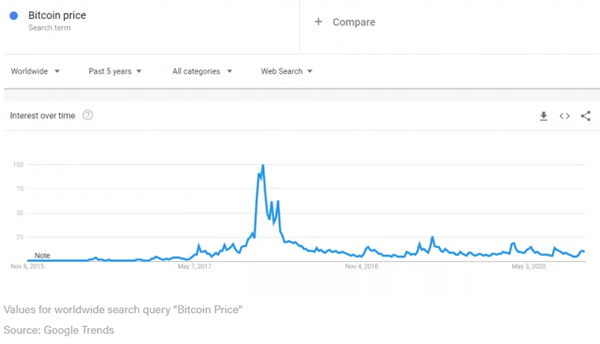 2. Even though it has the highest risk-adjusted return of any market - Coindesk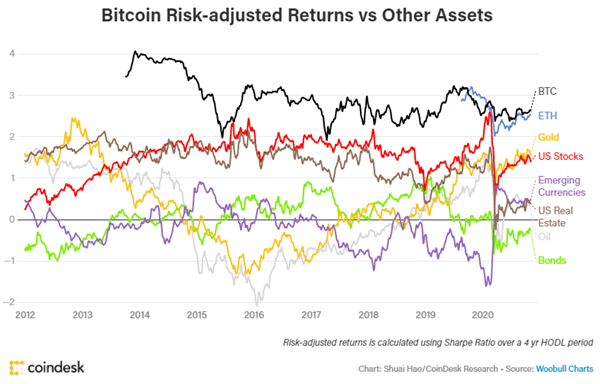 3. It's also rallying with smaller daily gains, not usually the sign of a euphoric market - Bloomberg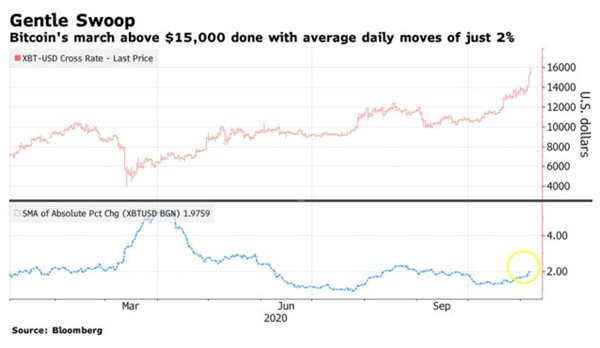 Related Posts:
---
Tagged As:
The post titled Health care stocks haven't done this since January was originally published as on SentimenTrader.com on 2020-11-06.
At SentimenTrader.com, our service is not focused on market timing per se, but rather risk management. That may be a distinction without a difference, but it's how we approach the markets. We study signs that suggest it is time to raise or lower market exposure as a function of risk relative to probable reward. It is all about risk-adjusted expectations given existing evidence. Learn more about our service , research, models and indicators.
Follow us on Twitter for up to the minute analysis of market action.
Follow @sentimentrader