Hedge funds are shorting the dollar like crazy
---
---
There is a broad spectrum of investors looking for the dollar to rally, which should help trigger a pullback in stocks, metals, and commodities. The trouble is, many of their arguments were the same ones used in September.
On the surface, the arguments have a little bit of support. The buck closed above a widely-watched moving average for the first time in months on Monday. That ended a streak of 2 months below that average, the longest in nearly a decade. This is the kind of streak the dollar consistently underwent during structural bear markets, with only the last one in the sequence (sometimes) ending up leading to sustained gains.
It's a tempting argument, with large speculators holding nearly 40% of dollar futures open interest net short, one of their largest positions ever. On a chart, it seems like the extremes tend to line up with turns in the dollar, but charts can be misleading.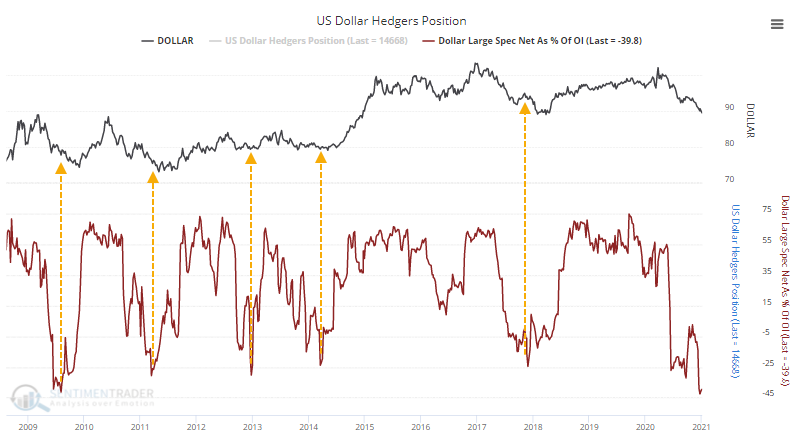 The dollar's annualized return when speculators held more than 20% of open interest net short was -1.2%. Returns were significantly higher when speculators were net long a large share of open interest. This is the opposite of what we see in most other contracts.
When we look at all substantial 3-day rallies in the dollar when speculators were holding a large net short position, we can find no consistent evidence that this is the type of behavior that leads to short-covering. In fact, the best-performing market over the next 3 months was one that a rising dollar should hurt the most.
This is why we test - markets do a very good job at screwing with people who try to use logic instead of human nature.
What else we're looking at
What happens to the dollar after it ends a long downtrend
Forward returns following short-covering rallies in the dollar
A look at more than a dozen markets and factors following nascent short-covering rallies
What happens to 10-year yields after a run like the past week
Gold mining stocks have taken a tumble, triggering some extremes in breadth
A 2-fund portfolio that has gained 38 out of 42 years to start the year
The high-yield market is not throwing off any warning signs
For immediate access to all the research with no obligation, sign up for a 30-day free trial
Stat Box



Only 2% of gold mining stocks are trading above their 10-day moving averages, the fewest since November. Dating back to 1993, this is a low enough reading to rank in the bottom 2% of all days.
Sentiment from other perspectives
Don't mix business and politics? Don't tell small business owners that. There was a jump in optimism when the Trump administration took over, and now...not. Source: Piper Sandler via Daily Shot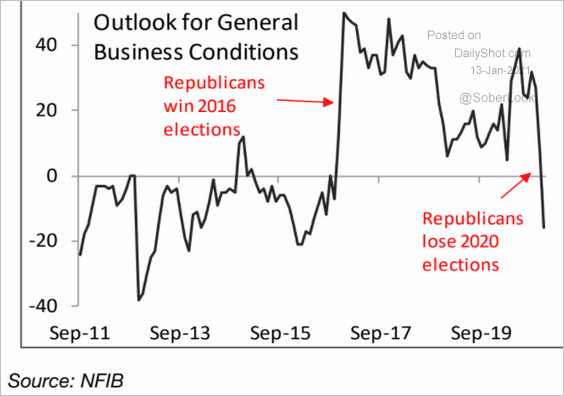 Business owners might be feeling a little less optimistic, but day traders sure aren't. Powerd by social media hype, "story" stocks have been taking off, and not letting up yet. Source: Wall Street Journal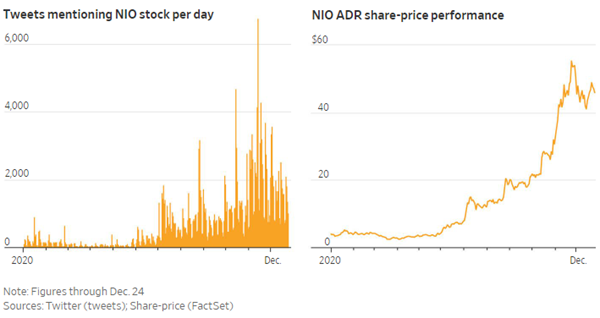 This is the kind of activity that draws investors - okay, traders - into penny stocks. Volume there has been exploding, and for now, it has been rewarding. Source: Bloomberg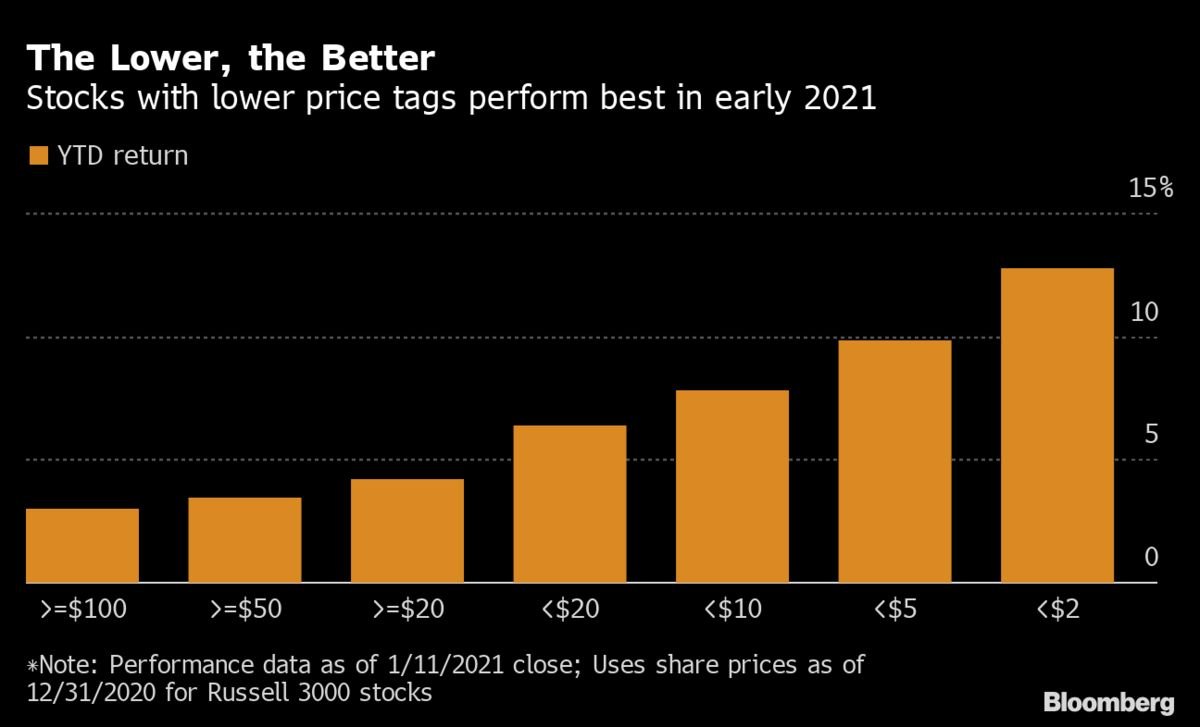 Related Posts:
---
Tagged As:
The post titled Hedge funds are shorting the dollar like crazy was originally published as on SentimenTrader.com on 2021-01-13.
At SentimenTrader.com, our service is not focused on market timing per se, but rather risk management. That may be a distinction without a difference, but it's how we approach the markets. We study signs that suggest it is time to raise or lower market exposure as a function of risk relative to probable reward. It is all about risk-adjusted expectations given existing evidence. Learn more about our service , research, models and indicators.
Follow us on Twitter for up to the minute analysis of market action.
Follow @sentimentrader