Hedge Funds Just Won't Buy
---
---
Hesitant hedgies
Hedge funds have not been buying this massive rally. Across different hedge fund strategies, there is very little, or even negative, correlation to the movement in stocks, suggesting they are under-invested or even betting against the rally.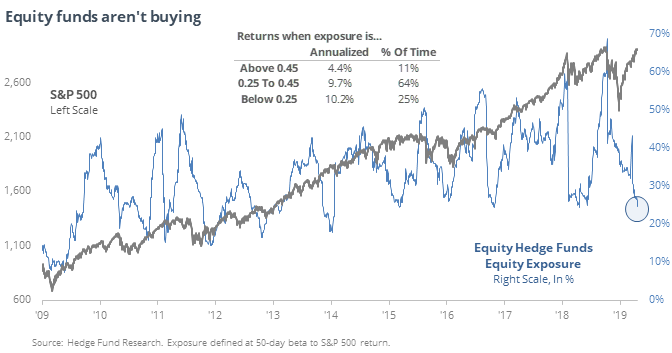 This is unusual, though it did happen in 2007-08 as well as the financial crisis unfolded.
Buck breakout
The U.S. dollar hit a fresh 2-year high this week. That's the first time in more than 600 days, the 8th-longest streak in the past 40 years.

The Dollar Index's flat long-term trend means that most similar breakouts led to poor returns over the next 2-6 months. It was a mixed blessing for stocks and most sectors, while commodities suffered modestly, especially the Bloomberg Commodity Index.
Dow momentum
The McClellan Summation Index for the Dow Industrials has reached +1500. In the past 20 years, such a high level on this long-term breadth momentum indicator led to further gains in the Dow only 35% of the time three months later, according to the Backtest Engine.
Mom and pop stop
The individual, mom-and-pop investors in the AAII survey have ceased any idea of becoming bullish. Even with a new all-time high in the S&P 500 (using Wednesday closes, when the survey ends), there are fewer than 35% bulls in this week's survey. This "wall of worry" led to below-average returns up to three months later, but six months later the S&P 500 was higher 82% of the time.
This post was an abridged version of our previous day's Daily Report. For full access, sign up for a 30-day free trial now.

Related Posts:
---
Tagged As:
The post titled Hedge Funds Just Won't Buy was originally published as on SentimenTrader.com on 2019-04-26.
At SentimenTrader.com, our service is not focused on market timing per se, but rather risk management. That may be a distinction without a difference, but it's how we approach the markets. We study signs that suggest it is time to raise or lower market exposure as a function of risk relative to probable reward. It is all about risk-adjusted expectations given existing evidence. Learn more about our service , research, models and indicators.
Follow us on Twitter for up to the minute analysis of market action.
Follow @sentimentrader