Historic Streaks of Momentum Skid to a Halt
---
---
Investors had a tough month as September worked its usual spell of being difficult to navigate for bulls.
With a loss to end the month, the S&P 500 finally ended its streak of 227 days of being within 5% of a 52-week high. That was the 8th-longest streak of being within 5% of a high since 1928.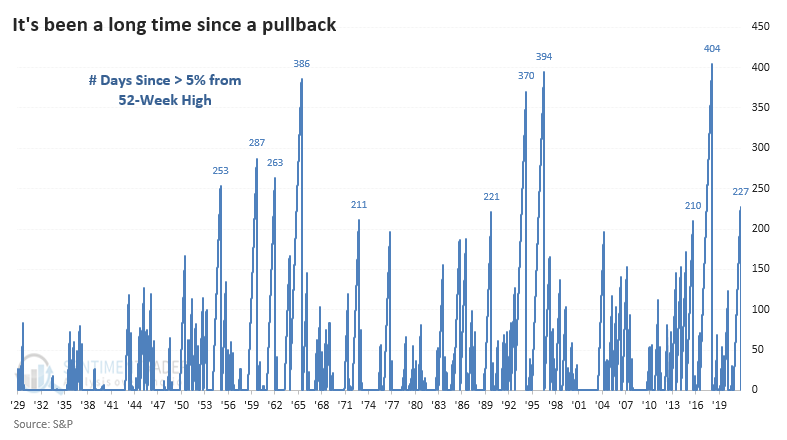 There were 10 total instances of it going more than 200 days without much of a pullback, and the ends of those streaks were not a good reason to sell. Over the next two months, the index rebounded 9 of the 10 times, with the only loss being less than 2%. Momentum does not die easily, as investors see their first real opportunity to get in after avoiding chasing stocks higher.
The S&P also ended its long streak of positive months. It was the first lower monthly close in 7 months. That's not its longest streak but is one of the longer ones when trading at an all-time high.
After the ends of other long streaks of up months, the S&P did even better than it did after not suffering even a 5% pullback. Its returns across almost all time frames were well above random, with a highly positive risk to reward ratio.

---
What else we're looking at
Full returns following an end to a long streak without a 5% pullback
What happens after the first down month after a long streak of positive ones
Why the bond market faces some headwinds in the coming weeks
---
Stat box



On Friday, 80% of health care stocks fell to a one-month low. Over the past 22 years, only 25 other days have seen so many of the stocks falling to that extreme at the same time.
---
Etcetera
Bio-wreck. The Optimism Index on the IBB biotech fund has averaged less than 20% over the past five days. That's among the lowest readings of the past 3 years.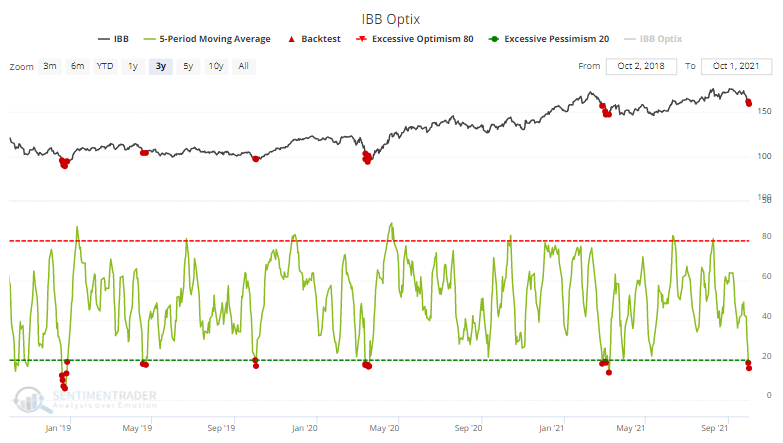 Energy enthusiasm. At the other end of the spectrum, the highest Optimism Index over the past week is in the XLE energy fund.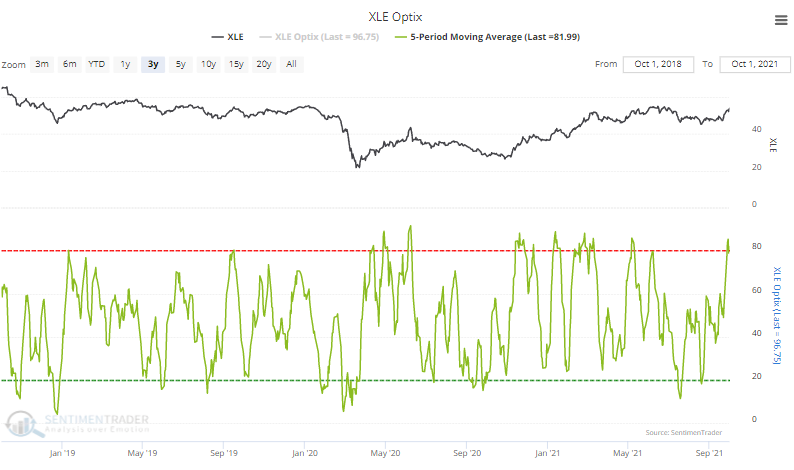 Leaving liquid liabilities. Over the past three sessions, the LQD investment-grade bond fund has leaked an average of $685 million in assets. That's the 2nd-largest average outflow in the fund's history.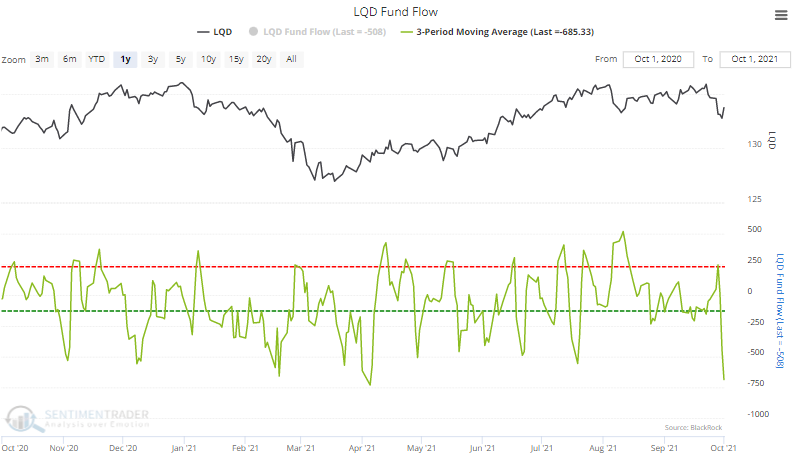 Related Posts:
---
Tagged As:
The post titled Historic Streaks of Momentum Skid to a Halt was originally published as on SentimenTrader.com on 2021-10-04.
At SentimenTrader.com, our service is not focused on market timing per se, but rather risk management. That may be a distinction without a difference, but it's how we approach the markets. We study signs that suggest it is time to raise or lower market exposure as a function of risk relative to probable reward. It is all about risk-adjusted expectations given existing evidence. Learn more about our service , research, models and indicators.
Follow us on Twitter for up to the minute analysis of market action.
Follow @sentimentrader