Investors Are Back in Full Risk On Mode
---
---
Investors are back in full risk-on mode.
By early October, stocks had been mired in the longest pullback in over 200 days, finally ending some long momentum streaks, and risk appetite was declining fast. For the first time since the pandemic, the Risk-On/Risk-Off Indicator fell below 50% on consecutive days.
None of those were cause for concern. Historically, buyers have returned quickly after momentum and risk-taking behavior had been so strong, for so long.
Now that stocks have rallied again, investors are back in risk-on mode, in a big way. Speculation in options has ramped up, there is little fear of a November pullback, and almost all core indicators are showing risk-seeking behavior. More than 95% of indicators showed a risk-on attitude by late last week though that's ticked down a tad since then.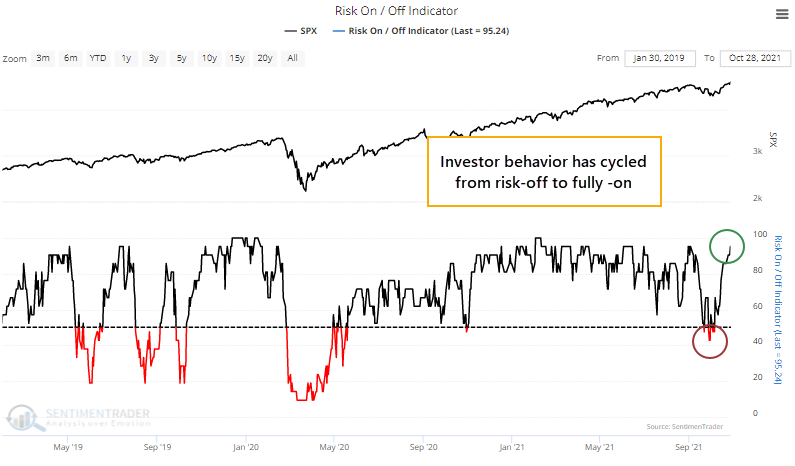 A reading of 95% is in the top 7% of all days since the year 2000, and the S&P 500's annualized return is relatively small after such high readings. It shows a bit of overheated sentiment that tends to work itself off with small gains at best in the short-term.

---
What else we're looking at
Full returns after behavior cycles from risk-off to risk-on
What happens when investors are in full risk-on mode with stocks near highs
An update on Tesla options
A low-cost way to trade biotech seasonality with options
A detailed look at what happens when cyclical stocks hit new highs, and what it means
A signal from the behavior of high-beta versus quality stocks
---
Stat box



The Russell 2000 broke out to a record high for the first time in 161 trading days, ending its 15th-longest streak without a multi-year high since its 1979 inception.
---
Etcetera
Bears go packing. Optimism on the PAK fund focused on Pakistani stocks has soared. Over the past 3 days, the Optimism Index has averaged 87%, among the top 25 days since the fund's inception.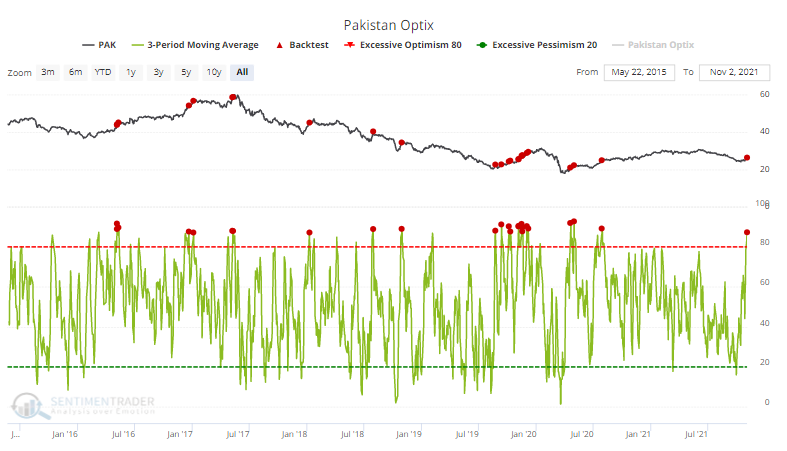 Calling all bulls. Traders on the ISE exchange bought 226 calls for every 100 puts on Tuesday. That's the 2nd-highest reading of the year, suggesting a sudden interest in betting on a further rise in stocks.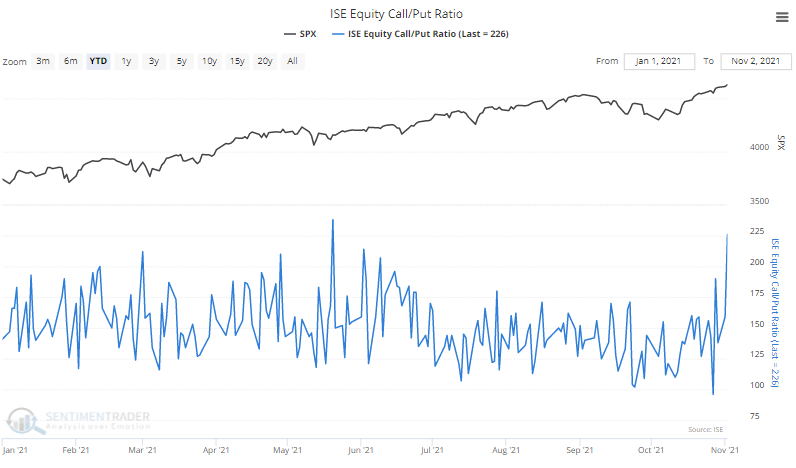 No liquidity, no problem. When traders panic, they want liquidity. When they're complacent, it's not an issue. The Liquidity Premium in SPY shows that right now, they're not worried about it.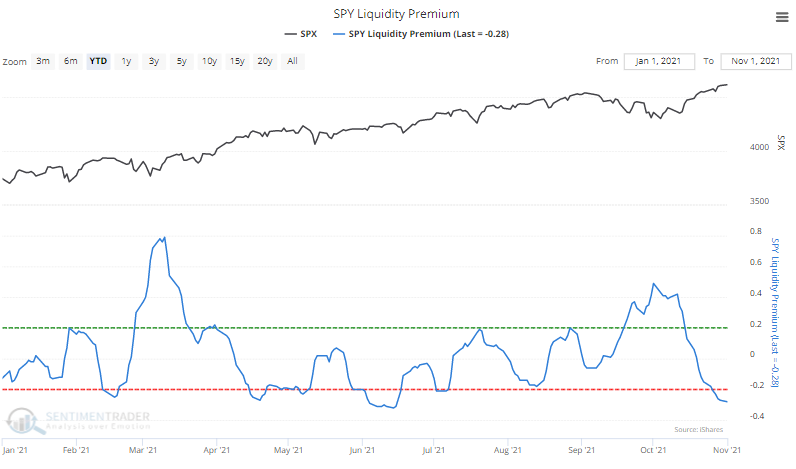 The post titled Investors Are Back in Full Risk On Mode was originally published as on SentimenTrader.com on 2021-11-03.
At SentimenTrader.com, our service is not focused on market timing per se, but rather risk management. That may be a distinction without a difference, but it's how we approach the markets. We study signs that suggest it is time to raise or lower market exposure as a function of risk relative to probable reward. It is all about risk-adjusted expectations given existing evidence. Learn more about our service , research, models and indicators.
Follow us on Twitter for up to the minute analysis of market action.
Follow @sentimentrader