Investors Flee Equities; Highly-Correlated Declines; December Selling
---
---
This is an abridged version of our Daily Report.
Leaving en masse
Investors yanked $46 billion from equity funds this week. Even accounting for the usually mid-December outflow, as a percentage of total fund assets, this is the largest outflow in at least 15 years.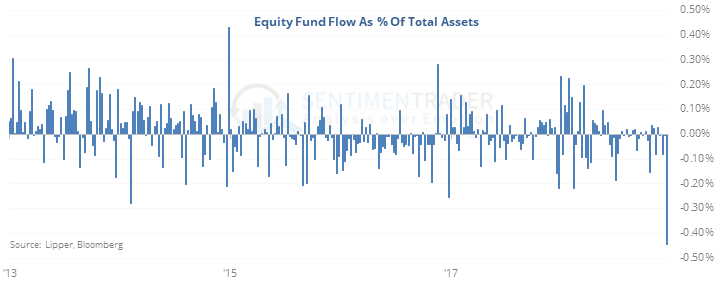 After the other weeks when there was a large outflow, the S&P rallied every time.
Analog relief
There have been 20 periods since 1928 that have an extremely high correlation to the S&P 500's return path since September 20. The one with the highest correlation started in December 2007 as stocks peaked.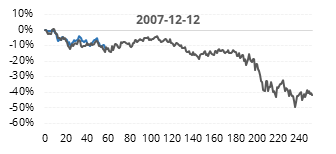 But by the time most of these stretches reached the current length, they bounced. Of the 20 analogs, 15 of them were higher three months later, averaging 6.9%, with risk of -1.0% versus reward of +10.4%.
Selling on Friday, in December
It's extremely rare for stocks to suffer this badly in December, and every time it has, stocks bounced into January. The big selling pressure on Friday also shows extreme discomfort holding into a weekend.
The latest Commitments of Traders report was released, covering positions through Tuesday
The 3-Year Min/Max Screen shows that "smart money" hedgers moved to a new record long in 2-Year Treasuries. According to the Backtest Engine, when hedgers held more than 15% of open interest net long, 2-Years returned an average of 1.5% over the next six months.



Related Posts:
---
Tagged As:
The post titled Investors Flee Equities; Highly-Correlated Declines; December Selling was originally published as on SentimenTrader.com on 2018-12-17.
At SentimenTrader.com, our service is not focused on market timing per se, but rather risk management. That may be a distinction without a difference, but it's how we approach the markets. We study signs that suggest it is time to raise or lower market exposure as a function of risk relative to probable reward. It is all about risk-adjusted expectations given existing evidence. Learn more about our service , research, models and indicators.
Follow us on Twitter for up to the minute analysis of market action.
Follow @sentimentrader