Is This A Blow-Off Top?
---
---
The S&P might be showing signs of a blow off top, and the range in Chinese stocks is very small.
Blow-off behavior?
Heading into Thanksgiving, stocks just couldn't lose. The S&P 500 managed to sport a positive return on all common time frames, with a strong median gain, while hitting new highs to boot.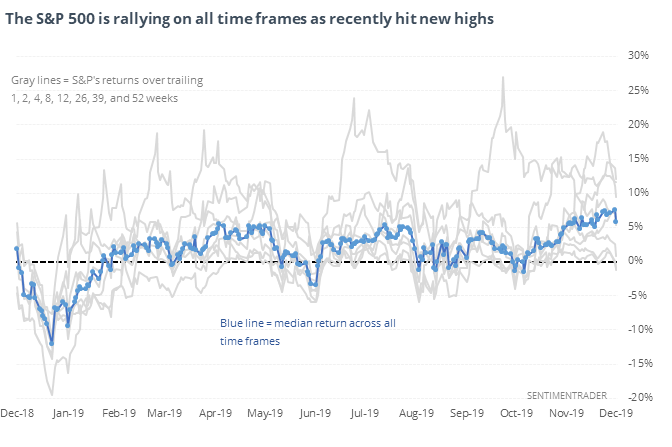 This kind of price strength signaled blow-off conditions a couple of times, but it was not a reliable signal that the gains are too much. Of the 20 times this signaled, only 3 preceded more than a 10% drawdown at any point during the next year.
Small range
While many stock markets have been rallying over the past few months, the Shanghai Index has gone nowhere. The Shanghai Composite Index has gone 72 days without a daily move of -2% or +2%, which is an incredibly long streak for a market that's usually jumpy.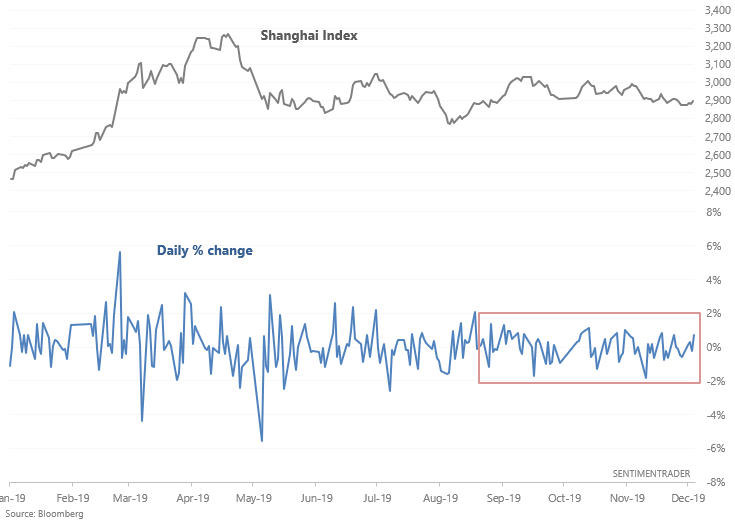 When this happened in the past, the Shanghai Composite Index usually fell over the next 1-2 months. The only bullish case was in 1991, just as this index was being launched.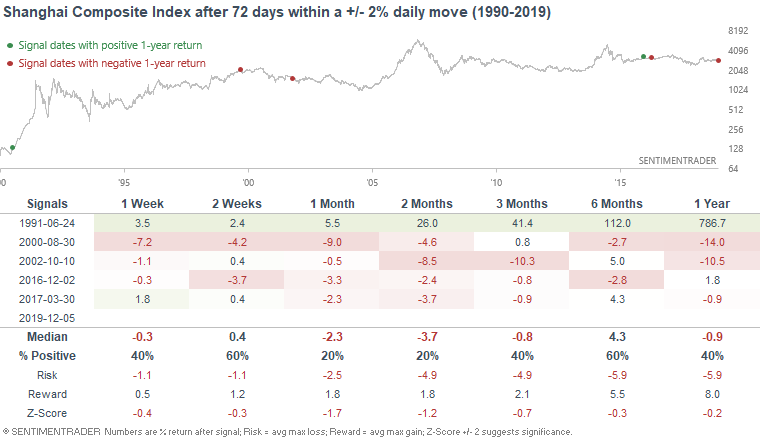 While the sample size is awfully small, it's at least interesting to note that when the Shanghai broke to the upside in the short-term, it also rose over the next 3-6 months. When it broke lower initially, then it tended to keep going down. Hard to read too much into that given the sample size, though.
This is an abridged version of our recent reports and notes. For immediate access with no obligation, sign up for a 30-day free trial now.
We also looked at:
More 52-week lows than highs within the S&P 500
The ISM non-manufacturing survey is also showing pessimism
A GDP coincident indicator is showing low growth relative to trend
What happens when consumer staples haven't been oversold for almost a year

Related Posts:
---
Tagged As:
The post titled Is This A Blow-Off Top? was originally published as on SentimenTrader.com on 2019-12-05.
At SentimenTrader.com, our service is not focused on market timing per se, but rather risk management. That may be a distinction without a difference, but it's how we approach the markets. We study signs that suggest it is time to raise or lower market exposure as a function of risk relative to probable reward. It is all about risk-adjusted expectations given existing evidence. Learn more about our service , research, models and indicators.
Follow us on Twitter for up to the minute analysis of market action.
Follow @sentimentrader