It's hard to find pessimism, except in this one market
---
---
In a market that's sloshing with money and financial assets are soaring, it's hard to find anything that's hated.
Looking at our Market Sentiment Overview, the Japanese yen is currently the only major market with a low Optimism Index, and even that isn't too terribly extreme.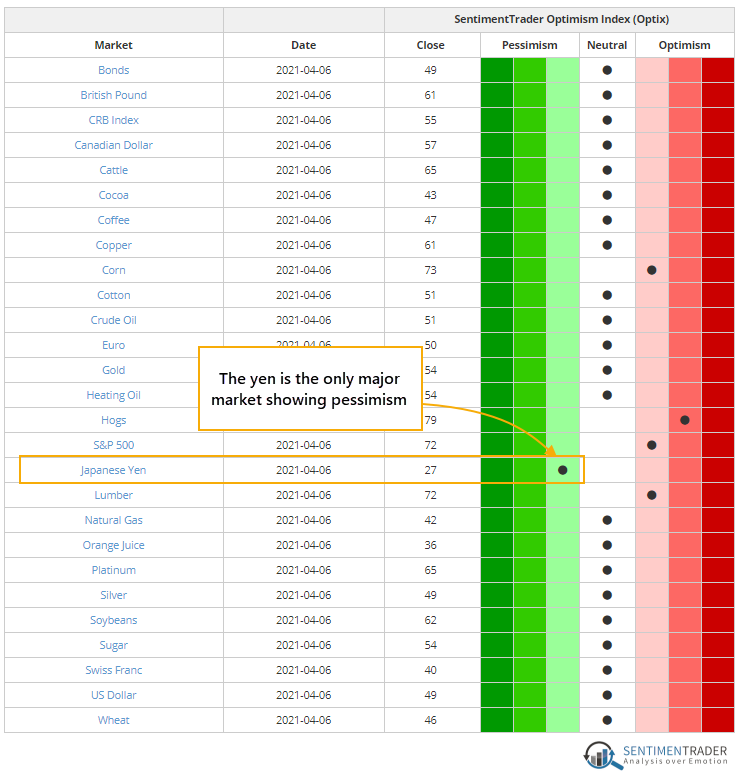 This is interesting because right now is the start to the best seasonal window in the yen. There are times when trends tend to have a certain bias, and for the yen, that bias has been positive from early April through mid-October.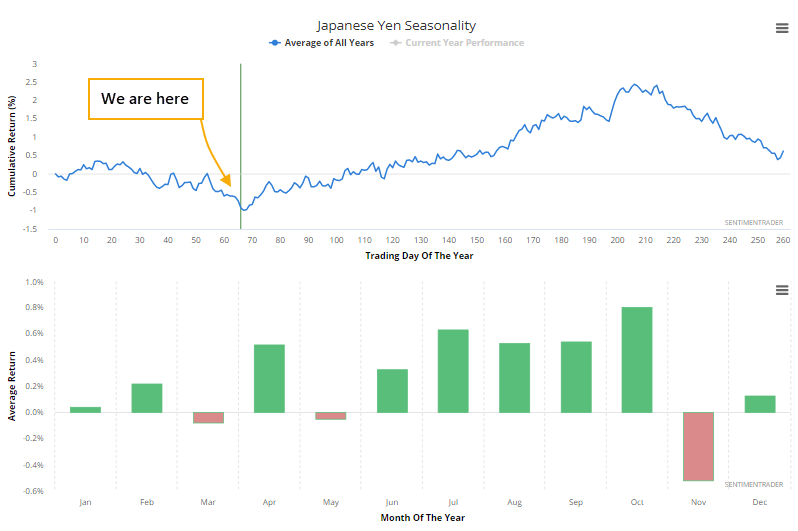 Over the past 50 years in the JPYUSD cross, buying day #67 (early April) and selling day #26 (mid-October) has been a decent trade. The win rate was 62%, and the average win was quite a bit higher than the average loss.

Stat Box



The latest survey of individual investors from AAII showed

56.9%

of respondents expect stocks to rise, the 3rd-highest reading of the past decade. The other two, in November 2014 and January 2018, saw stocks rise temporarily then give back those gains.
What else we're looking at
More detail on yen (and gold) seasonality for the coming months
Sentiment on the yen is the 2nd-most depressed in 5 years
Extremes in yen sentiment have tended to coincide with extremes in gold
There is another sector with a strong seasonal bias right now
Taking a look at a risk-on / risk-off model using 52-week lows

Related Posts:
---
Tagged As:
The post titled It's hard to find pessimism, except in this one market was originally published as on SentimenTrader.com on 2021-04-08.
At SentimenTrader.com, our service is not focused on market timing per se, but rather risk management. That may be a distinction without a difference, but it's how we approach the markets. We study signs that suggest it is time to raise or lower market exposure as a function of risk relative to probable reward. It is all about risk-adjusted expectations given existing evidence. Learn more about our service , research, models and indicators.
Follow us on Twitter for up to the minute analysis of market action.
Follow @sentimentrader