Leverage Drops While Stocks Soar to Record Highs
---
---
People have been worried about the growth in margin debt for at least the last 6 years. There was no empirical reason to be worried until maybe this spring when the year-over-year change skyrocketed. And that worry was unfounded anyway, as the S&P 500 is sitting at all-time highs.
Curiously, even as the S&P has moved to new high after new high, investors have pulled back on the amount they're borrowing against their stock holdings. The latest figures, aggregating customer data through July, shows that Margin Debt dropped from record levels.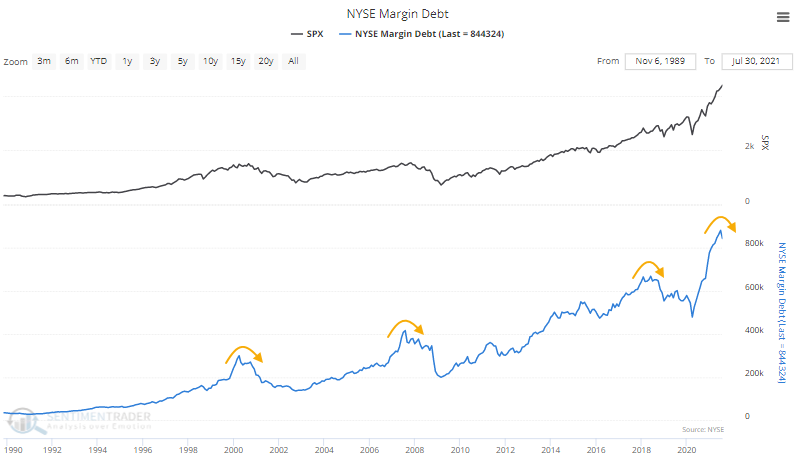 Margin debt more or less ebbs and flows with stock prices. So it's fairly unusual to see margin debt drop as stocks march to continual record highs. The table below shows that this is one of the largest-ever drops in debt during a month when the S&P hit a new high (dates in the table are advanced one month to account for reporting lags).
Investors pulled back on debt, but their cash cushion dropped even more. The total dollar value of Free Credits - cash available to brokerage account holders to withdraw - plunged by one of the largest degrees in 70 years in July.
If cash drops more than debt, then the Available Cash figure, a kind of "net worth" for investors, will decline. And so, in July, it fell yet again to another record low.

---
What else we're looking at
What happens to the S&P 500 after big drops in margin debt and free credits
What a near-record low in Available Cash means for forward returns
How watching a certain currency can give a big clue to commodity markets
A trading signal using Bollinger Bands, within context
What happens after Amazon underperforms the broader market like it has lately
---
Stat box



For the 1st time in 30 years, more than 75% of volume on the NYSE has flowed into advancing securities for three consecutive days while the S&P 500 closed at a new high.
---
Etcetera
Poor delivery. Amazon's stock price has lagged the broader market by the largest degree in its history as a public company. Over the past three weeks, it has set 10 six-month lows relative to the S&P 500.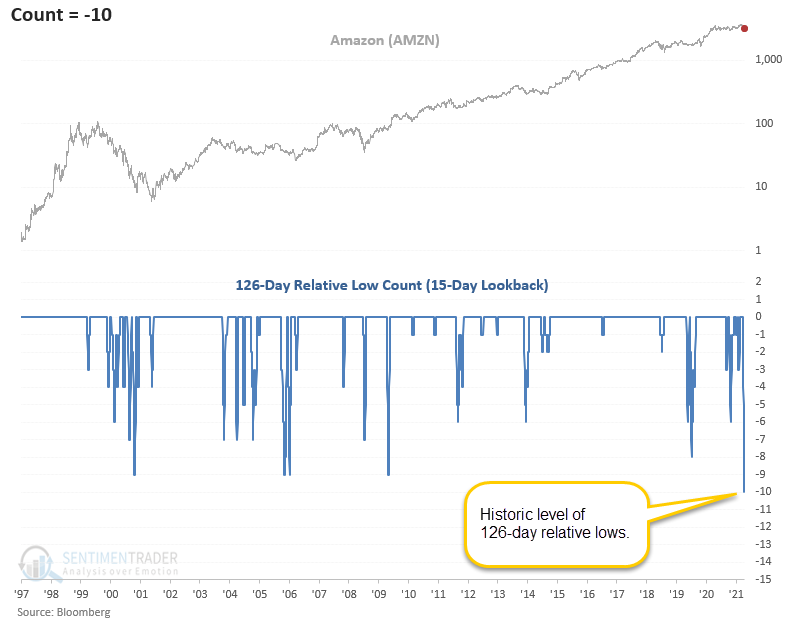 In need of a pick-me-up. A 50-day average of the Optimism Index for coffee is rolling over from extreme optimism for the 3rd time in the past decade.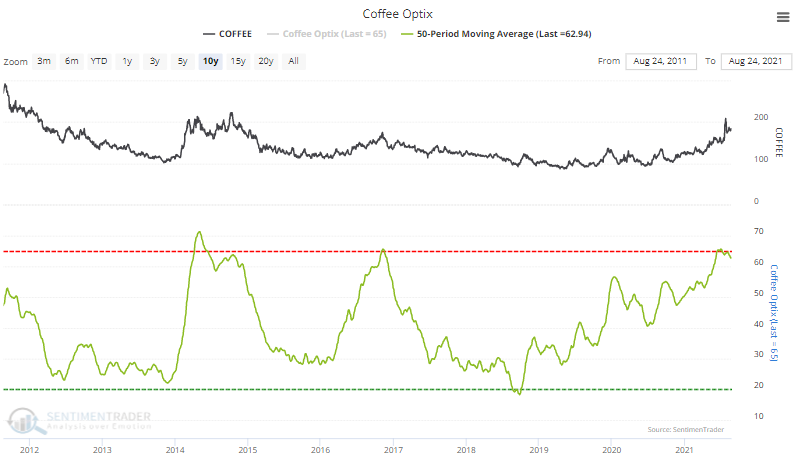 Unstable staples. Traders are the least optimistic about short-term prospects for Consumer Staples stocks, while having the most confidence in Retail and Homebuilders.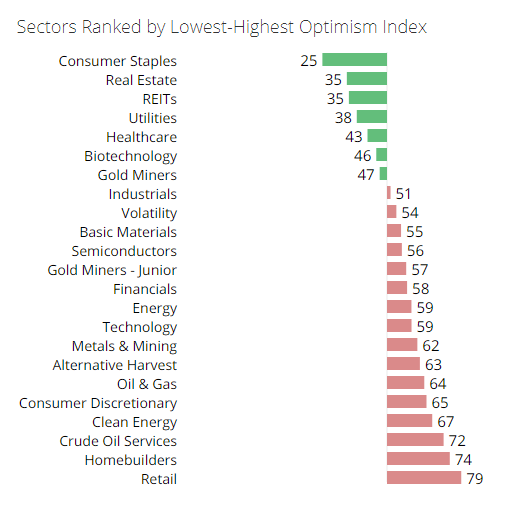 Related Posts:
---
Tagged As:
The post titled Leverage Drops While Stocks Soar to Record Highs was originally published as on SentimenTrader.com on 2021-08-25.
At SentimenTrader.com, our service is not focused on market timing per se, but rather risk management. That may be a distinction without a difference, but it's how we approach the markets. We study signs that suggest it is time to raise or lower market exposure as a function of risk relative to probable reward. It is all about risk-adjusted expectations given existing evidence. Learn more about our service , research, models and indicators.
Follow us on Twitter for up to the minute analysis of market action.
Follow @sentimentrader