Looking At A Potential Risk Failure
---
---
We're seeing potential failure in some warning signs, as financial conditions ease.
Failed warnings…maybe
Due to extremely high optimism across a broad array of indicators, our Medium-Term Risk Level has been elevated for a few weeks. And yet, the S&P 500 is higher now than when risk first started to become extreme, suggesting that it has failed to alert us to dangerous conditions.
We can evaluate this using something called a Brier Score, which we've done in years prior. To determine the score, we ask: Is the Risk Level high? And if so, did the market decline?
While there are some issues with the score, it's still a good way to evaluate a forecast. If we're very confident in something and wrong about it, then we get penalized more than if we're not very confident and wrong. There's something satisfying in that kind of accountability. The way the score is calculated, a perfectly good forecast equals 0 and a perfectly bad one equals 1, which is the area it's nearing now.



By the time the Risk Level had been this ineffective in terms of alerting us to potentially high risk and low reward, the trend was about to exhaust itself most of the time.
Financial Conditions
As the WSJ noted, U.S. Financial Conditions continue to ease according to the Goldman Sachs U.S. Financial Conditions Index. This index monitors changes in risk less interest rates, exchange rates, credit spreads, and equity prices.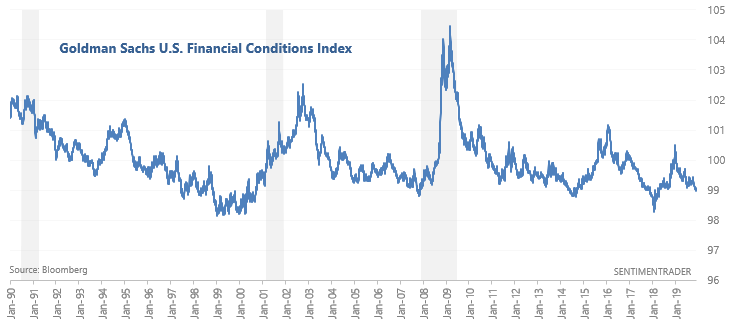 The following able demonstrates what happened next to the S&P 500 when the Goldman Sachs U.S. Financial Conditions Index falls to a 419 day low, as it did last week.
As we can see, the U.S. stock market's returns over the next year are mostly bullish.
This is an abridged version of our recent reports and notes. For immediate access with no obligation, sign up for a 30-day free trial now.
We also looked at:
The Stock / Bond Ratio
An extreme in the Advisor and Investor Model
Soft vs hard economic surprises is curling up
The S&P's long uptrend vs commodities
A drop in the % of S&P stocks above their 10-day averages

Related Posts:
---
Tagged As:
The post titled Looking At A Potential Risk Failure was originally published as on SentimenTrader.com on 2019-12-03.
At SentimenTrader.com, our service is not focused on market timing per se, but rather risk management. That may be a distinction without a difference, but it's how we approach the markets. We study signs that suggest it is time to raise or lower market exposure as a function of risk relative to probable reward. It is all about risk-adjusted expectations given existing evidence. Learn more about our service , research, models and indicators.
Follow us on Twitter for up to the minute analysis of market action.
Follow @sentimentrader