One of the most consistent years ever
---
---
This has been a heck of a year for, well, pretty much everyone. Investors haven't been left out of the drama.
After the fastest-ever bear market and biggest-ever rebound, most of the broad equity indexes are back near their former highs. Those with a healthy smattering of tech stocks have done even better, of course.
Bloomberg reporter Sarah Ponczek noted that more than 62% of all trading days in 2020 have seen a gain, per JonesTrading. Through this many days in the year, this is the 2nd-largest percentage of positive sessions in 25 years.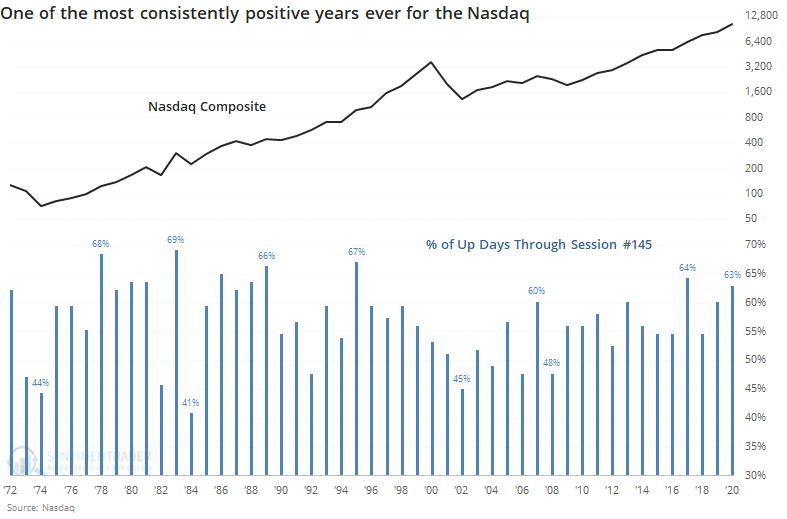 Returns in the weeks and months after the most consistently positive years were quite a bit different than returns during the most consistently negative ones, especially over a short- to medium-term time frame.
Momentum is a tricky thing, which is why we look at it from so many angles. Nothing can defeat sentiment extremes like momentum. While the Nasdaq is certainly showing a good amount of it, when we combine it with seasonality, it's not necessarily a reason to think that it can roll right over displays of excessive optimism at this point.
This is an abridged version of our recent reports and notes. For immediate access with no obligation, sign up for a 30-day free trial now.
We also looked at:
A look at returns in the Nasdaq after the most consistently positive (and negative) years through July
Investors are yanking big money from stock funds and into bonds
The ratio between copper and gold has slid for a record number of days

Related Posts:
---
Tagged As:
The post titled One of the most consistent years ever was originally published as on SentimenTrader.com on 2020-07-31.
At SentimenTrader.com, our service is not focused on market timing per se, but rather risk management. That may be a distinction without a difference, but it's how we approach the markets. We study signs that suggest it is time to raise or lower market exposure as a function of risk relative to probable reward. It is all about risk-adjusted expectations given existing evidence. Learn more about our service , research, models and indicators.
Follow us on Twitter for up to the minute analysis of market action.
Follow @sentimentrader