Seasonal Mean-Reversion Into The New Year
---
---
When people discuss seasonality, it is usually in terms of how often, and by how much, the general stock market rallies or declines during certain times of the year.
Those effects have mostly deteriorated over the years as they have become more well-known, but there are still pockets of consistency the further away we get from the broad stock market, such as in commodities or in individual stocks and sectors.
Alpha Architect recently highlighted a piece of academic research suggesting that seasonality was strongest in December and January for momentum names. Those with positive momentum did best in December, and those with the worst momentum did best in January. Investors bought winners at the end of the year and sold the losers to harvest tax benefits, then reversed it in the New Year.
Looking at our list of the most active ETFs for which we track sentiment, here are the best and worst performers so far in 2015: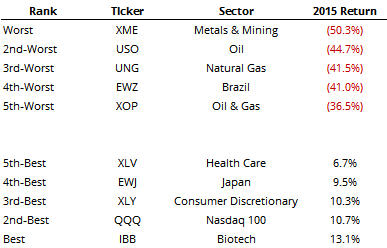 Over the past 15 years, the top-performing ETFs returned an average of +0.2% during the first week in January and were positive 53% of the time. The worst performers averaged +1.7% and were positive 73% of the time, so there was some evidence of mean-reversion on this level.
The effect dissipated the further out we look, as we'll discuss in the Daily Sentiment Report this evening. But for those looking to get in (or out) of shorter-term trades in the coming days, it pays to be aware of this seasonal mean-reversion effect.
Related Posts:
---
Tagged As:
The post titled Seasonal Mean-Reversion Into The New Year was originally published as on SentimenTrader.com on 2015-12-30.
At SentimenTrader.com, our service is not focused on market timing per se, but rather risk management. That may be a distinction without a difference, but it's how we approach the markets. We study signs that suggest it is time to raise or lower market exposure as a function of risk relative to probable reward. It is all about risk-adjusted expectations given existing evidence. Learn more about our service , research, models and indicators.
Follow us on Twitter for up to the minute analysis of market action.
Follow @sentimentrader