Sentiment Is Normalizing As Technical Warnings Trigger
---
---
Not quite normal
After hitting optimistic extremes – and then staying there for weeks on end – sentiment has started to normalize. It's not quite back to a neutral range but is getting there quickly.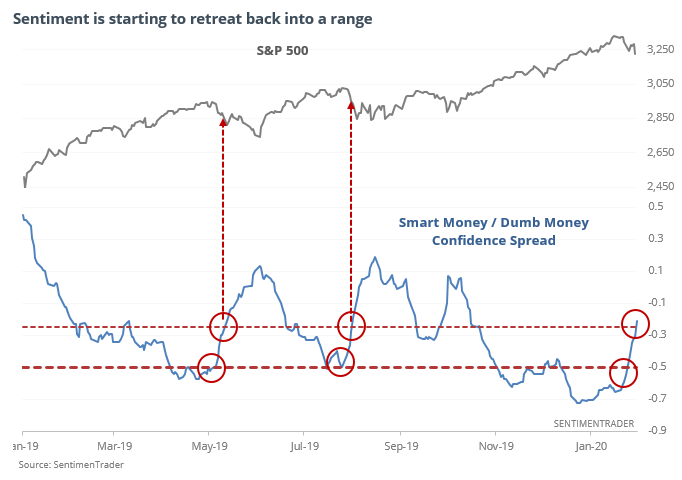 Even so, when it has been stretched as much as it has, just getting to neutral hasn't been enough to stop the selling pressure.
When we look at other times the S&P 500 was at a multi-year high within the past month, and the spread between Confidence went from beyond -50% to narrower than -25%, we see that every time, there was more work to do on the downside.
Clusters of Hindenburg Omen signals
They're baaaaaaack.
Technical warning signs are popping up again on the NYSE and Nasdaq (and individual indexes). The first and biggest caveat is that there were even more warnings last November, and those suffered a rare failure. We tend to place more weight on recent occurrences and while these signals have 50+ years of history, the fact that the last signal failed is notable. Not enough to ignore the current ones, not by a long shot, but still.
In recent days, 4 Hindenburg Omen signals have been triggered on the NYSE and 2 Hindenburg Omen signals have been triggered on the NASDAQ.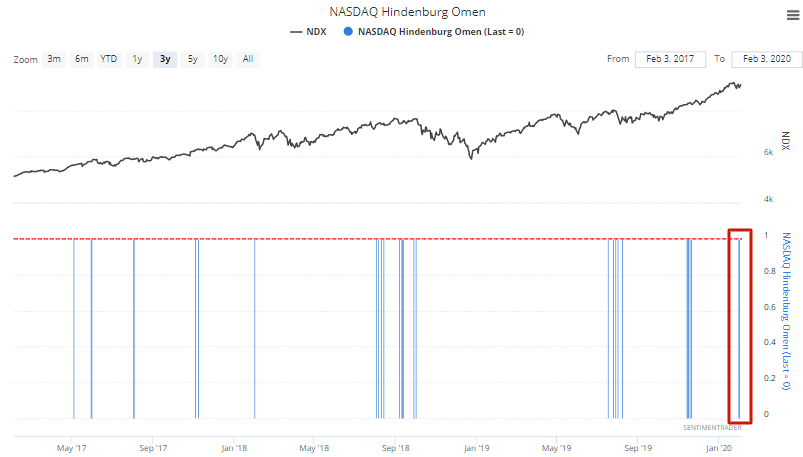 When these signals cluster on both exchanges, it's been tough for the Nasdaq to hold onto further gains.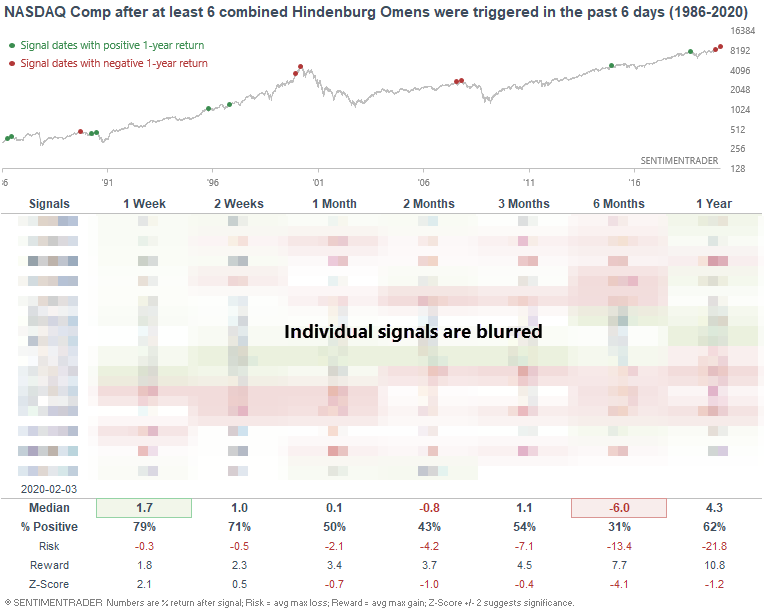 For more detailed background information on the Omen and how to use it, check out this overview video.
This is an abridged version of our recent reports and notes. For immediate access with no obligation, sign up for a 30-day free trial now.
We also looked at:
The ISM survey rose above 50 for the first time in months
Market impacts after other major short selling bans (like China just instituted)
What happens after the S&P 500 ends a streak without a 3% pullback
Oil has gone down almost every day for a month
Semiconductors fell below their medium-term average for the first time in months
Signs of breadth panic in Chinese stocks on the Shanghai exchange

Related Posts:
---
Tagged As:
The post titled Sentiment Is Normalizing As Technical Warnings Trigger was originally published as on SentimenTrader.com on 2020-02-04.
At SentimenTrader.com, our service is not focused on market timing per se, but rather risk management. That may be a distinction without a difference, but it's how we approach the markets. We study signs that suggest it is time to raise or lower market exposure as a function of risk relative to probable reward. It is all about risk-adjusted expectations given existing evidence. Learn more about our service , research, models and indicators.
Follow us on Twitter for up to the minute analysis of market action.
Follow @sentimentrader