Sentiment recovers amid an economic plunge
---
---
Sentiment recovery
Sentiment is starting to recover. Rising optimism is a good thing, until it gets to the point where it's extreme, and we're a long way from that point.
But rising optimism in a bull market is different from during a bear market, and this is where it gets tricky. During unhealthy markets, this is where the initial rebound starts to find trouble.
Our proxy of the CNN Fear & Greed model just hit neutral territory above 50% after an extended period with record-low readings. Bull markets typically don't see bouts of such extended pessimism, so that's worry #1. Worry #2 is that the pessimism is now gone. When this happened in the fall of 2018, the rallies immediately fell apart.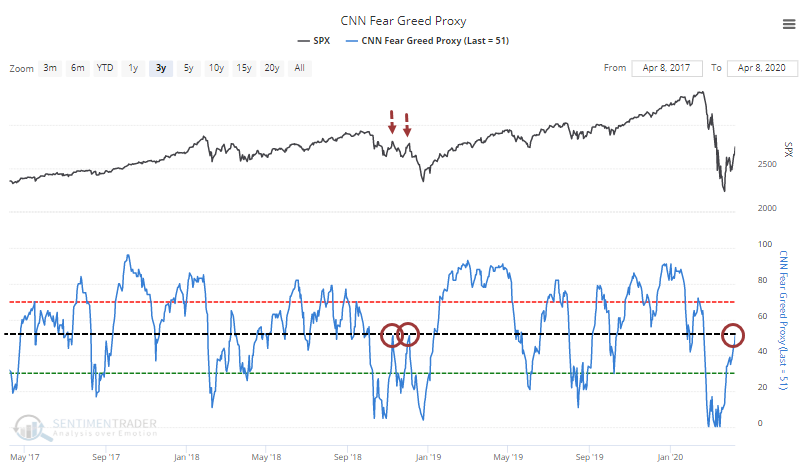 So, here's the test. Is the combination of unprecedented fiscal and monetary stimulus, combined with a record surge in buying pressure and retracement of the decline, enough to offset the idea (probably more like fact at this point) that we're in the midst of a recessionary bear market? Now that sentiment is becoming more neutral, price action becomes even more important. Bull markets take it in stride. Bear markets usually roll right over.
Economic surprises plunge
As expected, the coronavirus-driven recession has pushed many economic data series to the lowest level in years (if not decades). A string of horrid economic reports has pushed the Citi Economic Surprise Index to extremely low levels.
For the U.S. Dollar Index, this usually led to losses on all time frames after 1 month.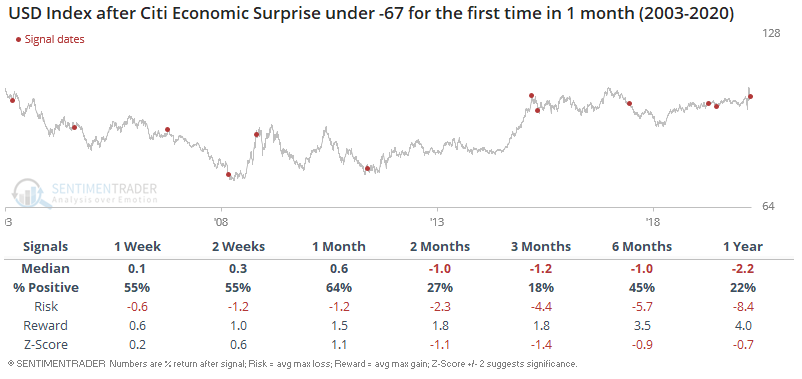 This is an abridged version of our recent reports and notes. For immediate access with no obligation, sign up for a 30-day free trial now.
We also looked at:
Dumb Money Confidence in a market rally is rising
The McClellan Summation Index is curling up from a very oversold reading
There were finally more 52-week highs than lows on the NYSE
What it means when stocks enjoy two 90% up volume thrusts within a few sessions of each other
The percentage of our indicators showing pessimism is dropping
Optimism on bond funds like HYG and LQD is spiking
A near-record number of stocks are trading above their 10-day moving averages
A survey of current economic conditions has plunged
News articles mentioning a "contraction" is nearing a record high

Related Posts:
---
Tagged As:
The post titled Sentiment recovers amid an economic plunge was originally published as on SentimenTrader.com on 2020-04-10.
At SentimenTrader.com, our service is not focused on market timing per se, but rather risk management. That may be a distinction without a difference, but it's how we approach the markets. We study signs that suggest it is time to raise or lower market exposure as a function of risk relative to probable reward. It is all about risk-adjusted expectations given existing evidence. Learn more about our service , research, models and indicators.
Follow us on Twitter for up to the minute analysis of market action.
Follow @sentimentrader