Sentiment vs Earnings; Massive Buy Programs
---
---
This is an abridged version of our Daily Report.
Sentiment vs earnings
The S&P 500's flat return in 2018 so far has been due to the growth in earnings being offset by a drop in sentiment. The price/earnings ratio for the index has declined about as much as earnings have grown, like 2011.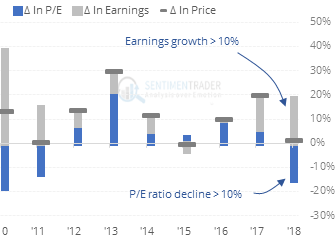 Other years since 1969 that have seen this dynamic typically showed good returns over the next year. Most impressive was the risk/reward – the S&P rallied more than 21% on average at its best point over the next year, while declining an average of only 4% at its worst point.
Everybody out, then back in
Massive sell programs hit the market multiple times near the end of October. But 2 of the last 3 days have seen just as massive buy programs come in at some point during the day. Wednesday's TICK reading is in the top 10 of all days since 1990, which is usually a good sign longer-term, especially when coming on the heels of big sell programs.
In the medium- to long-term, it was a good sign of eager buying interest that wasn't easily sidetracked. What's most encouraging about this is that the huge buying interest is coming on the heels of the heavy sell programs.
Reversal
After hitting a 6-month low on Friday, the S&P 500 has jumped at least 1.5% twice in the past three sessions. That has happened 44 times since 1928, only 16 of which occurred when the economy was not in recession.
Unnatural
The Optimism Index on natural gas has soared above 80 and is the highest in more than 20 years.



Related Posts:
---
Tagged As:
The post titled Sentiment vs Earnings; Massive Buy Programs was originally published as on SentimenTrader.com on 2018-11-29.
At SentimenTrader.com, our service is not focused on market timing per se, but rather risk management. That may be a distinction without a difference, but it's how we approach the markets. We study signs that suggest it is time to raise or lower market exposure as a function of risk relative to probable reward. It is all about risk-adjusted expectations given existing evidence. Learn more about our service , research, models and indicators.
Follow us on Twitter for up to the minute analysis of market action.
Follow @sentimentrader