Shocks' Strong Tendency To Recover
---
---
Shocking^3
We've looked at "shock days" quite a bit over the years, most recently in May. Monday's session exceeded the one in May, with a move more than 3 deviations beyond what investors have become accustomed to over the past year.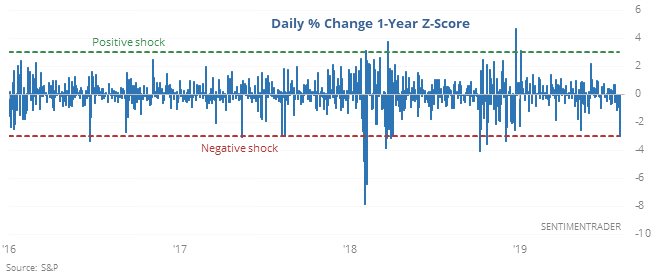 Swift, sharp declines like this almost never end up morphing into more extreme declines. Over the next 2-3 months, losses were rare. There was only one loss of any significance over that time frame, in February 1994, and even that loss was subsequently erased in the month(s) ahead.
Hanging by a thread
Barely a week after indexes like the S&P 500 were sitting at all-time highs, more than 9% of issues traded on the NYSE fell to their lowest prices in at least a year. This is the kind of warning that has been triggering for weeks on the Nasdaq but is even more egregious when it's on the NYSE.
This has been ominous, especially in the short-term. Only two of them managed to gain over the next two weeks, and most of those small gains were then given back in the subsequent week(s). How can we reconcile these two developments, which seemingly contradict each other? Maybe there isn't a way, though the jump in new lows has been more negative in the shorter-term, while the "shock day" has been more positive in the medium- to longer-term. And maybe it's just that simple.
Bond bulls
The Optimism Index for bonds has jumped above 70 as investors move into the "safety" of that market.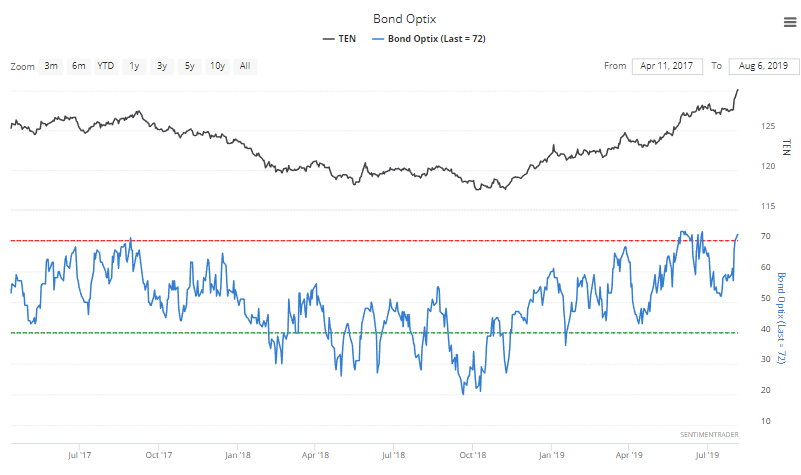 According to the Backtest Engine, a reading above 70 led to an average (price only) return in 10-year Treasury note futures of -1.5% over the next six months.
Since the inception of the TLT fund, its average 6-month return was a lousy -2.2% (compared to +7.3% when the Optix was below 30).
Zero-bound
According to the Heatmap, the most-hated fund of all we follow was focused on Indian stocks (INDA), with an Optimism Index below 2, about as low as it goes. The Backtest Engine shows that INDA rebounded after all 10 other times it dropped this low over the next 2 weeks, averaging 8.3%.
This post was an abridged version of our previous day's Daily Report. For full access, sign up for a 30-day free trial now.

Related Posts:
---
Tagged As:
The post titled Shocks' Strong Tendency To Recover was originally published as on SentimenTrader.com on 2019-08-07.
At SentimenTrader.com, our service is not focused on market timing per se, but rather risk management. That may be a distinction without a difference, but it's how we approach the markets. We study signs that suggest it is time to raise or lower market exposure as a function of risk relative to probable reward. It is all about risk-adjusted expectations given existing evidence. Learn more about our service , research, models and indicators.
Follow us on Twitter for up to the minute analysis of market action.
Follow @sentimentrader