Small Cap Stocks Have Only Done This Once in 40 Years
---
---
The small-cap Russell 2000 hasn't gone anywhere for six months. On Monday, we noted that these stocks peaked when options traders' speculative fervor did, and these stocks have been trying to shrug off the hangover ever since.
The Russell has gone more than 135 days without a 52-week high, yet it was down less than 10% at its worst point. Even though it's been six months, it hasn't even suffered the standard definition of a correction.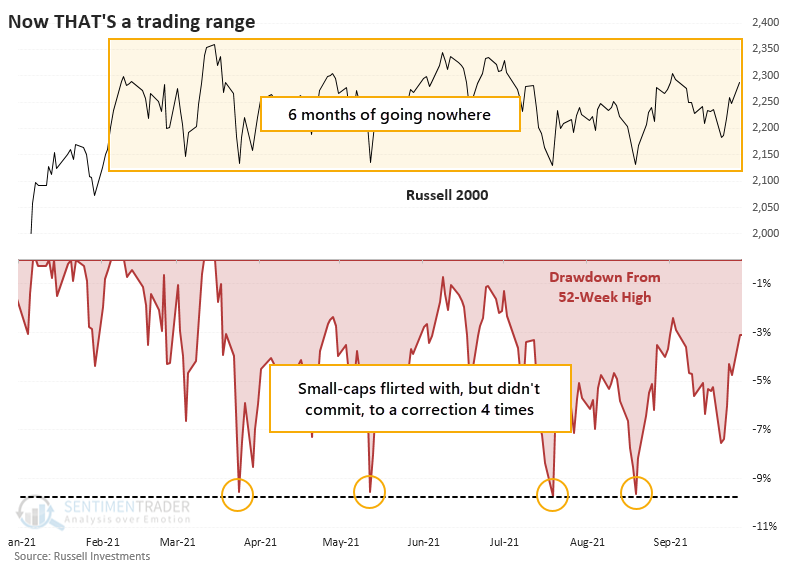 Time-wise, this is one of the longer stretches between 52-week highs, but by no means the longest. It went more than two years without one during the last two protracted bear markets.
It's unusual that the index has gone so long without a new high but didn't even suffer a 10% pullback along the way. Only one other stretch in the history of the Russell 2000 can claim this. That was almost exactly seven years ago, which quickly saw small-cap stocks lose a lot more in the weeks ahead before popping back up again.

---
What else we're looking at
Full returns in the Russell 2000 after long stretches without a new high, and without a deep pullback
A look at small-caps' internal breadth and what it suggests going forward
What utilities' losing streak means for the sector...and the broader stock and bond markets
A look at oil's seasonal tendencies heading into winter
---
Stat box



For the first time since June, 100% of energy stocks are now trading above their 50-day moving averages.
---
Etcetera
Bond bears. Heavy selling pressure across the bond market pushed the Optimism Index for the broad-based BND fund below 3.5%. That's one of the lowest readings in the past 3 years.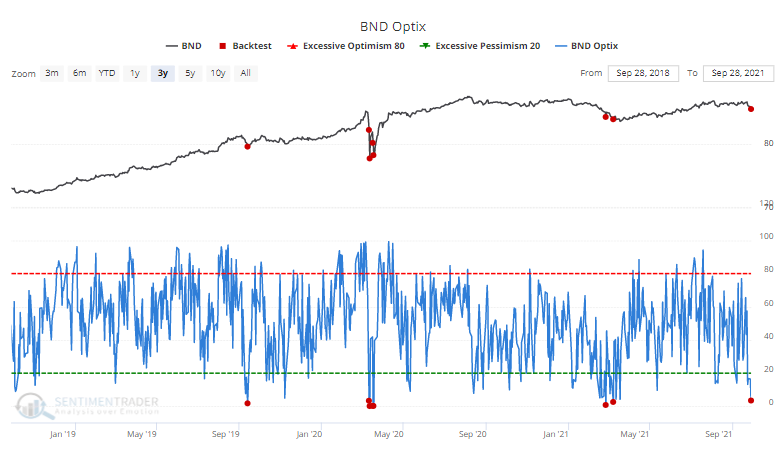 Precious few uptrends. Only 6% of gold mining stocks are trading above their 200-day moving averages, one of the lowest amounts since the stocks bottomed in 2016.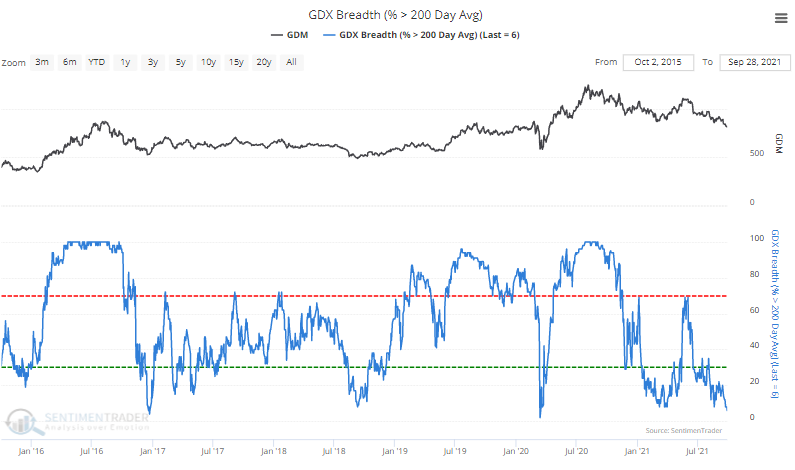 Deep dive. The McClellan Oscillator, a measure of internal breadth momentum, has cratered for Health Care stocks. For the XLV fund, this is the lowest Oscillator since the pandemic bottom.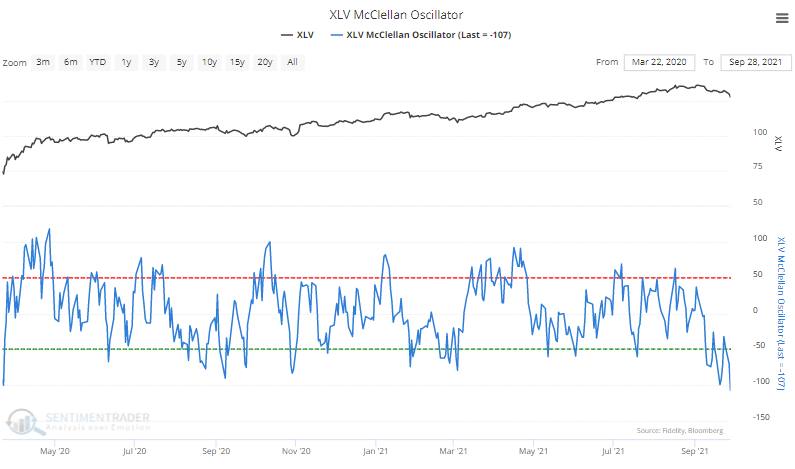 Related Posts:
---
Tagged As:
The post titled Small Cap Stocks Have Only Done This Once in 40 Years was originally published as on SentimenTrader.com on 2021-09-29.
At SentimenTrader.com, our service is not focused on market timing per se, but rather risk management. That may be a distinction without a difference, but it's how we approach the markets. We study signs that suggest it is time to raise or lower market exposure as a function of risk relative to probable reward. It is all about risk-adjusted expectations given existing evidence. Learn more about our service , research, models and indicators.
Follow us on Twitter for up to the minute analysis of market action.
Follow @sentimentrader