Small stocks have largest gains in 20 years
---
---
It's been a heck of a year already for small-cap stocks. The Russell 2000 has enjoyed a typical year's worth of gains, and it's only February.
As the Wall Street Journal notes, "smaller companies are more tied to the domestic economy than their large-cap counterparts, which make more money overseas."
The last time small stocks got off to such a roaring start relative to large stocks was in the year 2000, not exactly an auspicious precedent. Using the total return on small-cap stocks versus large-cap stocks going back to 1926, this is indeed the best relative performance for small stocks since 2000, even though it's far from their best-ever.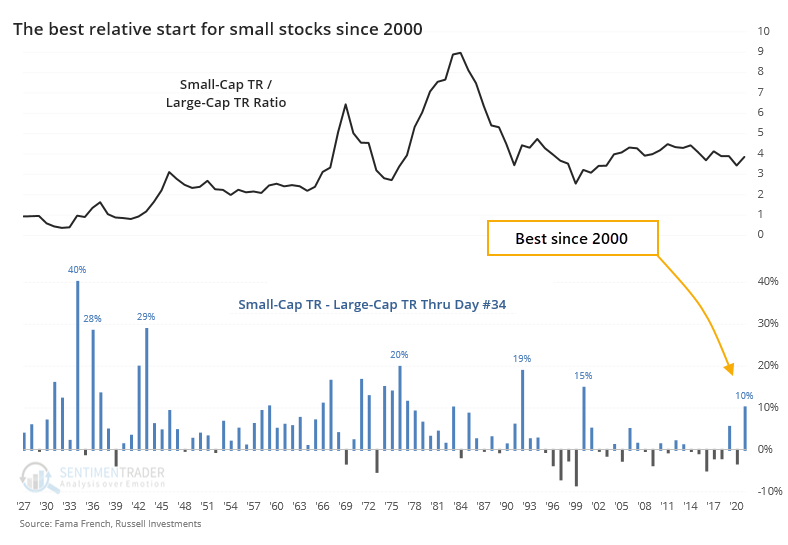 As for what it means, in the weeks and months ahead after similar occurrences, small stocks tended to keep their momentum. The medium-term proved to be a different matter.
What else we're looking at
Full returns in small-caps, large-caps, and the ratio between them after small stocks outperform by so much
The TLT fund hit a rarely seen oversold threshold
A trading strategy using simple rules to take advantage of copper's momentum
A look at the breadth of the rally in Asia-Pacific stocks

Stat Box



With a continued surge and easy comparisons from a year ago, more than

65%

of energy stocks hit a 52-week high on Wednesday. That's the most 52-week highs for that sector in 16 years.
Sentiment from other perspectives
BTFD, man. According to a Deutsche Bank survey, the investors with the least experience are the ones most willing to step up and buy into a pullback, which nowadays only means losing 3% from peak value. Source: Sam Ro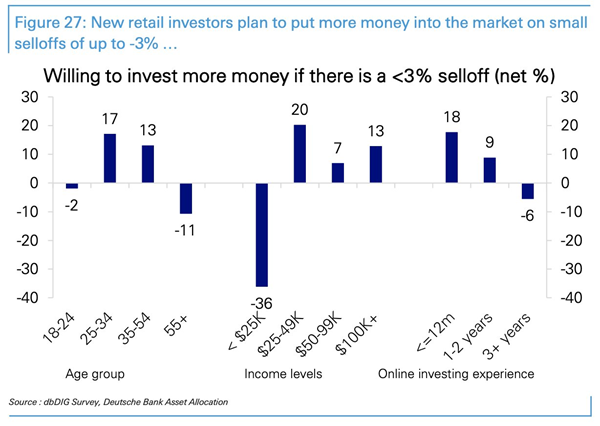 Options traders are doing that. The put/call ratio dropped to one of its lowest levels every on Wednesday as call option volume swamped put volume. Source: Helene Meisler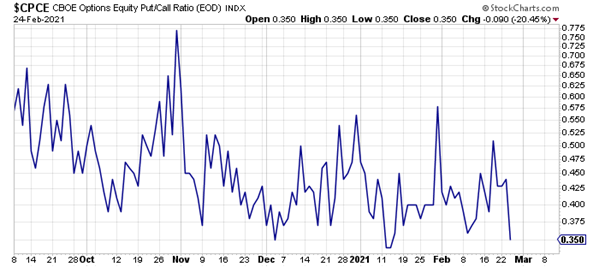 Will the tech train derail such confidence? For only the 2nd time in 30 years, the ratio of the Nasdaq 100 to Russell 2000, essentially the ratio of tech stocks to small stocks, has dropped more than 20% from its peak. The other one led to an ugly reckoning. Source: Julien Bittel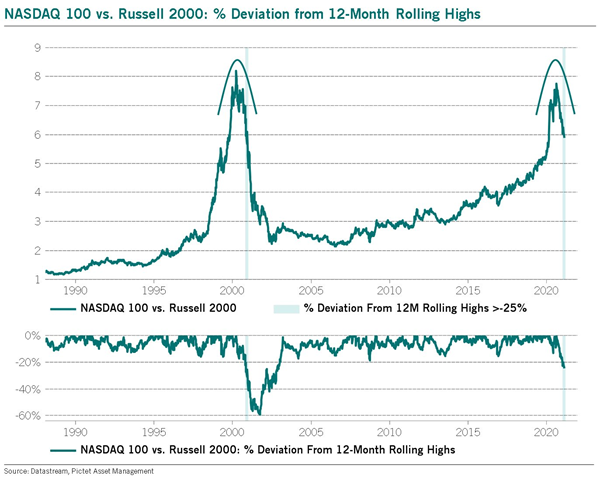 Related Posts:
---
Tagged As:
The post titled Small stocks have largest gains in 20 years was originally published as on SentimenTrader.com on 2021-02-25.
At SentimenTrader.com, our service is not focused on market timing per se, but rather risk management. That may be a distinction without a difference, but it's how we approach the markets. We study signs that suggest it is time to raise or lower market exposure as a function of risk relative to probable reward. It is all about risk-adjusted expectations given existing evidence. Learn more about our service , research, models and indicators.
Follow us on Twitter for up to the minute analysis of market action.
Follow @sentimentrader