Smart money buyers have stepped away
---
---
One of the supporting legs of the rally beginning in the spring and lasting through June had been buying pressure from corporate insiders and other "smart money" investors. That began to moderate in August, especially among technology shares.
Lately, buying interest has dropped off significantly among members of the S&P 500. While there are still a large number of buyers over the past 6 months thanks to heavy interest in the spring, it's dropping quickly.
The 4-week rate of change in the Corporate Insider Buy/Sell Ratio, which we call Velocity, has dropped below -20% for stocks in the S&P 500. According to the Backtest Engine, future returns have been poor whenever broad-market insider Velocity was below 20%.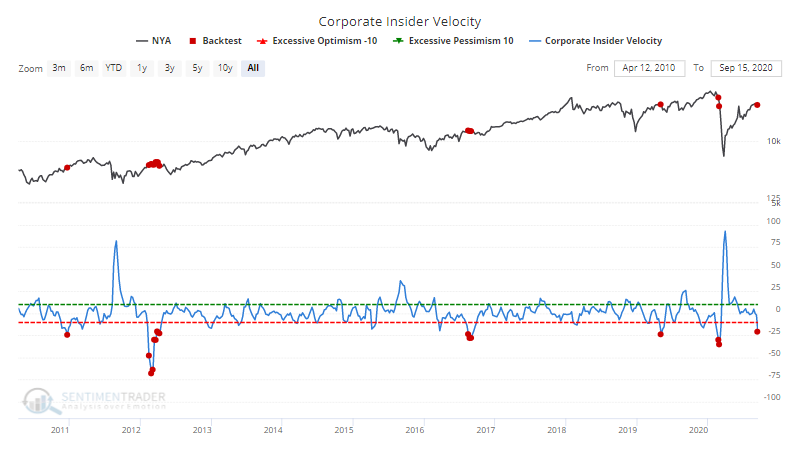 The deeply negative Velocity is a concern, but it's minor. The reason is that the overall level of the Buy/Sell Ratio is still very high and it tends to be a longer-term metric.
This is an abridged version of our recent reports and notes. For immediate access with no obligation, sign up for a 30-day free trial now.
We also looked at:
Returns after insider velocity falls below -20%
Another look at smart money - the First Hour / Last Hour indicator (aka Smart Money Index)
And another - commercial hedger activity in equity index futures
The equal-weighted S&P 500 has surged relative to the cap-weighted version, and it has been historically meaningful
Sentiment on Canadian and Australian stocks has soured
What happens after gold's Bollinger Bands narrow after a big rally

The post titled Smart money buyers have stepped away was originally published as on SentimenTrader.com on 2020-09-18.
At SentimenTrader.com, our service is not focused on market timing per se, but rather risk management. That may be a distinction without a difference, but it's how we approach the markets. We study signs that suggest it is time to raise or lower market exposure as a function of risk relative to probable reward. It is all about risk-adjusted expectations given existing evidence. Learn more about our service , research, models and indicators.
Follow us on Twitter for up to the minute analysis of market action.
Follow @sentimentrader