Speculative volume explodes...and the smart money is selling
---
---
Last month, there was a remarkable jump in the most speculative corners of the market, including leveraged vehicles like options and margin trading, and lottery ticket shares in the form of penny stocks.
The roaming horde of speculators found that niche in December, with more than 1 trillion shares traded. It picked up even more in January and has rocketed even higher so far in February.
At the same time, all this speculative volume is coming in, the "smart money" seems to be selling. That's based on the admittedly tenuous idea that sophisticated investors wait until the near close of the day to trade. And lately, the last hour has been consistently negative.
Below is a cumulative advance/decline line of last-hour activity that we update daily. If the S&P 500 rises during the last hour, then this indicator adds 1 to its running total; if the S&P sees selling to end the day, then the indicator subtracts 1. We've seen so much last-hour selling lately that this has been hovering near its lowest level since 2016.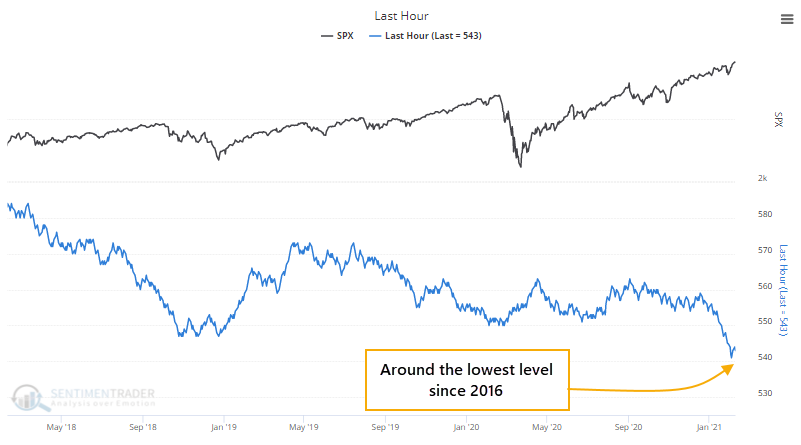 Going back more than 25 years, we've never seen so many days with this measure near its lows while the S&P is near its highs.
What else we're looking at
A deeper look at recent trends in speculative volume
Charts showing times when stocks were near highs and "smart money" selling was at the opposite extreme
A risk-off model showing the spread between shorter-term highs and lows
The 20-year pattern in stocks tells a compelling story

Stat Box



On Wednesday, the Russell 2000 fund, IWM, gapped up after having already rallied for

7

consecutive days. In its 20+ year history, it had managed this only 6 other times, all of which marked short-term buying exhaustion...for what that's worth in this market.
Sentiment from other perspectives
Everything is rallying. Among emerging markets, 100% of them are trading above their 200-day moving averages. Source: Topdown Charts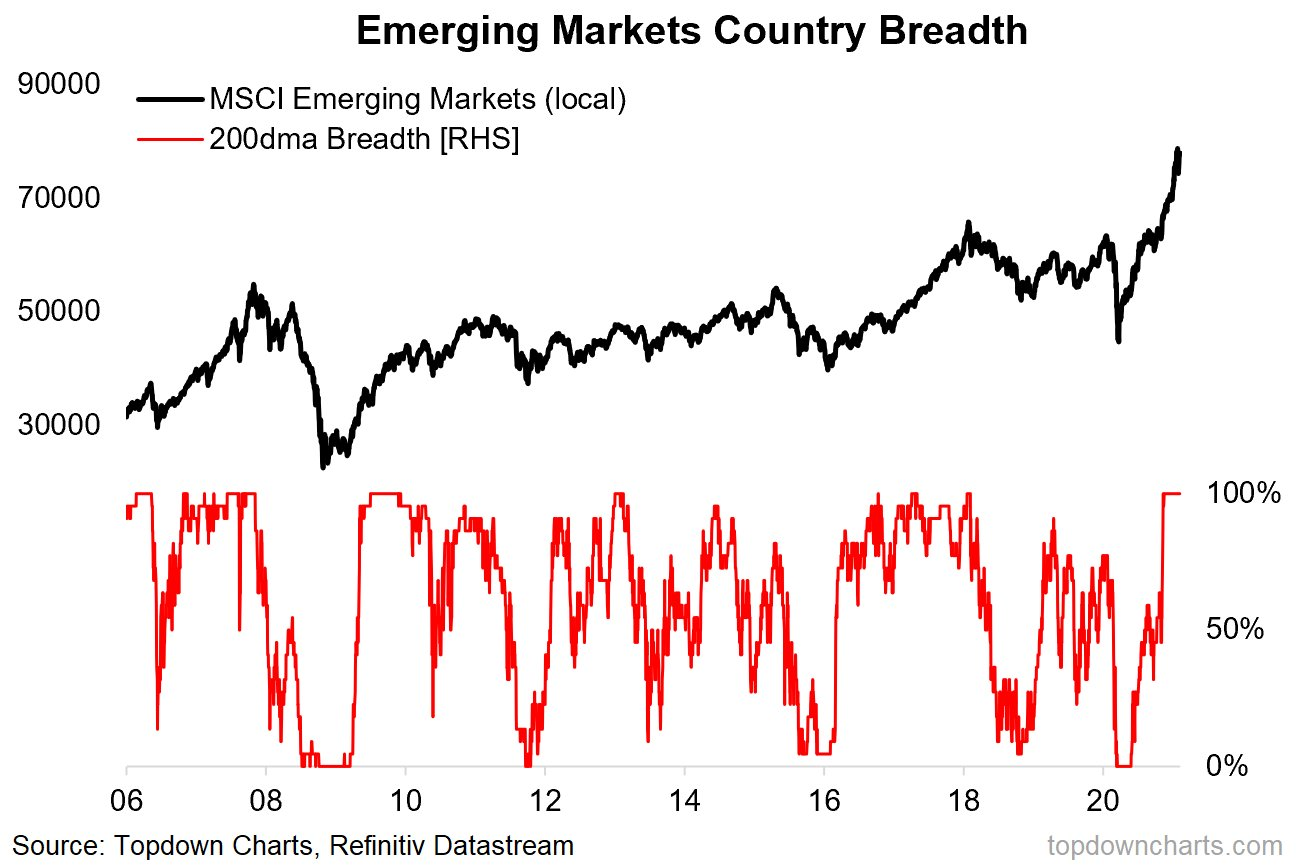 The cheaper the better. The biggest theme of recent months has been that the less money a company makes, and the cheaper its share price, the more it attracts volume and buying interest. And some still insist that markets are rational. Source: Charles Schwab via Liz Ann Sonders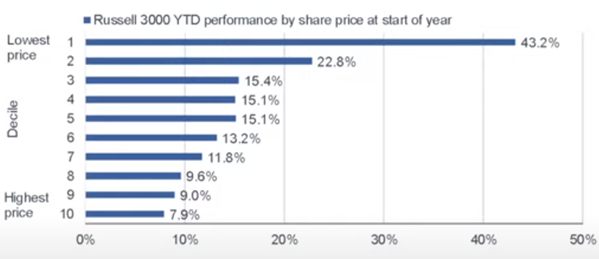 Old people are coming back. The latest AAII survey showed that the (primarily) over 50 crowd of investors has decided to join all the youngsters in pushing stocks ever higher. Source: AAII via Helene Meisler

The post titled Speculative volume explodes...and the smart money is selling was originally published as on SentimenTrader.com on 2021-02-11.
At SentimenTrader.com, our service is not focused on market timing per se, but rather risk management. That may be a distinction without a difference, but it's how we approach the markets. We study signs that suggest it is time to raise or lower market exposure as a function of risk relative to probable reward. It is all about risk-adjusted expectations given existing evidence. Learn more about our service , research, models and indicators.
Follow us on Twitter for up to the minute analysis of market action.
Follow @sentimentrader