Stocks are more likely to soar when margin debt does this
---
---
Investors who hold margin accounts can borrow money to increase the leverage of their stock holdings. Lately, they've slowed their pace of borrowing but the level of debt remains near record highs and that's...a good thing.
Jay showed that in general:
When margin debt is rising, it suggests investors are bullish and willing to push their bets using leverage
When margin debt is falling, it suggests investors are bearish and are actively reducing their exposure to risk
Margin debt can reach extreme levels and serve as a warning sign of potential intermediate-term trouble. But it can also be used as a rough trend-following indicator, by comparing the level of debt against its 12-month moving average.
The chart below shows the level of debt versus its average since December 1945.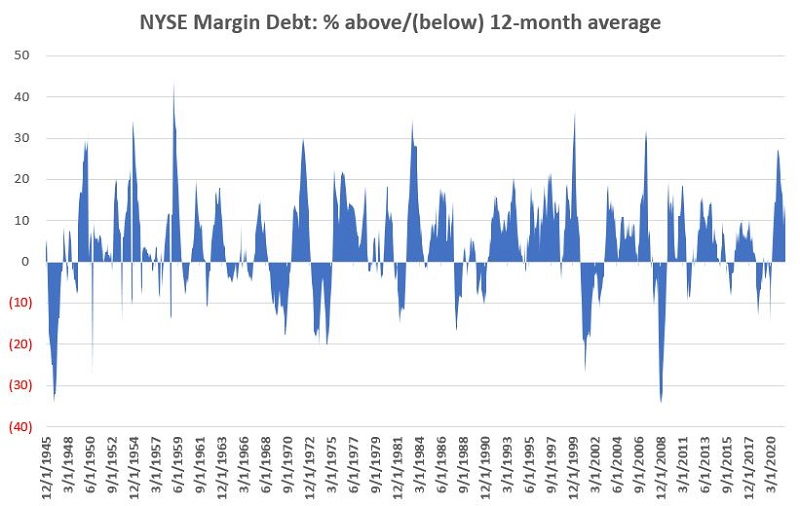 The chart below displays the growth of $1 invested in the S&P 500 Index (SPX) ONLY when NYSE Margin Debt is ABOVE its 12-month moving average. The value of $1 at the start grew to over $120.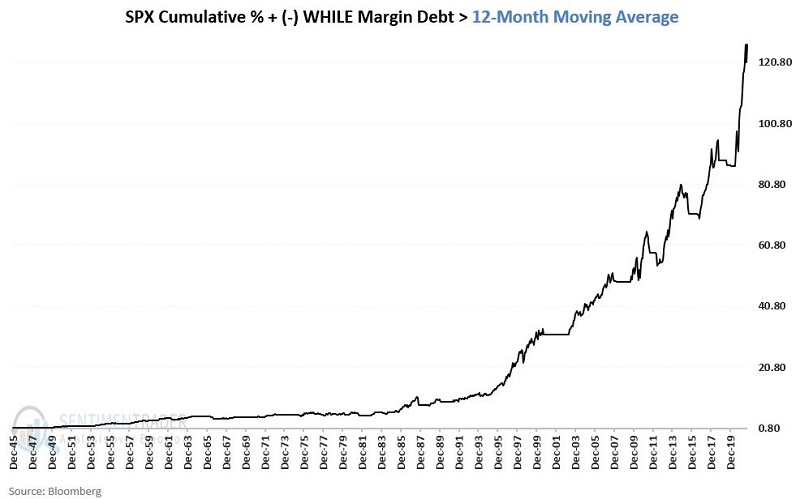 By contrast, the chart below shows the growth of $1 invested in the S&P 500 Index (SPX) ONLY when NYSE Margin Debt is BELOW its 12-month moving average. That buck only grew to about $2 over nearly 80 years.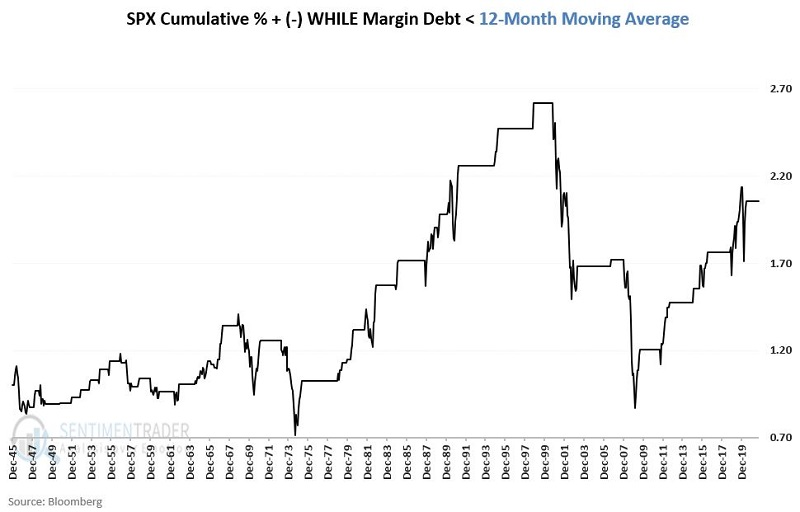 Note that the S&P 500 Index did gain ground overall when margin debt was below 12-month MA. However, gains were inconsistent and the bulk of all bear market declines occurred during these periods.

---
What else we're looking at
More details about returns depending on margin debt regimes
What happens when the VIX plunges to mulit-month lows
---
Stat box



The S&P 500 ended a streak of at least 7 consecutive positive sessions at the end of last week. There have been 18 other such streaks in the past 20 years, and the S&P rebounded over the next two weeks 83% of the time.
---
Etcetera
Small traders place small bets. Small traders in major equity index futures were holding only about $5 billion worth of contracts net long last week. That's nearly their smallest net position of the past year.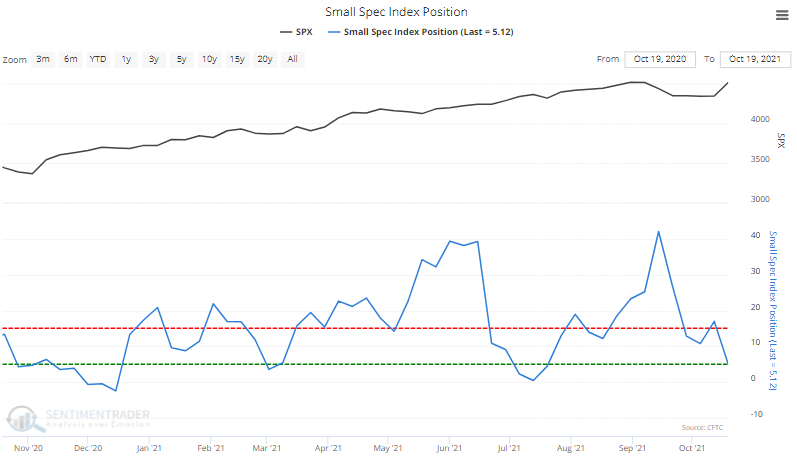 African optimism. Over the past week, the Optimism Index on the NGE fund has averaged more than 83%. Since the inception of the fund, 61 days have had a reading this high, preceding further gains over the following month after only 12 of those days, according to our Backtest Engine.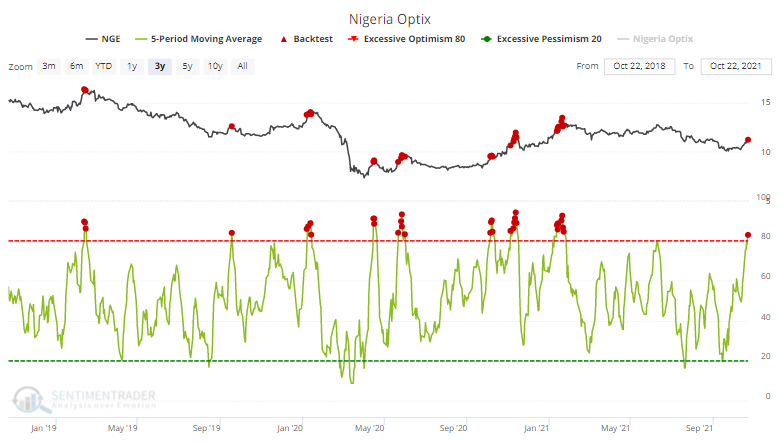 The post titled Stocks are more likely to soar when margin debt does this was originally published as on SentimenTrader.com on 2021-10-25.
At SentimenTrader.com, our service is not focused on market timing per se, but rather risk management. That may be a distinction without a difference, but it's how we approach the markets. We study signs that suggest it is time to raise or lower market exposure as a function of risk relative to probable reward. It is all about risk-adjusted expectations given existing evidence. Learn more about our service , research, models and indicators.
Follow us on Twitter for up to the minute analysis of market action.
Follow @sentimentrader