Stocks have been rising...and smart money is selling
---
---
Stocks are hitting new highs, but there's one group that looks like it's sitting out - the smart money. Even as stocks ticked at records last week, the Smart Money Index (SMI) was languishing near its lowest level in a year.
The idea behind this indicator, popularized by money manager Don Hays and existing with many variations, is that emotional trading takes place at the beginning of the trading day (as traders react to overnight news events and economic releases) while the "smart money" takes the day to evaluate price action and input their orders before the market closes. That concept may seem quaint now in the era of passive funds overwhelming late-day volume, so perhaps this view is no longer accurate.
Regardless, it's unusual to see stocks rally so hard and the SMI sell off so drastically. Using Bloomberg's version of the index, we can see just how wide this disparity is now.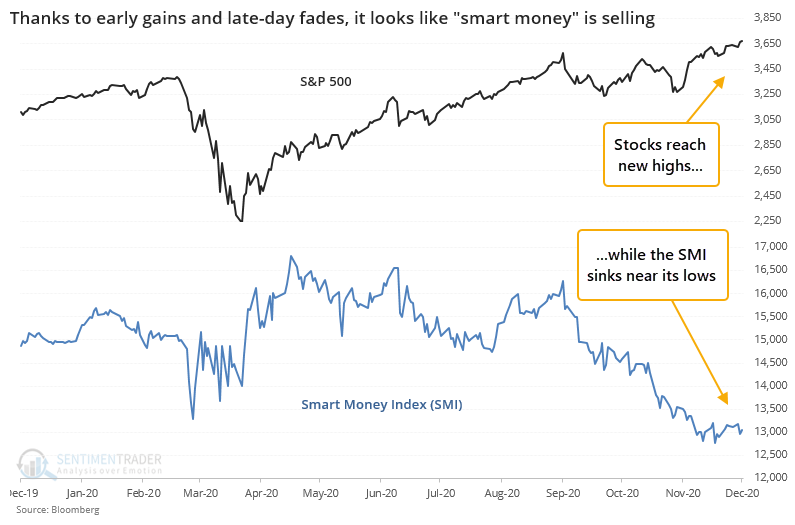 After any day when the S&P 500 hit a 52-week high and the SMI was in the bottom 5% of its range, future returns were poor. The poor returns were due in large part to a big cluster of days in 1965. When we isolate the signals to only the 1st one in at least a month, returns improve but were still "meh."
---
What else is happening
These are topics we explored in our most recent research. For immediate access with no obligation, sign up for a 30-day free trial now.
What happens to stocks when the Smart Money Index plunges
Corporate insider activity has become extreme
Options traders on big stocks are placing big bets
The "smart money" in index futures is acting oddly
Options traders have become aggressive to a record degree
Why small traders are so important right now
---
Stat Box

With further gains this week, the equally-weighted Nasdaq 100 index of big tech stocks scored a daily gain for the 10th straight session. Since the index's inception 15 years ago, it has matched or exceeded this streak only 3 other times, all of which led to further short-term gains, but 2 of which quickly gave those back.
---
Sentiment from other perspectives
We don't necessarily agree with everything posted here - some of our work might directly contradict it - but it's often worth knowing what others are watching.
1. Even though "I don't know" is the 3rd most popular opinion among readers of a popular general-interest investment website, stocks are heavily favored, with 54% of respondents expecting them to deliver the best return over the next year. Bitcoin is gettin' up there, too. [Investopedia]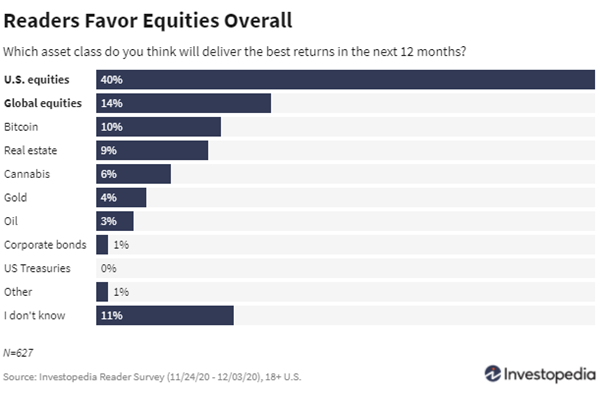 2. According to one framework of how economies react during times of expansion and contraction, the only limiting factor to growth right now is investor sentiment. [Clearbridge]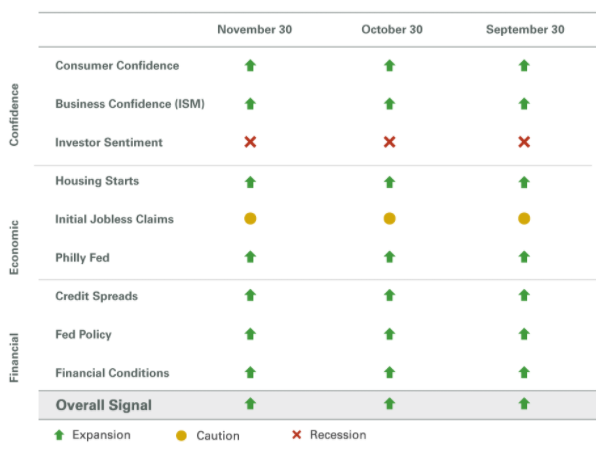 3. The IPO market just keeps getting hotter. Based on recent activity, 2020 is going to go down as one of the best years ever for investment bankers hoisting money-losing stocks on a public willing to pay nosebleed valuations. [Renaissance Capital]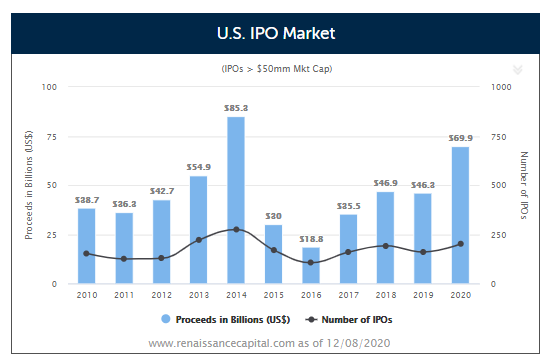 The post titled Stocks have been rising...and smart money is selling was originally published as on SentimenTrader.com on 2020-12-08.
At SentimenTrader.com, our service is not focused on market timing per se, but rather risk management. That may be a distinction without a difference, but it's how we approach the markets. We study signs that suggest it is time to raise or lower market exposure as a function of risk relative to probable reward. It is all about risk-adjusted expectations given existing evidence. Learn more about our service , research, models and indicators.
Follow us on Twitter for up to the minute analysis of market action.
Follow @sentimentrader