The Dow's 6th-Best Start in 125 Years
---
---
The Dow just keeps chugging along.
Despite some tumult under the surface and weakness in tech stocks and other speculative areas, the Dow Industrials Average has held up its reputation as a stalwart. The venerable index has been consistently strong enough to score 24 record closing highs this year alone. Through trading day #87, this is tied for the 6th-best year since 1896.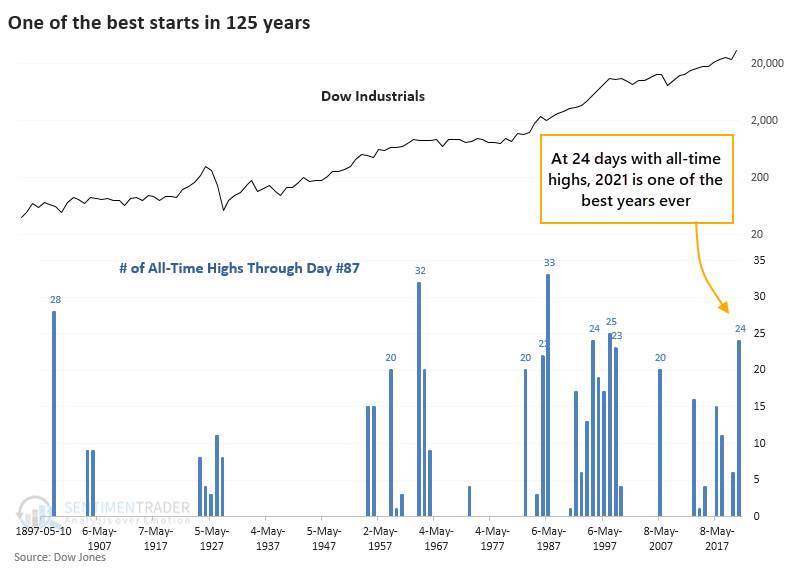 The big question is always, "So what?"
For investors, the most important factor isn't where we've been; it's what it might mean going forward. When we look at the Dow's future returns after the most all-time days through 87 trading days of a year, it showed a split. One interesting wrinkle is how many of the years ended up having a "crash event" at some point during the year.

Stat Box



On Monday, the Nasdaq Composite fell more than 1%, while the Dow Industrials closed within 0.1% of an all-time high. Of the

15

times that's happened in 50 years, the Nasdaq continued to underperform the Dow over the next month 80% of the time.
What else we're looking at
Full details after the Dow sets 24 record highs in the first 87 days of a year
Future returns after lesser extremes
What happens after the Nasdaq drops while the Dow sits near a record high
An update to industry, sector, and country relative and absolute trends
The Backtest Engine shows how our Risk Level in gold is effective versus the Japanese yen

Related Posts:
---
Tagged As:
The post titled The Dow's 6th-Best Start in 125 Years was originally published as on SentimenTrader.com on 2021-05-11.
At SentimenTrader.com, our service is not focused on market timing per se, but rather risk management. That may be a distinction without a difference, but it's how we approach the markets. We study signs that suggest it is time to raise or lower market exposure as a function of risk relative to probable reward. It is all about risk-adjusted expectations given existing evidence. Learn more about our service , research, models and indicators.
Follow us on Twitter for up to the minute analysis of market action.
Follow @sentimentrader