The Everything Rally
---
---
The everything rally
Total return stock and bond indexes are hitting all-time highs at the same time. They cover an array of stocks and bonds, suggesting extreme breadth of buying interest, as noted by Bloomberg.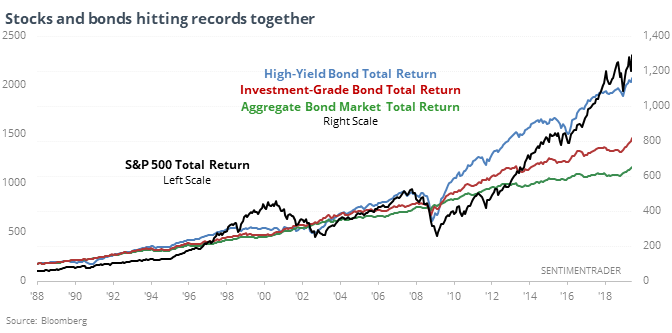 When they've all hit records together, it has been an especially good longer-term sign for stocks. They rallied almost universally after these signals and over the next 2-6 months, there was only one date that showed a loss of more than 1%. For bonds, it wasn't quite as consistently positive, but all of them showed gains most of the time across all time frames, with returns mostly above random.
Quick cycle
Yet again, stocks showed a tendency to cycle quickly from a selloff to new highs. For the S&P 500, it went from a 50-day low multi-year high in less than three weeks, nearly a record going back to 1928.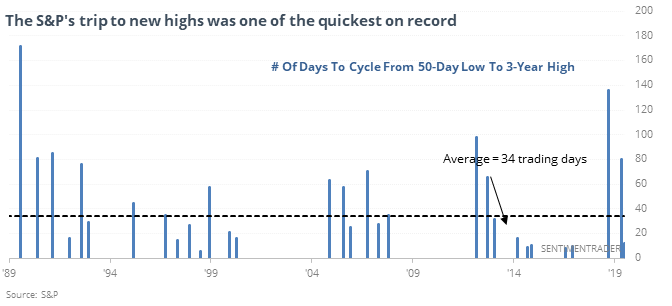 The median cycle from low to high has taken 34 days, so this was nearly three times faster than usual. Over the next month, it seems like sellers had a strong tendency to give up. From 1-4 weeks later, there was only a single loss, and the risk/reward was impressively skewed to the upside.
Dollar downtrend
The U.S. dollar's 200-day average has been rising for a year, but the late-week selling has pushed the buck to a multi-month low and below its average. This has led to a rebound in the dollar in the past, but half of them didn't last.
The latest Commitments of Traders report was released, covering positions through Tuesday
The 3-Year Min/Max Screen shows that "smart money" hedgers have their largest exposure in years to cotton. They're now holding 42% of open interest in gold net short. The Backtest Engine shows over the past 7 years that has led to gains in gold only 25% of the time over the next two months.
This post was an abridged version of our previous day's Daily Report. For full access, sign up for a 30-day free trial now.

Related Posts:
---
Tagged As:
The post titled The Everything Rally was originally published as on SentimenTrader.com on 2019-06-24.
At SentimenTrader.com, our service is not focused on market timing per se, but rather risk management. That may be a distinction without a difference, but it's how we approach the markets. We study signs that suggest it is time to raise or lower market exposure as a function of risk relative to probable reward. It is all about risk-adjusted expectations given existing evidence. Learn more about our service , research, models and indicators.
Follow us on Twitter for up to the minute analysis of market action.
Follow @sentimentrader