The Link Between Commodities and the Dollar is Broken
---
---
Among all the breakdowns in historical relationships during 2021, one of the most unusual is that commodities continue to scream higher despite a rising U.S. dollar.
That's not the usual relationship between the two assets. Over the past decade, the two have roughly traveled in opposite directions during big trend swings. A rising dollar has typically meant falling commodities and vice-versa. At least, that was the case until 2021.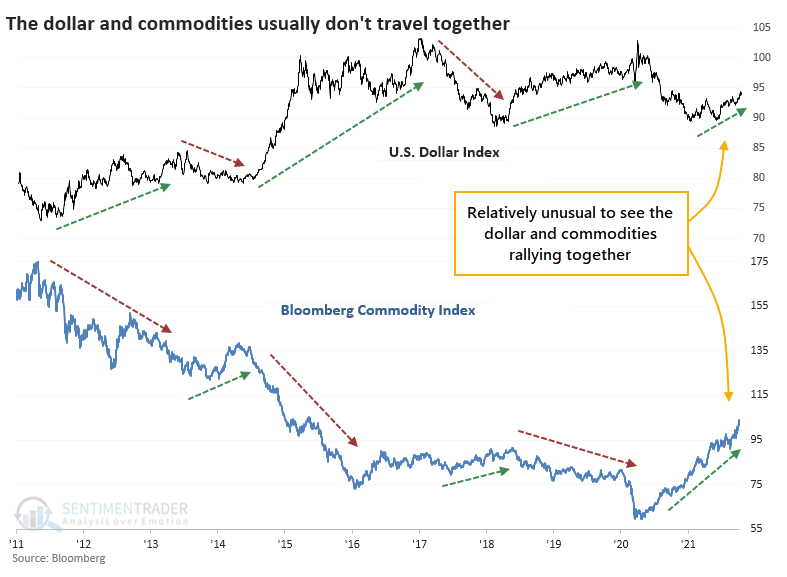 Going back to 1975, there have been a dozen instances when the dollar rallied at least 4.5% over a 90-day window, and the Bloomberg Commodity Index more than doubled that return, rallying at least 9%.
Despite a trend that mostly points down over the decades, the dollar tended to rise after these periods, with well-above-average returns.
It was a different sign for commodities. They had a much more difficult time continuing to buck the headwind of a rising dollar.

---
What else we're looking at
Full returns in the dollar and commodities after both rally hard in prior months
2 factors to watch in the Nasdaq 100 fund, QQQ
2 factors to watch in the corporate bond fund, LQD
Investigating previous reversals in gold miners and their prospects going forward
---
Stat box



The XLV health care fund is trying to carve out its first positive week after 5 consecutive down weeks. That would end the fund's longest streak of negative weeks in 15 years, tied with two others in April 2010 and September 2016.
---
Etcetera
Who knew, Peru? While not a widely followed market, the 5-day Optimism Index on the EPU fund, tracking Peruvian stocks, is among the highest of all funds we follow.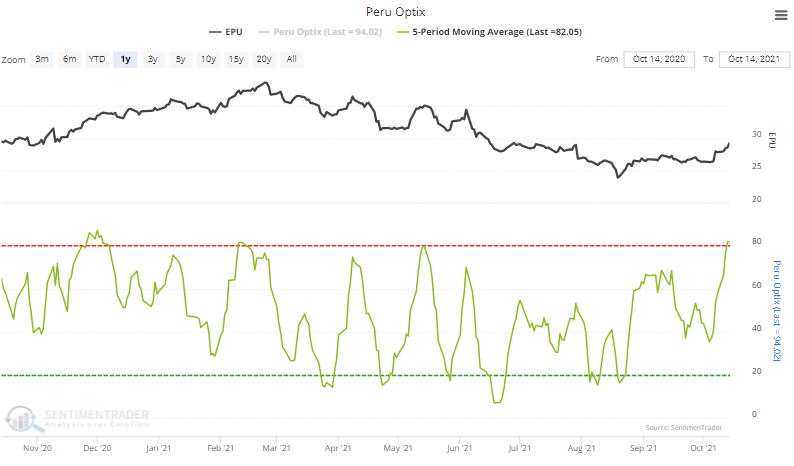 Emerging market malaise. Social media users aren't too keen on emerging markets. The Social Sentiment % Bullish indicator for the EEM fund shows that over the past 10 days, fewer than 15% of tweets have had a positive tone. That ranks among the lowest in 5 years.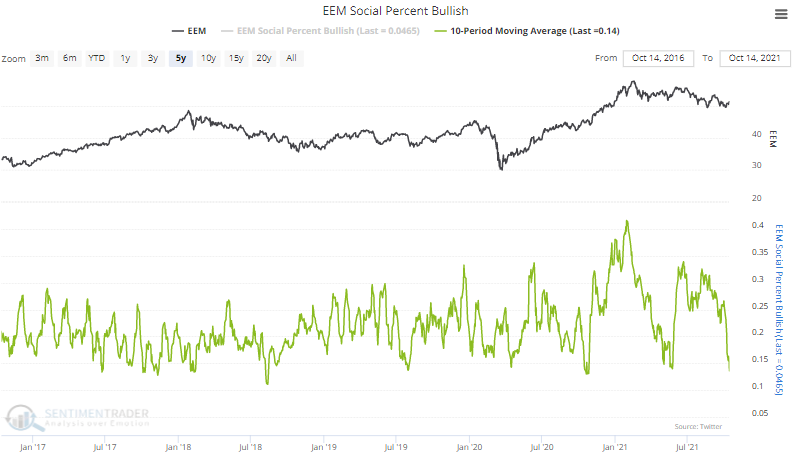 Bond boredom. Jay points out that over the past 10 days, the Optimism Index on investment-grade corporate bonds is curling up from the lowest level in a year. Backtests dating since the inception of the fund show an average return of more than +10% over the next year.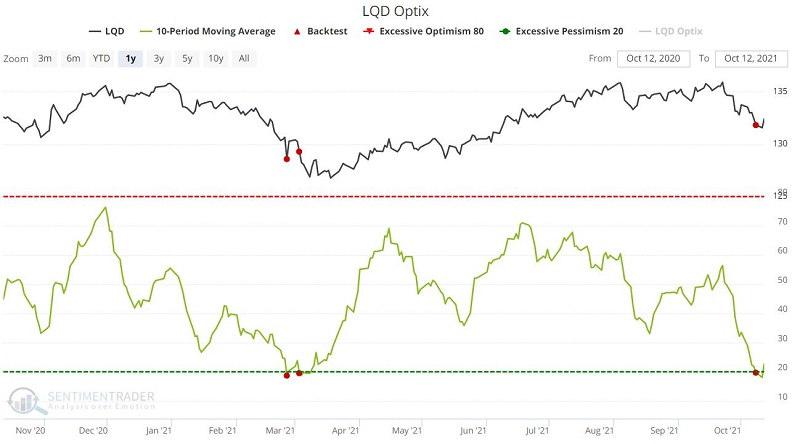 Related Posts:
---
Tagged As:
The post titled The Link Between Commodities and the Dollar is Broken was originally published as on SentimenTrader.com on 2021-10-15.
At SentimenTrader.com, our service is not focused on market timing per se, but rather risk management. That may be a distinction without a difference, but it's how we approach the markets. We study signs that suggest it is time to raise or lower market exposure as a function of risk relative to probable reward. It is all about risk-adjusted expectations given existing evidence. Learn more about our service , research, models and indicators.
Follow us on Twitter for up to the minute analysis of market action.
Follow @sentimentrader