The Longest Pullback in Almost a Year
---
---
Last August, the S&P 500 did what was unthinkable just a few months prior - it broke out to a new all-time high.
Soon after, stocks saw a bit of a blow-off peak and the S&P didn't regain its highs until November. And it hasn't looked back since. The most protracted pullback that investors suffered was 22 days in June. Until now.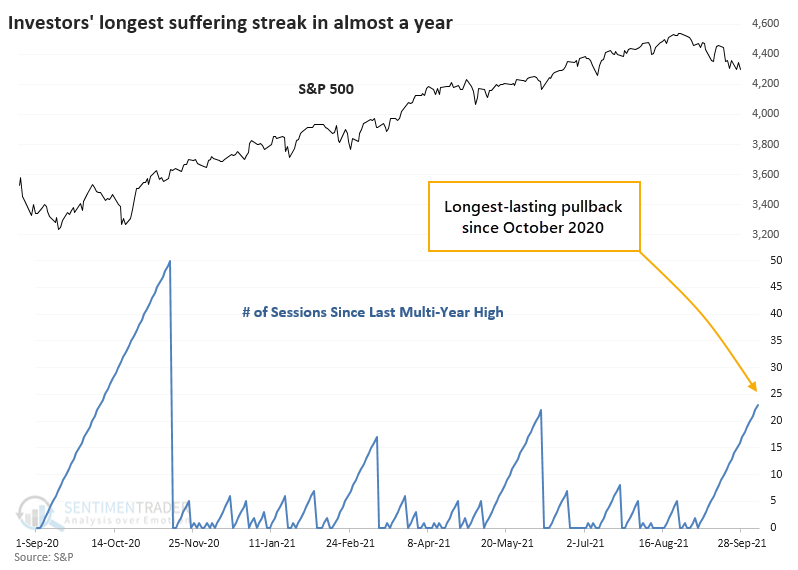 This ends a near-record run with investors not having to suffer more than 22 days without seeing a new multi-year high (not considering bear markets). The only period that exceeded our current run, and that was just barely, ended in February 1955.
For what it's worth, buyers came in immediately after that streak ended, setting a new high the next day, and pushed the S&P 500 higher by a couple of percentage points over the next month. It did suffer some longer pullbacks after that but enjoyed double-digit gains within six months.
That was more the rule than the exception. After other long streaks without a 23-day pullback finally ended, the S&P rebounded during the next three months every time.

---
What else we're looking at
Full returns in the S&P 500 after the first 23-day pullback in more than 90 days
What happens after newsletter bulls fall for the first time in more than a year
A couple of indicators flashing positive signs for stocks
What happens after Financial stocks dominate the new-high list
---
Stat box



Showing deteriorating long-term internal momentum, the McClellan Summation Index for stocks in the S&P 500 just crossed below zero for the first time since May 2020.
---
Etcetera
Gamma games. Estimated gamma exposure to the S&P 500 is trying to rise from negative territory. This is a measure of how much stock dealers may have to buy or sell based on option flow. When it's low and rises, stocks tend to rally.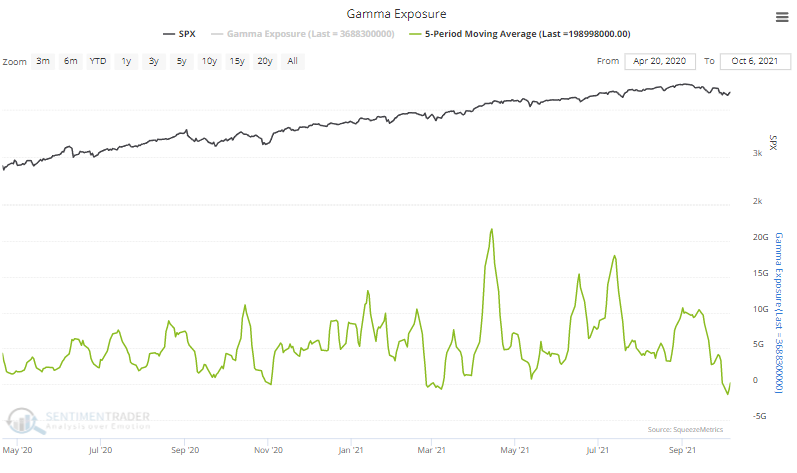 Hard optimism in a soft market. The Optimism Index for cotton just rose to one of the highest levels in its history. The commodity has had a hard time maintaining gains after such enthusiasm.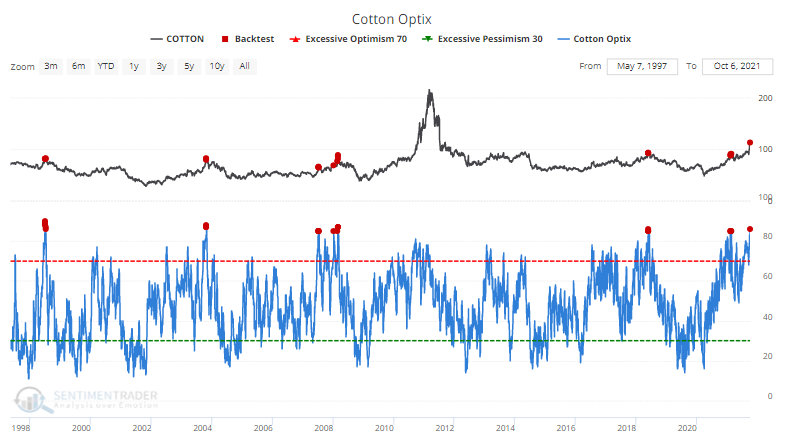 No bull. The percentage of bulls among individual investors in the AAII survey has averaged less than 27% over the past 3 weeks. That's among the lowest readings of the past decade.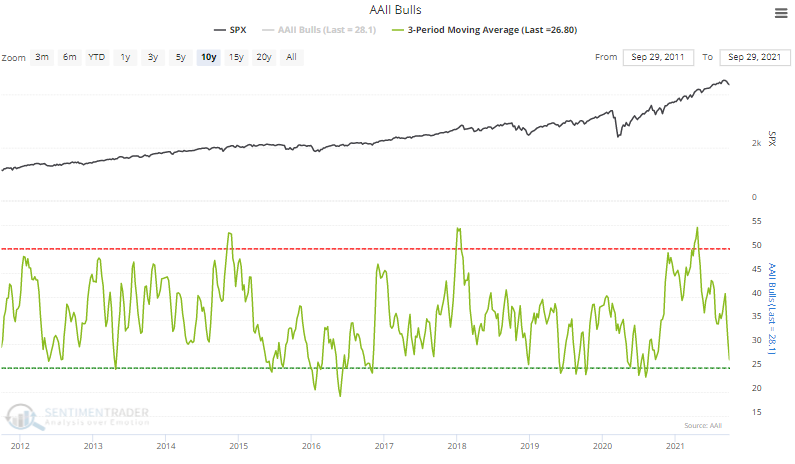 Related Posts:
---
Tagged As:
The post titled The Longest Pullback in Almost a Year was originally published as on SentimenTrader.com on 2021-10-08.
At SentimenTrader.com, our service is not focused on market timing per se, but rather risk management. That may be a distinction without a difference, but it's how we approach the markets. We study signs that suggest it is time to raise or lower market exposure as a function of risk relative to probable reward. It is all about risk-adjusted expectations given existing evidence. Learn more about our service , research, models and indicators.
Follow us on Twitter for up to the minute analysis of market action.
Follow @sentimentrader